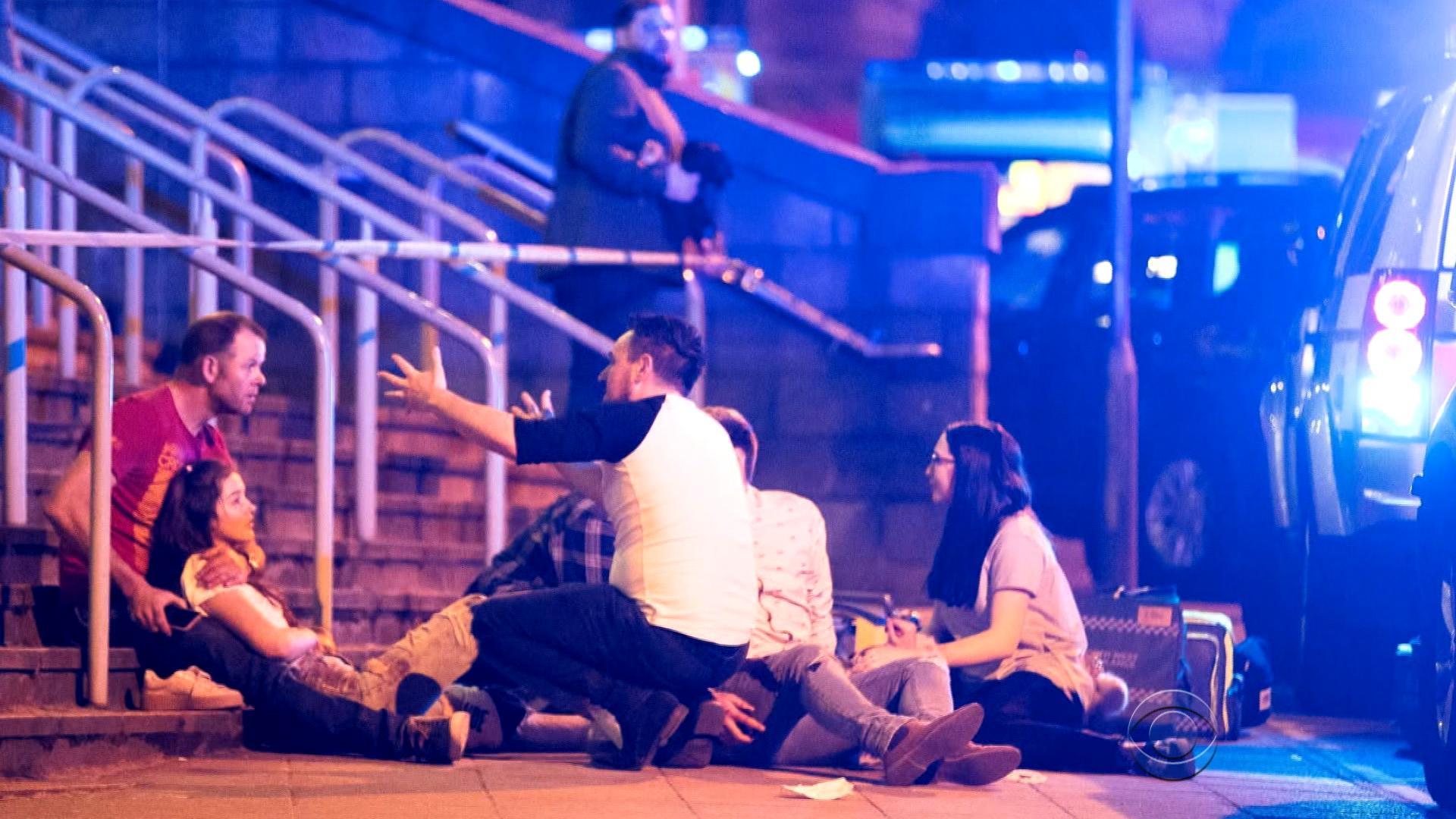 U.S. leaks shed light on Manchester attack, but infuriate U.K.
MANCHESTER, England -- Britain fell silent on Thursday morning in memory of those murdered in Manchester -- a tribute to the 22 lives, many of them young, ended so cruelly by a suicide bomber.
As CBS News correspondent Mark Phillips reports, beyond the unspeakable grief, the investigation is continuing apace.
Police have found more evidence that the bombing was not the work of a lone wolf, but of a terror network. Two more men were arrested Thursday morning -- detained in raids around the south Manchester district of Moss Side, where suicide bomber Salman Abedi lived with his family. There are now eight men in custody in connection with the attack.
Some of the clues suggesting Abedi was part of a wider terror network in Manchester have been revealed in leaked photos of the remnants of the bomb itself. The images show a shredded backpack that the device was apparently carried in, metal bolts and screws used as lethal shrapnel, and the apparent trigger, believed to have been carried in the bomber's left hand and showing a small circuit board.
It was the work, reports Phillips, of a relatively sophisticated bomb-maker, with skills the suicide bomber is not thought to have possessed himself.
British authorities are now furious that the photos, shared with American counterterrorism officials, have leaked out -- originally in the United States. They say the leaks compromise their investigations by telling the people they're still hunting for what they know.
Prime Minister Theresa May said Thursday morning that when she meets later in the day with President Trump in Brussels, she would make it clear "that intelligence shared must remain secure."
Speaking later Thursday in Brussels, May described the intelligence sharing relationship between the U.S. and Britain as "deep," but added that it was, "built on trust, and part of that trust is knowing that intelligence can be shared confidently."
After meeting May, President Trump described the leaks as "very troubling."
A former senior U.K. government counterterrorism official, however, suggested Mr. Trump's administration could be partly to blame.
"I fear we may be caught up in the crossfire of disagreements between the Trump administration and the intelligence services, but this must stop," Lord Carlile, a former independent reviewer of terrorism to the U.K. government, told Sky News.
Carlile blasted whomever leaked the information to U.S. media, "without a thought to the consequences," and said they "should be prosecuted."
Greater Manchester Police Chief Constable Ian Hopkins said Thursday that it was "absolutely understandable" that the leaks to U.S. media had caused the victims' families distress, but he would not comment on reports by British outlets suggesting intelligence sharing between the two allies would be reduced to some extent as a result.
Multiple media outlets said Thursday, citing anonymous British intelligence sources, that the Greater Manchester Police would stop sharing information on their fast-developing investigation into the bombing with U.S. counterparts, but the U.K. government did not confirm that.
Hopkins described the arrests made thus far as "significant," and items found during the investigation as "very important."
Abedi's movements just before the attack have also lent credence to the terror cell theory. Police sources say he was captured on security camera video at a store in Manchester, possibly buying the backpack used to carry the device.
Abedi had been to Libya -- where his parents are from -- just prior to the attack. Officials believe he may have met with ISIS operatives there. Abedi's brother Hashem and father Ramadan were detained on Wednesday by one of the militia groups in Tripoli that claims to be an anti-terrorism force.
In her remarks Thursday morning, Prime Minister May said the nation's terrorism threat level would remain at critical, meaning another attack could be imminent.
The "public should remain vigilant," she warned.
But as the investigation continues, so does the grief. Charlotte Campbell learned only on Wednesday that her 15-year-old daughter Olivia was among those killed in the attack on Manchester Arena.
"I don't know what to do, I just knew, something told me I had to come here -- I could see Olivia's friends there. As a family we're untied, we're standing strong. I ask her friends, strangers, relatives to do the same," the bereaved mother said. "Please stay together -- don't let this beat any of us, please -- don't let my daughter be a victim!"
Queen Elizabeth II paid a surprise visit on Thursday morning to victims still recovering from their injuries at a Manchester hospital. She was greeted by a head nurse before going inside to meet young victims of the attack.
Thanks for reading CBS NEWS.
Create your free account or log in
for more features.