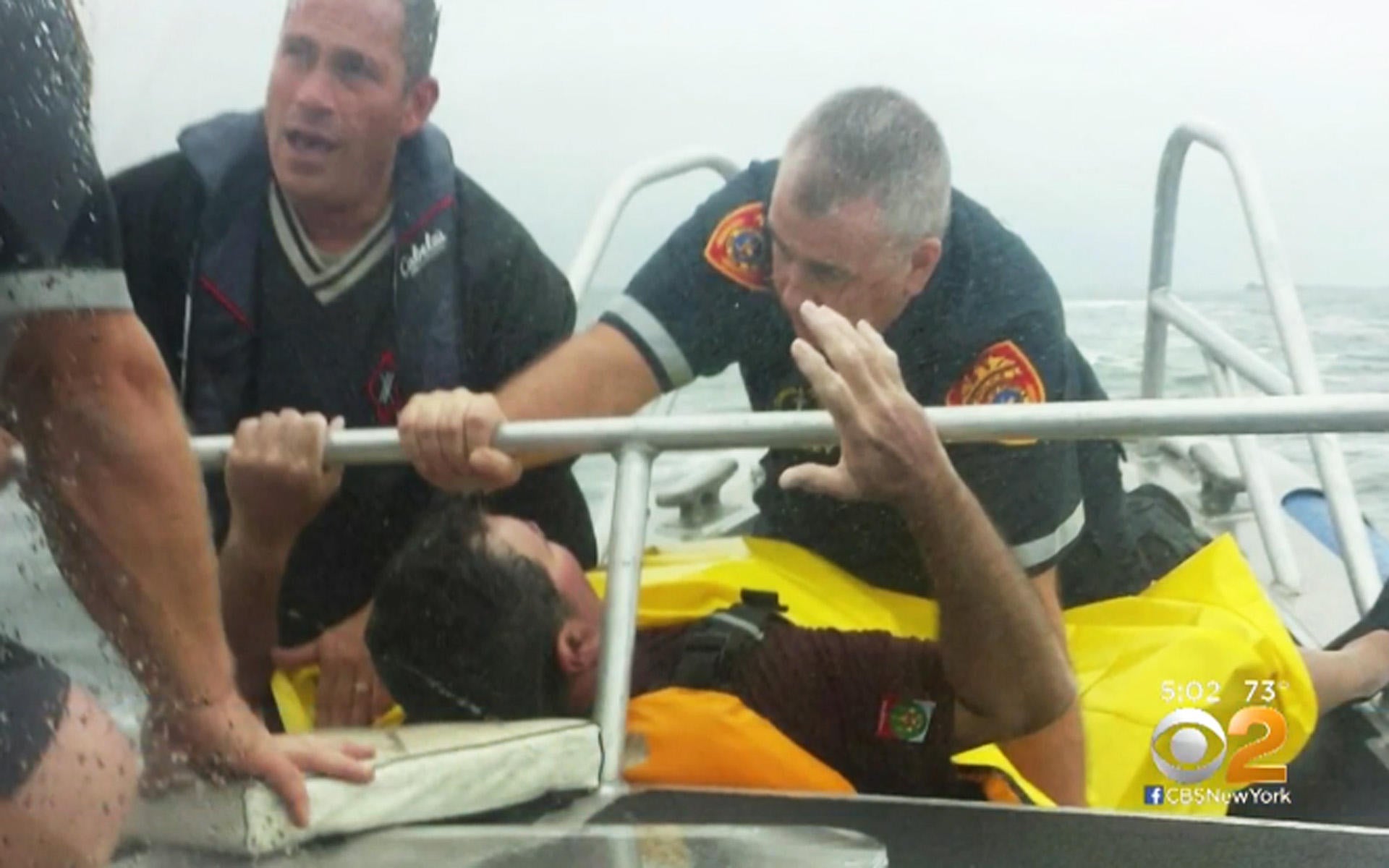 Man treads water, drifts for 17 hours after kayak sinks
LLOYD HARBOR, N.Y. -- A man who spent 17 hours treading water and drifting, trying desperately to stay afloat after his kayak sank in Long Island Sound was saved in dramatic fashion Wednesday, CBS New York reports.
Now recovering in a hospital, 56-year-old Michael Diaz offered a lifetime of thanks to those who took part in the harrowing rescue.
Diaz says he was "wondering how long do I have, how long can I be in here? In Long Island Sound, you can't swim to shore; the tide brings you back out."
Diaz — an experienced kayaker and fisherman — set out to catch striped bass well before violent weather moved in.
He tried to paddle back.
"Really bad waves. The worst I've ever seen in the sound. And I'm in the swells; boats can't see me," Diaz said.
His cell phone was underwater, and his kayak — a gift from his family — flipped, leaving him with only life jacket.
"After the kayak ultimately sank, it was the PFD (personal flotation device) that literally saved my life," he said.
It was turning dark.
His frantic wife and sons rushed to where Diaz had launched his kayak from. They spotted some swimmers in wet suits. His car was locked and empty.
They called 911.
"My son, my older son is an Eagle Scout. They go give you training what to do in an emergency, how to keep your head and evaluate the situation," he said.
Police surmise Diaz treaded water all night long, moving with the tides — east to Port Jefferson, N.Y., back to Lloyd Harbor, and north across the sound toward Stamford, Connecticut and then Norwalk, Connecticut.
"I knew dehydration and eventually hypothermia, you hear the clock ticking. What got me through the night, light will come, I'll be seen" he said.
Eventually with daylight, he spotted a Norwalk lighthouse two miles in the distance.
"So that last hour and a half, I just put my head down and swam to the lighthouse," he said. "It was life and death."
A fishing boat spotted him and called in the Suffolk County Police marine unit.
Diaz, nearly delirious, learned that not only family members but dozens from the community had spent the night searching for him.
"To find out all of these strangers pitching in gives you good vibes about the world," he said.
Thanks for reading CBS NEWS.
Create your free account or log in
for more features.