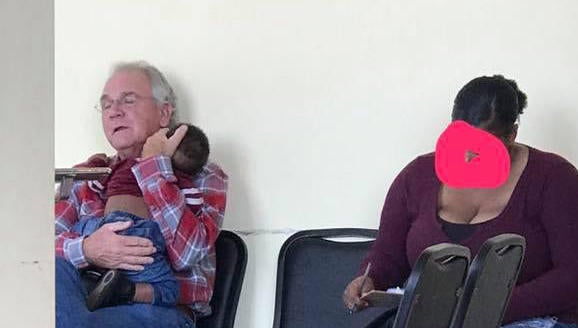 Viral photo shows man soothing baby for mother at doctor's office
A woman from Florence, Alabama, witnessed a random act of kindness at a doctor's office this week, and her story has gone viral.
Natasha Crittenden Wilson posted about her trip to the doctor's office on Facebook Tuesday. A woman walked into the waiting room with a sleeping baby, Wilson wrote. The woman had to complete patient paperwork, but she didn't want to disturb the infant. Seeing that the woman had her hands full, a man sitting across the room offered to help.
"[He asked] her if she would like for him to hold her baby while she did her paperwork!!" Wilson wrote in the post. "She smiled and said that would be wonderful!! This man went over there and rocked and loved on that baby like he was his!!"
Wilson snapped a picture of the random act of kindness. "My heart Melted!!!" she wrote. The photo of the elderly man holding a stranger's baby made other people's hearts melt -- has been shared over 300,000 times.
"He loved on the baby as it was his own," Wilson told CBS News. "I knew that he never interacted with this child before...it was just really really heartwarming."
Wilson said the image touched her for a very personal reason.
"It was touching for me because my children are biracial," the mother of seven told CBS News. It was heartwarming "especially because he was an older white man, just completely not thinking anything of race," she said. "Just loved on this baby as if it was his baby. He completely saw nothing of color, and neither did that mom."
Wilson was able to connect with the man in the photo. His family members recognized him in the photo she posted on Facebook and told her his name is Joe Hill. As for the mother in the photo, Wilson identified her only as Mrs. West, and said she has connected with her as well.
"I think it's shown more people and given more people hope," Wilson said of the photo.
"I'm just a small town girl," she said. "It's got to be God saying 'Look, people. We can love one another. It's not hard.' And it's not."
Thanks for reading CBS NEWS.
Create your free account or log in
for more features.