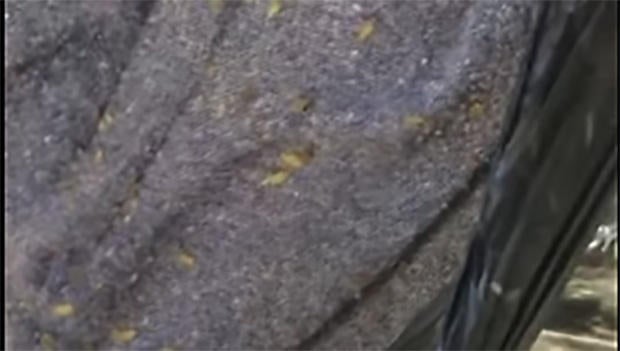 Alarm in Chicago over bugs on the subway
CHICAGO -- A subway passenger posted a video on YouTube showing bugs -- flat, beige bugs -- perhaps, baby bed bugs on clothing inside a bag belonging to a woman, who was sleeping on the train, according to CBS Chicago.
The incident occurred Friday around 2:30 p.m. on the city's Red Line.
Michael Moore, who posted the video online, told the conductor, who then had a cleaning crew disinfect the car after it was evacuated. But what concerned Moore was the woman carrying the bag containing the bugs, waited with everyone else and reentered the train on another car.
The car where the bugs were originally found was taken out of service.
The Chicago Transportation Authority told WBBM, "When the CTA received a report of pests on a Red Line train at Roosevelt on Friday, the rail car was immediately removed from service as a precautionary measure and received preventative treatment by an exterminator. At this time, there is no confirmation that the pests depicted on the video are bed bugs."
In September, another Red Line train was removed from service after a rider said he spotted more than 30 small, white bugs crawling around a row of six seats.
The CTA released a statement saying, "While providing more than 700,000 rail rides each day, CTA takes reported incidents of uncleanliness, including those regarding pests, very seriously. We have a rigorous process to maintain cleanliness on our system and our bus and trains are cleaned daily, both before and after each trip, and at the end of each day. Vehicles also receive thorough, deep cleanings on a regular basis that includes preventative treatment for pests."
Thanks for reading CBS NEWS.
Create your free account or log in
for more features.