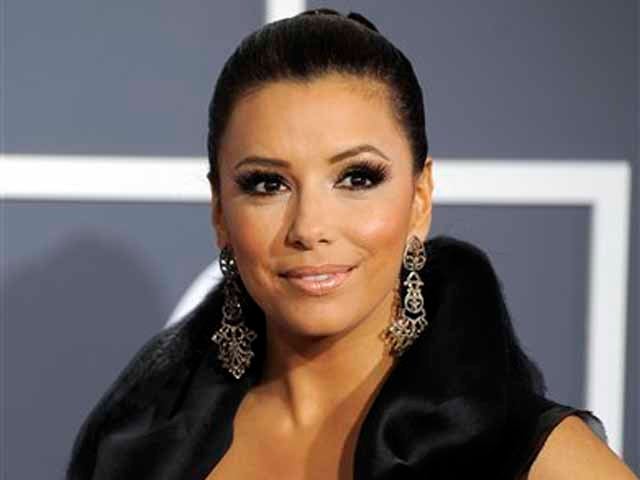 Make Eva Longoria's own Mexican recipes at home!
You know her as a "Desperate Housewife," but Eva Longoria has a talent we don't often see on that show: She's a lifelong cook, and even co-owns two restaurants, both called Beso, in Los Angeles and the other in Las Vegas.
Longoria says there are few places she'd rather be than in her kitchen, preparing delicious meals for family and friends.
And now, she's out with a cookbook called "Eva's Kitchen: Cooking With Love For Family And Friends," with more than 100 of her own and her family's recipes.
Enjoy all our "Early Show" recipes!
On "The Early Show" Wednesday, Eva made dishes inspired by her Texas roots and Mexican heritage, like her Aunt Edna's homemade flour tortillas!
All these recipes and descriptions are from her book:
RECIPES
Sopa De Fideo
I call this Mexican spaghetti. In Mexico, sopa de fideo is truly a soup, while fideo seco is much drier. I like a texture between the two. As with Mexican Rice, the trick is to cook these without touching them very much at all. Any stirring will make the noodles sticky, so when checking the level for the liquid in the pan, just use a long-handled spoon to gently move the noodles aside and check the bottom of the pan. Note that the longer this sits, the more the noodles will absorb the broth.
This is a great method for cooking chicken, so even though I'm serving the noodles only as a side dish, sometimes I take advantage of the simmering pot to cook some chicken for the next day. I add as many drumsticks as possible without crowding, and the well-seasoned broth turns out tender, juicy, and really flavorful chicken every time.
MAKES 4 to 6 SERVINGS
2 tablespoons vegetable oil
1 large white onion, chopped
5 garlic cloves, minced
1 8.8 ounce box fideo or angel hair or vermicelli pasta
3 to 3-1/2 cups Chicken Broth or store-bought low-sodium chicken broth
1 14 ounce can tomato sauce
2 tablespoons ground cumin
1/2 teaspoon kosher salt, or to taste
1/4 teaspoon ground black pepper, or to taste
6 chicken drumsticks (about 1-1/2 pounds, optional)
1. In a large skillet or Dutch oven (better if using angel hair pasta), heat the oil over medium heat until hot but not smoking. Add the onion and garlic and cook for 1 minute. Add the fideo and cook, stirring occasionally, until the fideo is golden brown but not at all burned, about 2 minutes. Add the chicken broth, tomato sauce, cumin, salt, and pepper and stir once or twice just to blend. Add the chicken, if using, submerging it under the liquid.
2. Bring to a gentle boil, reduce the heat, and cover the pan. Simmer until the liquid is mostly absorbed but there are still small pools of sauce on the surface, and the chicken is cooked, about 30 minutes. Uncover a few times during cooking to check the liquid. Add more broth if the fideo starts to burn and stick to the bottom of the pan, but do not stir vigorously once it comes to a simmer. Stirring causes the fideo to break down and become sticky. Serve hot.
NOTE:
If using angel hair, break the nests in half before using. Vermicelli should be broken into 3-inch lengths.
FROM AUNT ELSA'S KITCHEN
The fideo- short, dried noodles- can be found in Latin grocery stores, but you can use angel hair or vermicelli instead. If using angel hair, use a bigger pan because the dried noodles take up lots of room before they cook down.
Aunt Edna's Homemade Flour Tortillas
There are as many different styles of tortillas as there are regions in the parts of the world where they are eaten. I make tortillas like the ones I grew up eating in my Aunt Edna's kitchen in Texas: thick, fluffy, and addictive! This dough can be used to make them any way you like: small or large, thick or thin. With practice, you'll get more efficient and turn into a one-person assembly line: cooking one tortilla while you roll out another.
Nothing is better to sop up the creamy gravy of Aunt Didi's Carne Guisada. Or eat them warm, straight off the comal (a flat griddle) and spread with butter. I still love them for breakfast, these days usually with beans rolled up inside.
MAKES 12 SMALL OR 8 LARGE TORTILLAS
2 1/2 cups all-purpose flour, plus more for kneading and rolling
1 teaspoon table salt
1 teaspoon baking powder
1/3 cup vegetable shortening, cold and cut up into pieces
3/4 cup hot water, plus more as needed
1. In a large mixing bowl, place the flour, salt, and baking powder. Whisk together until well blended. Add the shortening and use your fingers or a pastry blender to cut it into the flour until the mixture resembles coarse meal.
2. Slowly add the water, mixing it in with your fingers a little at a time. Turn the dough out onto a surface and knead until soft, 3 to 4 minutes. Place the dough in a clean, large bowl, cover with a towel, and let rest for 20 minutes.
3. Divide the dough into equal portions and roll each portion into a ball. Place the balls on a baking sheet or platter, cover with a towel, and let rest 20 minutes.
4. On a lightly floured surface, use a rolling pin (palota) to roll one ball at a time into an evenly thick round; roll it to about 1/8 inch thick for thick, chewy tortillas or as thin as you like. It is more important that the round be evenly thick than a perfect circle, but there is a good method to getting a good, round shape: Place the ball on the lightly floured surface in front of you and flatten it slightly with your palm or the rolling pin. Place your rolling pin at the center of the round and roll once straight up and then straight down. Do not allow your rolling pin to roll right off the edges; just roll up to the edges, not off them. Lift the round and give it aquarter turn. Repeat the rolling and quarter turning until the round is the desired size and thickness. Place the rolled-out tortilla on a baking sheet or large platter and cover with a damp cloth while you roll out the remaining tortillas. Once you have the hang of it, you'll be able to roll and cook at the same time.
5. Heat a comal over medium heat until hot. Place a tortilla on the comal and cook until the underside is brown in spots, the tortilla has risen slightly, and the surface is dotted with air bubbles, 1 to 1 1/2 minutes. Flip the tortilla and cook until that side is browned in spots (usually where the bubbles were), 1 to 1 1/2 minutes. For best results, do not flip the tortilla more than once. Transfer the tortilla to a tortilla warmer or place on a platter and cover with a cloth napkin while you cook the remaining tortillas. Serve warm.
FROM AUNT ELSA'S KITCHEN
Try to flip flour and corn tortillas only once; flipping them back and forth makes the tortillas tough. Wrapped tightly, flour tortillas can be stored for several days in the refrigerator. Reheat them on the comal just before serving.
Strawberry Daiquiri
We felt so fancy and elegant as children, sipping "virgin" strawberry daiquiris out of beautiful glasses. I still enjoy these without the rum, but when I do add it, I always choose a flavored rum for the delicious tropical fruit flavor it adds.
MAKES 3 1/2 CUPS; 2 TO 3 SERVINGS
5 ounces frozen strawberries
1/2 banana
1 6 ounce can frozen lemonade
1/2 lemonade can (6 tablespoonsl 3 ounces of coconut, banana, or pineapple rum (optional)
2 tablespoons powdered sugar
About 12 (3 1/2 cups) ice cubes or as needed
Up to 1/2 cup fresh orange juice, or to taste
1. In a blender, place the strawberries, banana, and frozen lemonade. Fill the empty lemonade can halfway with rum and add it to the blender with the sugar and ice. Blend until well combined and slushy. Add orange juice to thin the mixture if necessary or more ice cubes to make it thicker.
2. Divide among 2 or 3 glasses and serve.
Thanks for reading CBS NEWS.
Create your free account or log in
for more features.