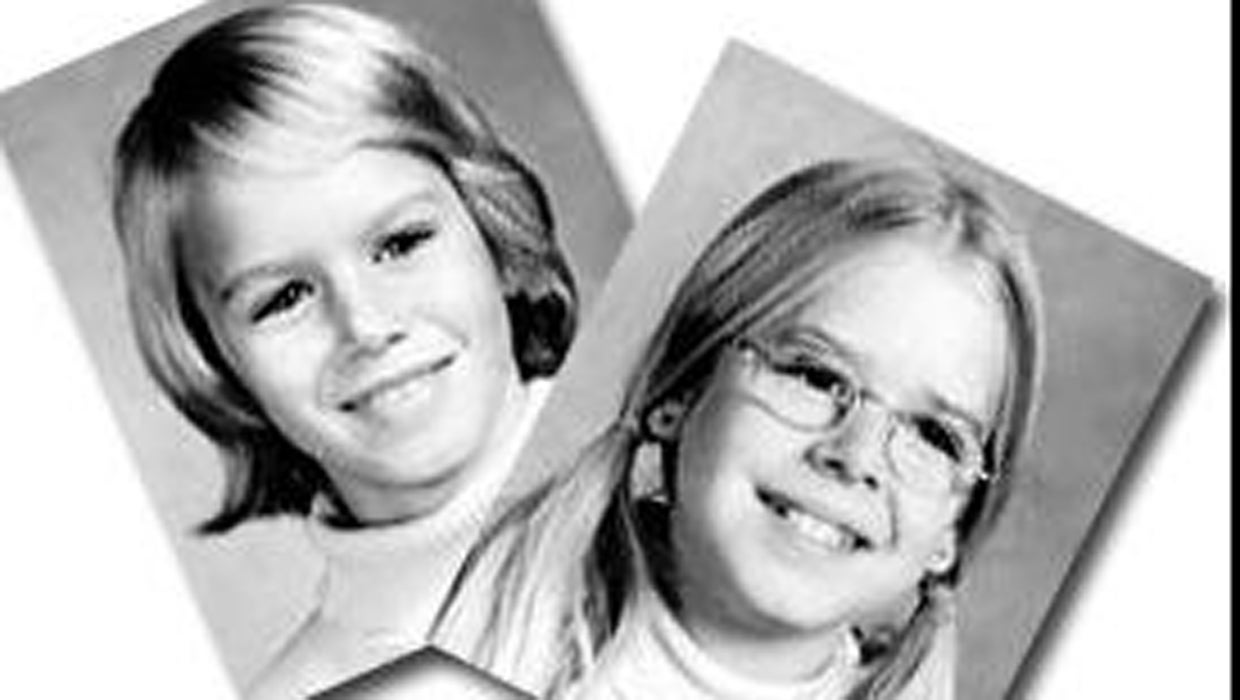 Lyon sisters case: Man pleads guilty to 1975 murders of 2 Maryland girls
BEDFORD, Va. -- A man charged in the killing of two young sisters from Maryland pleaded guilty to felony murder Tuesday, more than four decades after the girls vanished during a trip to a local shopping mall.
Lloyd Lee Welch Jr., 60, entered his plea in a Virginia court Tuesday. Welch is accused of abducting and killing 12-year-old Sheila Lyon and 10-year-old Katherine Lyon in March 1975. Authorities believe he burned the girls' bodies on a remote mountain in Bedford County, Virginia, where his family owned land. They were never recovered.
Welch was sentenced to 48 years in prison. The first-degree felony murder charge carried the possibility of a death sentence.
He was scheduled to go on trial Tuesday, but his trial request was withdrawn last week. The Washington Post reported that Welch pleaded guilty in an agreement that will also resolve two unrelated sexual assault cases against him.
Welch is already serving a long prison term in Delaware for sexually molesting a 10-year-old girl.
Despite the guilty plea, Welch's attorney says Welch insists he didn't sexually assault or kill the girls. Under his plea agreement with prosecutors, Welch admitted that he participated in the abduction of the girls, but continued to deny that he participated in their sexual assault or in their killings. Prosecutors have named other members of Lloyd's family as persons of interest, but have not charged anyone else in the case.
Prosecutor Wes Nance said Welch's credibility is "open for questioning." Nance said Welch's account of who was involved in the girls' abduction, sexual assault and killing changed repeatedly during interviews with police over the last several years.
The Lyon sisters' disappearance shattered the sense of security in Kensington, Maryland, rattling parents to the point where they no longer let their children play outside or walk to Wheaton Plaza.
"It deeply affected everybody in a very large radius within the D.C. suburbs. People always wanted to know who did this, who was this person, what happened?" said Teresa Brookland, a former schoolmate who remembers Katherine as sweet and friendly.
Harry Geehreng, a retired Montgomery County police sergeant who searched the mall and surrounding woods for the sisters after they disappeared, said it took a couple of days for it to sink in that the girls may have been abducted because it was a sleepy area with little crime back then.
"It was just an innocent time and people never thought the worst," Geehreng said. "Just the idea that a total stranger absconded with these two little girls, it was really beyond belief. People were genuinely shocked."
A spokesperson for the Lyon family lauded the cold case detectives who worked the case.
"The last two or three years or so, they have treated Sheila and Kate as if they were their own sisters or daughters," the family member said. "Professional but woven with....emotional investment in the case, in our family."
Cold case detectives began focusing on Welch in 2013 after they noticed a composite sketch that resembled a 1977 mug shot of Welch in a burglary near Wheaton Plaza.
When the girls disappeared, Welch was an 18-year-old former worker at a traveling carnival.
A friend of the girls told police she saw a young man leering at them and following them in the mall. Based on her description, a detective drew a composite sketch of a young man with long hair and facial scars from acne.
Police didn't release the drawing to the public because they were focused on another sketch based on descriptions from witnesses who said they saw the sisters talking to an older man who had a microphone and cassette recorder. After the sketch of the older man was made public, Welch told a security guard at the mall that he seen the sisters leave with that man. Police interviewed Welch but released him because they believed he was trying to get the $9,000 reward being offered.
In interviews with police beginning in 2013, Welch acknowledged he was at the mall that day and said he believed they'd been "abducted, raped and burned up," according to court documents.
He was charged in their deaths two years ago.
Thanks for reading CBS NEWS.
Create your free account or log in
for more features.