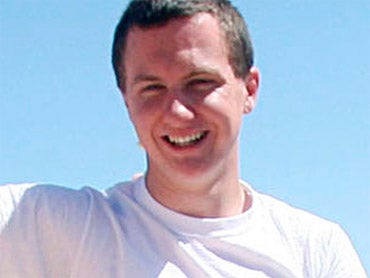 "Loner" Jared Loughner Spoke to Giffords in 2007
Jared Loughner, the suspect accused of killing six people and wounding 13 others Saturday, including Arizona Rep. Gabrielle Giffords, was described by
friends and neighbors as a disturbed, pot-smoking loner who lived with his parents.
Additionally, sources tell CBS News that Loughner had made threats in the past and even interacted with Giffords in 2007.
CBS News Justice and Homeland Security correspondent Bob Orr said on "Face the Nation" Sunday, "We do know from our sources and from our national security analyst Juan Zarate that Loughner had an interaction once before with Congresswoman Giffords back in 2007, where he apparently posed a question to her, kind of a benign question.
"She answered the question; he didn't find it acceptable, he didn't like the answer," Orr said.
"In the time since then, investigators believe perhaps he was tracking her and targeting her in a very loose way," Orr told CBS chief Washington correspondent Bob Schieffer.
2nd Person of Interest Sought in Tucson Shooting
Victims of the Tucson Shooting Rampage

Special Section: Tragedy in Tucson
"We should say that Loughner has made threats in the past," Orr added. "Police knew this guy. He had made these threats, general in nature, not specific."
Orr said that Loughner had not been arrested for the threats and therefore had nothing on him that was actionable.
"We want to be careful here to say that as far as we know, there was not specific intelligence that he intended to do anything yesterday. It's not like someone missed a blinking red light here," Orr said.
In addition to his vague threats against Giffords, Loughner dropped out of a local community college after having five contacts with campus police for classroom and library disruptions last year.
His motivation was not immediately known, but Pima County Sheriff Clarence Dupnik described him as mentally unstable and possibly acting with an accomplice.
Fox News reported that an internal Department of Homeland Security memo obtained by the network indicated that Loughner is possibly linked to an anti-Semitic, white supremacist group.
Details about Loughner are slowly emerging. The 22-year-old suspect has been described as a disturbed young man who was rejected by the military and frequently disrupted his college class.
The Tucson neighbors of Loughner said he often kept to himself - not hostile to anyone, but certainly not warming up to anyone, either.
"He was a guy in high school who definitely had his opinions on stuff and didn't seem to care what people thought of him," said Grant Wiens, 22, who told The Associated Press he went to high school and had a class at Pima Community College with Loughner.
Loughner was in custody after authorities said he opened fire outside a grocery store as Giffords, a Democrat, met with voters. The rampage killed six people including Arizona's chief federal judge. Giffords was among 13 people wounded.
Authorities said the accused gunman targeted the three-term congresswoman. Many questioned whether the nation's polarized political climate had played a role, even as Loughner's political views remained unclear late Saturday.
Lynda Sorenson said she took a math class with Loughner last summer at Pima Community College's Northwest campus and told the Arizona Daily Star he was "obviously very disturbed."
"He disrupted class frequently with nonsensical outbursts," she said.
In a Dec. 15 YouTube video, Loughner describes himself as a U.S. military recruit.
In one of several videos (see below), which featured text against a dark background, Loughner described inventing a new U.S. currency and complained about the illiteracy rate among people living in Giffords' congressional district in Arizona. Two spellings of his last name were given in the aftermath of the shooting - Loughner and Laughner.
Federal law enforcement officials poured over versions of a MySpace page that belonged to Loughner and over the YouTube video published weeks ago under an account "Classitup10" and linked to him. The MySpace page, which was removed within minutes of the gunman being identified by officials, included a mysterious "Goodbye friends" message published hours before the shooting and exhorted his friends to "Please don't be mad at me."
On his MySpace page, Loughner spoke of how he liked to read and he also wrote repeatedly about literacy, complaining that the rate was especially low in the congressional district where he lived.
(CBS)
(This screen grab shows the MySpace page attributed to Jared Lee Loughner, the suspect in the Tucson shooting rampage that left at least five people dead and wounded several more, including U.S. Rep. Gabrielle Giffords, Jan. 8, 2011.)
"The majority of people, who reside in District-8 are illiterate hilarious. I don't control your English grammar structure, but you control your English grammar structure," he said.
"He wasn't really too keen on religion it seemed like," Grant Wiens, 22, told The Associated Press. "I don't know if floating through life is the right term or whatever, but he was really just into doing his own thing."
In an interview with The Associated Press, Wiens also said Loughner used to speak critically about religion. He also talked about how he liked to smoke pot.
Neighbors said Loughner lived with his parents and kept to himself. He was often seen walking his dog, almost always wearing a hooded sweat shirt and listening to his iPod.
Rep. Giffords Critical After "Devastating Wound"
Obama: Giffords Shooting "A Tragedy for Our Entire Country"
Giffords' Husband, NASA Astronaut, Rushes to Ariz.
Gallery: Congresswoman Shot in Arizona
Loughner's MySpace profile indicated he attended and graduated from school in northwest Tucson and had taken college classes. He did not say if he was employed.
Tamara Crawley, director of the Marana Unified School District in Tucson, said Loughner attended Mountain View High School in Tucson for three years but withdrew after completing his junior year in 2006. Crawley did not know why Loughner had withdrawn from Mountain View High and it was not clear if he had transferred to another school in the area.
The Army released a statement indicating Loughner was not accepted when he applied in 2008.
In October 2007, Loughner was cited in Pima County for possession of drug paraphernalia, which was dismissed after he completed a diversion program, according to online records.
A year later he was charged with an unknown "local charge" in Marana near Tucson. That charge was also dismissed following the completion of a diversion program in March 2009, the Daily Star reported.
Ryan Miller, 19, was a sophomore at Mountain View when Loughner was a senior. He said Loughner was seemed like a normal kid.
"I was in shock," he said, describing his reaction to the shooting. "I didn't know what possessed someone our age to do something like this."
Thanks for reading CBS NEWS.
Create your free account or log in
for more features.