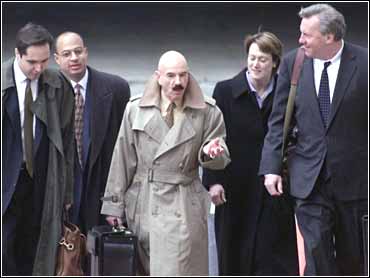 Liddy Hangs Tough On Watergate Theory
Watergate schemer and tough guy radio host G. Gordon Liddy plans to continue promoting his theory that the 1972 Watergate break-in was about sex -- and not gathering political intelligence -- now that a $5.1 million defamation lawsuit against him has been dismissed.
"I am going to be saying exactly what I've been saying," he said. "Why should I change? I just won."
U.S. District Chief Judge J. Frederick Motz declared a mistrial Thursday after jurors, who had deliberated for eight hours over two days, told him they could not reach a verdict.
Jurors said later they were split 7-2 in Liddy's favor. Several jurors said outside court they found Liddy's theory that the Watergate burglars were looking for pictures of prostitutes to be plausible.
After the mistrial declaration, Motz heard two more hours of arguments before dismissing the case for the second time in three years.
"Having carefully considered all of the evidence, I do not believe a reasonable jury could find Mr. Liddy was negligent in making the statements at issue in this case," Motz said.
The judge also said the evidence presented by Liddy's attorneys exposed holes in the long-held view that the Watergate burglars were after political information useful to President Nixon's re-election.
"I'm not saying the conventional theory of Watergate is wrong but certain portions of it have been brought into question in this case," Motz said.
Liddy was sued in 1997 by Ida "Maxie" Wells, a former Democratic National Committee secretary, for saying that the burglars were searching her desk for a package of call-girl photos believed to include a picture of the future wife of John Dean, the former Nixon White House counsel. Liddy says Dean organized the burglary to retrieve the photos.
Dean, whose lawsuit against Liddy was dismissed last year, has called claims that he masterminded the break-in "baloney" and said there was no evidence of a call-girl ring.
Motz threw out the case in 1998, but the 4th U.S. Circuit Court of Appeals reinstated it a year later.
Liddy, 70, called the latest dismissal and the mistrial a "double victory" that would allow him to continue espousing his theory.
During the three-week trial, Liddy referred to Dean as a "serial perjurer."
"John Dean has just had a stake driven through his heart and I pounded it in there, and how sweet it is," Liddy said after the dismissal.
Wells' attorney, David Dorsen, said his client would likely appeal. Wells, 51, was not in the courtroom Thursday. She attended the first week of the three-week trial and then returned to her job as an English instructor in Baton Rouge, La.
Liddy's attorney, John B. Williams, had argued that Liddy discussed his theory in speeches in 1996 and 1997 after thoroughly investigating the possibility of a call-girl ring.
"I don't feel yocan defame a desk or a phone," said 50-year-old juror Bob Balazic.
Liddy is now host of a syndicated conservative radio talk show.
Liddy's testimony was the first he has given about the particulars of the break-in, which led to Nixon's resignation.
He refused to testify during his 1973 trial, saying, "my father didn't raise a rat and a snitch," and received a sentence of more than 20 years -- the longest of any Watergate conspirator. He was released more than four years later when President Carter commuted his sentence.
Thanks for reading CBS NEWS.
Create your free account or log in
for more features.