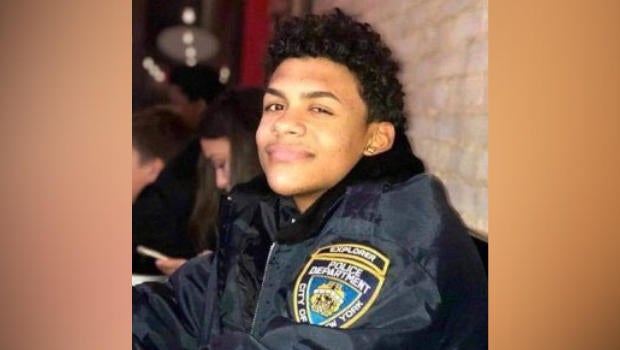 Arrests in fatal stabbing of Bronx teen seen dragged on video
NEW YORK -- Police have made arrests in connection with last week's fatal stabbing of a 15-year-old boy outside a Bronx bodega. Police identified one of the suspects as 19-year-old Kevin Alvarez, of the Bronx. He was arrested Sunday on charges of murder, manslaughter, and gang assault.
Information on his lawyer wasn't immediately available.
Police say the victim, 15-year-old Lesandro Guzman-Feliz, was attacked Tuesday night by a group of men at the the bodega. Surveillance video shows the suspects enter the bodega and dragging the victim out onto the street. The video then shows a man with what appears to be a large knife.
Guzman-Feliz was reportedly stabbed in the neck. He is seen on the video running a block to a hospital, where he died. Family and friends told CBS New York it was a tragic case of mistaken identity.
In a tweet, NYPD Chief of Detectives Dermot McShea released photos of the men he said fatally stabbed Guzman-Feliz, known as "Junior," and asked for tips. He said Junior was an aspiring NYPD detective.
"He was never going to give up on his dream of becoming an NYPD detective & WE'LL NEVER GIVE UP ON HIM," McShea tweeted, using the hashtag #JusticeforJunior.
Sunday, McShea said arrests had been made in the case and thanked the public for the "many, many valuable tips." Sources told CBS New York gang members had been arrested -- six in Paterson, New Jersey, and two others in the Bronx. Investigators tell the station all have links to a gang.
Guzman-Feliz had no gang ties, the station reports.
One relative who did want to identified told the station an alleged gang member sent an apology on Snapchat.
"They're just saying it wasn't for Junior, it was somebody else but they confused them and they said sorry and they apologize and they send their condolences," the relative said. "But he's gone. That doesn't change anything."
Cheers rang out outside a makeshift memorial for the teen at the bodega Sunday on the news of the arrests, the station reports.
"Thank God they were caught," Lesandro's mother, Leandra Feliz, told CBS New York. "It's good because they have to pay but I want my son back. If they could give me the life of my son I'd be happy."
Alvarez was expected to face a judge Monday.
Thanks for reading CBS NEWS.
Create your free account or log in
for more features.