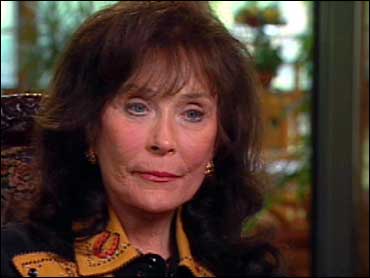 Legends: Loretta Lynn Tells All
In 1960, country singer Loretta Lynn, a struggling 25-year-old mother from Butcher Hollow, Ky., went to Nashville.
"Honky Tonk Girl," a song Lynn had written, was climbing the charts, and her husband Doo had convinced her she was ready to take center stage," Erin Moriarty reports.
"All the disc jockeys from the West Coast...when I'd go in to talk to them, I'd say, I'm on my way to Nashville. I'm going back to be on the Grand Ole Opry. They tried to tell me 'you just can't do that.'"
But she proved them wrong, and became an overnight sensation, churning out hit after homespun hit.
In 1980, her life became the Oscar-winning movie "Coal Miner's Daughter." Actress Sissy Spacek virtually became Lynn on the silver screen. "I loved being her, I had a sense of humor, I was funny," says Spacek.
"Coal Miner's Daughter" ended with Lynn going off into the sunset. Her life wasn't really like that, she says. The real story is in her new book: endless nights on the road in her tour bus while her husband Doo — the man she married when she was only 13 - stayed home drinking, womanizing and hiring housekeepers to raise their six children. It is brutally honest.
The book recounts a lot: Doo left her when she was regnant. He slept with Lynn's brother's wife. He left her alone to deliver a son on her own. All this happens before page 50. "It was real lonely. I felt sometimes it was better to be on the bus than to be home… because he was drinking so much," she says.
Lynn bought her family a 1400-acre family estate outside Nashville called Hurricane Mills. It was a huge house, but not a home. She was touring so much, she was rarely there, and when she came home, she felt like a stranger.
Her kids wanted her home, they say. "I was 11 years old when she started traveling," says Betty Sue, one of Lynn's older daughters. "I would cry for her. It was difficult."
"She was working 200 days a year," says Cissie, another of Lynn's daughters. "She was gone 6 or 7 months at a time. We've gone a year without seeing her."
In a 1975 CBS documentary, Doo told the world he wanted his wife home. But Lynn says that was not true: "I'd come home, and he'd have 300 or 400 more acres bought. Now somebody's gotta pay for that, right?"
Lynn's fans love the book, even though nothing in this bestseller will really come as a surprise to them, Lynn has been singing about her troubles for the last 40 years.
She says that the songs come from her own life: "But I've never written a song that my husband wasn't in. Every song I wrote, but he didn't know which line he was in."
She is a definitely a fighter. As she tells it, she had a regular sparring partner: her husband. "He never hit me one time that I didn't hit him back twice," she says.
She stayed, she says, because she loved him. "I didn't need him but he was my kids' daddy. Why leave hearts laying on the floor for me. I had to think of my kids. I can't be that selfish. He broke my heart lots of time but that woulda broke the kids' hearts, wouldn't it?"
She says she would do things differently if given another chance: "If I knew how my life would have been, no, I wouldn't do it over again…. It's been tough, it's been a tough life for me."
"She lived a lonely life, a lonely life and so did dad," says Cissie. "She has had this unbelievable success but that doesn't make up for lonely. That doesn't make up for coming home one day and your children are all grown up and married."
In 1984, Lynn lost a son, Jack Benny, in a drowning accident. In 1996, she lost her husband Doo. Despite their ups and downs, she never left his side as he battled complications related to diabetes. They were married for 48 years. "I miss everything about him. There was no decision I ever made without talking it over with him. It's hard because who do you go to now?" she asks.
Lynn and her five surviving children are now trying to become the family they never were. Cissie and Betty Sue run Lynn's Hurricane Mills spread, where two millions fans visit each year.
When Lynn goes on the road, three of her kids are by her side: Ernest, her oldest, was her manager for a time, and still performs with her; Loretta's twins Patsy and Peggy, known professionally as the Lynns, sing with her in her act.
At 67, Lynn still sings from her heart. Those who know her cherish her because, they say, there will never be anyone quite like her.
Lynn is now preparing for a new album.
Thanks for reading CBS NEWS.
Create your free account or log in
for more features.