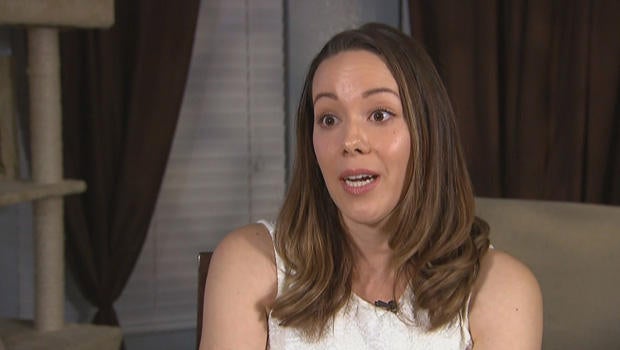 "My downfall": Retailer says she was misled by LuLaRoe
A California clothing company faces a billion-dollar lawsuit from clients who claim it is acting like a pyramid scheme.
LuLaRoe sells clothing, like leggings and dresses, to independent fashion retailers. They resell the items to customers through online and in-home sales.
Some plaintiffs say their association with LuLaRoe has brought them to financial ruin.
LuLaRoe says it has more than 80,000 independent fashion retailers who have sold more than $2 billion of LuLaRoe apparel so far this year.
Now some of the retailers allege they were misled into investing thousands of dollars in merchandise with the hopes of making huge profits.
"I worked day and night. It was far from being part-time. It was definitely more than full-time work," said former LuLaRoe retailer Gabrielle Aranda. She told CBS News correspondent Anna Werner that she joined the company this past spring to spend more time with her family, but ended up investing -- and losing -- more than $9,000 in just a few months.
The lawsuit seeks a billion dollars for a proposed class of plaintiffs who it says "were unknowingly recruited into [LuLaRoe's] pyramid scheme through manipulation and misinformation." The lawsuit said that, "none of [LuLaRoe's] bonus payments to their consultants depended upon an actual sale to a consumer."
Aranda said that she had difficulty selling clothes, but her team leader encouraged her to buy more inventory.
"They're getting more money off of what I'm investing, but I'm not making anything off of it," she said. "I think my downfall was reinvesting the money that I made off of it."
The lawsuit alleges that some consultants were told "to borrow money … take out credit cards, and some were even asked to sell their breast milk …" in order to purchase more inventory.
In a statement, LuLaRoe says that they have not been served with the complaint, but believe "the allegations are baseless, factually inaccurate, and misinformed."
They say their "bonus plan only includes incentives that reward retail sales to consumers."
LuLaRoe says they will vigorously defend against the allegations and are confident they will prevail.
Russell Winer, a marketing professor at New York University's Stern School of Business, believes the company is not a pyramid scheme.
"If there are products that are actually being sold to consumers, then it's not a pyramid scheme," he told Werner.
Lularoe has faced complaints about other issues, but has said that the vast majority of its retailers are successful and are happy with their experience. The company said that sales have put hundreds of millions of dollars in the pockets of independent fashion retailers.
Thanks for reading CBS NEWS.
Create your free account or log in
for more features.