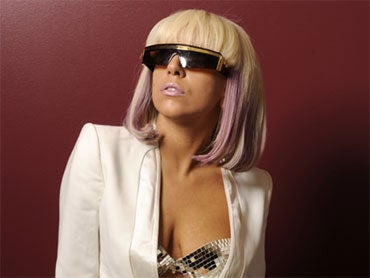 Lady Gaga is the biggest thing to hit the music world in years. Her debut album sold 12 million copies worldwide. She has more Facebook fans than President Obama and she's had almost a billion hits on YouTube.
Now, the flamboyant performer is the subject of a fascinating profile in Vanity Fair magazine by contributing editor Lisa Robinson.
Pictures: Lady Gaga's Eye-Catching Style
Pictures: Living Like Lady Gaga
And on "The Early Show" Tuesday, Robinson shared what she learned after spending time with Lady Gaga.
So who is Lady Gaga -- really?
Robinson said Lady Gaga is -- Lady Gaga.
"She's Lady Gaga all the time," Robinson said. "It's not an act. This is not somebody who puts makeup on like Kiss to go on stage. She lives, breathes, sleeps this all the time. She feels that it's an outlet for her creativity and the expression of her art, and she's just Lady Gaga."
While only 24 years old, Lady Gaga, Robinson said, has been doing "this" for 10 years.
Robinson said, "In the piece, she said, 'I've been really struggling for a long time.' And I said, 'Struggling for a long time? You've been in clubs for a couple of years with people booing.' And she said, 'No, I've been doing this since 14 or 15.' She used to call clubs up and pretend she was the manager. So nothing happens overnight."
In addition to talking about sex, drugs and rock 'n' roll in the Vanity Fair interview, Robinson said Lady Gaga discussed her family and fans and the work she does for the gay community and AIDS causes.
Robinson said, "I'm not trying to make her sound like a saint, she's a tough girl. She really is. And she's ambitious and focused and smart. But she really, really believes in all of this. She's hungry for more. She's hungry for more inspiration."
Lady Gaga is also committed to her fans, Robinson said in her article. Lady Gaga calls them "little monsters."
In the article, Lady Gaga says, "It's not about being No. 1, it's what you do when you're at the top to inspire and influence and save the people that lift you."
How do Lady Gaga's image and her past translate to her fans?
Robinson said Lady Gaga wants her fans to know they can do what she did.
"Patty Smith said something similar, who couldn't be further away in terms of the visual and the whole way that they carry out their art. But she says it's not so much that she wants this them to love her, she wants them to love themselves. She really, really believes this. She saved every fan letter, every book, everything that every fan has sent her. She took a Birkin bag and had all her fans write over it with graffiti, because she wanted to represent something that they could relate to, as opposed to something they couldn't afford like an expensive handbag."
What about her status as a sex symbol? Or is she asexual?
Robinson said, "She talks a little bit about why she was afraid of having a lot of sex, because she thought it would rob her of her creativity. She said she's been in abusive relationships. She (said) bisexuality is not that big a deal to her, but she also felt. I think. that sex is not necessarily what she's selling. She's selling a whole different kind of inspiration. She's much more about a creativity, a fusion of art, music, performance."
The September issue of Vanity Fair will be available on newsstands starting Wednesday.
Thanks for reading CBS NEWS.
Create your free account or log in
for more features.