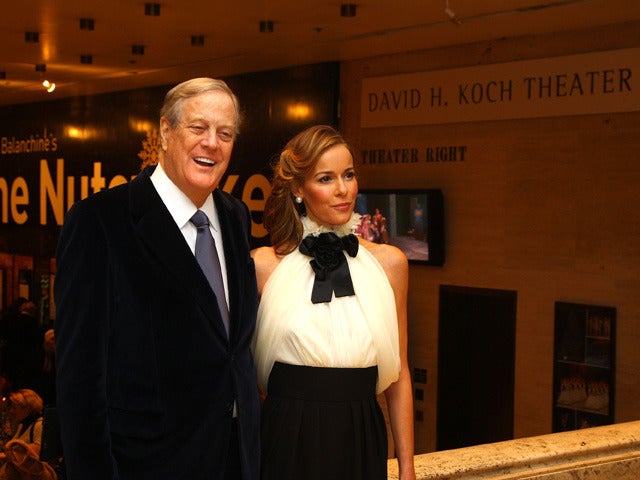 Koch Brothers' network will drop almost $1 billion on 2016 election
WASHINGTON -- Flexing its financial might, the political machine backed by billionaires Charles and David Koch on Monday told its allies that spending across its conservative network would approach $1 billion ahead of 2016's elections.
The stunning sum from Freedom Partners would dwarf expected spending from official GOP committees and many of the hopefuls expected to seek the party's presidential nomination in 2016. The $889 million budget is almost twice what 2012 GOP nominee Mitt Romney spent from his campaign accounts.
The hefty budget also suggests that the Koch-backed groups are prepared to spend heavily and early to weaken the front-runner for the Democratic nomination, former Secretary of State Hillary Rodham Clinton. Koch-backed groups such as Americans for Prosperity aired tens of millions of dollars in negative ads against incumbent Democratic lawmakers in 2014 and helped Republicans win a majority in the Senate.
While the Koch-backed groups are tremendously effective, even some of their allies eyed the latest budget figure with wariness.
Former Oklahoma Gov. Frank Keating, a Republican who now heads the American Bankers Association and who calls the Kochs "wonderful human beings," lamented the ballooning role of outside groups in politics.
"This is the new normal," Keating said.
Freedom Partners is the central hub for the Koch-backed network that includes groups like the activist-recruiting Americans for Prosperity, the millennial-targeting Generation Opportunity and the Hispanic-wooing Libre Initiative. Taken together, the Koch-endorsed groups make up a political machine that raises and spends more than any outside network in politics - and more than the official Republican and Democratic campaign committees.
But unlike those parties, the Koch collection of organizations is mostly made up of nonprofit groups that do not disclose their donors.
Democrats have heavily criticized the Kochs' spending in politics and lack of transparency. A Washington Post-Center for Responsive Politics analysis of the Koch-linked network found $407 million in spending during 2012's elections.
Freedom Partners' twice-as-large 2016 budget was included in a Monday briefing that Freedom Partners officials offered a record 450 allies and donors who huddled for a weekend in Palm Springs, California.
Two people familiar with the budget disclosed the sum on the condition of anonymity to discuss internal plans.
Charles and David Koch, billionaire industrialists who built Koch Industries into the second largest privately held corporation in the United States, do not pick up the tab alone. The twice-a-year summits typically end with Koch advisers urging likeminded donors to pledge to open their checkbooks and support their campaigns.
The events offer donors access to Koch strategists and top lawmakers. For instance, likely presidential contenders Sen. Rand Paul of Kentucky, Sen. Ted Cruz of Texas and Sen. Marco Rubio of Florida appeared together for a policy discussion. Another likely candidate, Wisconsin Gov. Scott Walker, also was on hand.
Democrats immediately criticized the figure as outrageous.
"They'll stop at nothing to purchase a government that grows their profits, weakens pollution standards and maintains tax breaks for big oil - all at the expense of investing in middle-class families and an economy that works for everyone," said Ben Ray, a spokesman for the liberal American Bridge 21st Century.
But spending is not a guarantee of success. Veteran GOP operative John Feehery said the massive investment would have little impact if Republicans lack quality candidates.
"None of the spending will make a difference unless we have a credible candidate who can effectively lead the country," Feehery said.
Thanks for reading CBS NEWS.
Create your free account or log in
for more features.