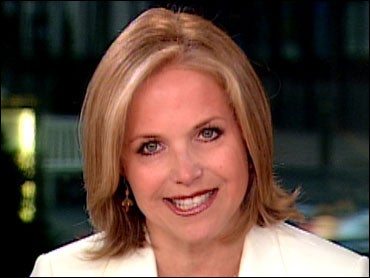 Katie Couric Moves To CBS
Katie Couric announced on air Wednesday that she is stepping down as co-host of NBC's "Today" show after 15 years in the job.
She will join CBS News as Anchor and Managing Editor of The CBS Evening News With Katie Couric. She will also contribute to 60 Minutes and will anchor CBS News primetime specials as well.
"I wanted to tell all of you out there who have watched the show for the past 15 years that after listening to my heart and my gut, two things that have served me pretty well in the past, I've decided I'll be leaving 'Today' at the end of May," Couric said. "I really feel as if we've become friends through the years."
Her announcement ended months of intense speculation about her intentions. Couric called her decision to join CBS News "the worst kept secret in America." She had been courted by Les Moonves, CBS Corporation President and CEO, and Sean McManus, President of CBS News and Sports.
"Joining CBS is a unique opportunity that came at the right time for me. I'm thrilled to become part of the rich tradition of CBS News and look forward to working with the many extraordinarily talented people there," Couric said.
Rome Hartman, executive producer of the CBS Evening News With Bob Schieffer told CBS' Public Eye that he did not know for sure until this morning that Couric had decided to take the job, and characterized her decision as one "we were hoping fervently she would make."
"What people appreciate most about Katie is that she's real -- that's really her up on the screen. I cannot wait to start working with her," Hartman said.
"I am personally so excited that Katie Couric is coming to the CBS News family," said Moonves. "Katie is simply one of the best in the business and represents a tremendous addition to CBS News."
McManus called it an "enormously proud day for all of us at CBS News."
Couric, too, is looking forward to the move. "Sometimes I think change is a good thing," Couric added. "Although it may be terrifying to get out of your comfort zone, it's also very exciting to start a new chapter in your life."
"It's hard to imagine being here and not having you sitting next to us," co-host Matt Lauer told her.
Couric, 49, co-anchor of NBC's "Today," will take the reins in September from interim anchor Bob Schieffer, who has held the job for more than year. Schieffer replaced longtime anchor Dan Rather.
"I couldn't be happier," Schieffer said. "Katie and I have been friends for years. She's going to be a terrific addition to CBS News. I think we're going to love Katie, and I think Katie's going to love us."
---

Read and comment about coverage of this story in Public Eye.

---
Couric is said to be intrigued with the opportunities afforded by making a switch, especially the chance to return to hard news full time. In a 2005 New Yorker article, Couric told Ken Auletta, "I have, when it's operating on all four cylinders, one of the best jobs in television. At the same time, everybody needs recharging."

"Katie is a world-class reporter," said Jeff Fager, executive producer of 60 Minutes. "There aren't many people in this business who can conduct an interview as well as she can. It's no wonder Don Hewitt was chasing her for years to be on this broadcast, and it's exciting that it's finally going to happen."

Schieffer himself had previously made no secret of his desire to see Couric at CBS News.

"She's a great interviewer, people know who she is, and she has enormous credibility. People believe her. They take her seriously," Schieffer recently told the Philadelphia Inquirer. "She's also a very nice person to have around this place. She would make us a better news department."

"This is one old CBS hand who can't wait till she starts. Couric for my money is the best live television interviewer period," said Early Show co-anchor Harry Smith. "As for a woman as the solo network anchor? What took them so long."

So far this season, CBS Evening News has averaged 7.7 million viewers, 200,000 more than at this point last year, according to Nielsen Media Research. Meanwhile, "NBC Nightly News" is down by 700,000 viewers, and ABC's "World News Tonight" has lost 900,000.

Couric joined "Today" in June 1990 as its first national correspondent. She was also a contributing anchor for "Dateline NBC." She was the longest-serving anchor in the 54-year history of "Today." Couric began her broadcasting career at NBC News in July 1989 as deputy Pentagon correspondent.

From 1987 to 1989, she was a general-assignment reporter at WRC-TV in Washington, D.C., where she won an Emmy and an Associated Press Award for her work. From 1984 to 1986, she was a general-assignment reporter at NBC's WTVJ in Miami. She began her career as a desk assistant for the ABC News bureau in her native Washington, D.C., in 1979. In 1980, she joined CNN as an assignment editor. She moved to Atlanta as an associate producer and later became the producer of a two-hour news and information program. She eventually became a political correspondent.

In May 2001, Couric was honored with a prestigious George Foster Peabody award for her series "Confronting Colon Cancer," which aired on "Today" in March 2000. Her husband, Jay Monahan, died of colon cancer in 1998 at the age of 42.

She has also won six Emmys, a National Headliner Award, the Society of Professional Journalists' Sigma Delta Chi award, an Associated Press Award, a Matrix Award, two Gracie Allen Awards, the Julius B. Richmond Award by the Harvard School of Public Health, and UNICEF's Danny Kaye Humanitarian Award. Her reporting on colon cancer also contributed to NBC News' 2001 Edward R. Murrow award for Overall Excellence for the news department.

In March 2000, along with Lilly Tartikoff and the Entertainment Industry Foundation, she launched the National Colorectal Cancer Research Alliance (NCCRA) in an effort to end the threat of colon cancer through education to encourage preventive testing and new medical research.

She has also hosted fundraisers to benefit cancer research, recently raising close to $10 million for the NCCRA and the Jay Monahan Center for Gastrointestinal Health at New York-Presbyterian Hospital.

Couric graduated with honors from the University of Virginia. She lives in New York with her daughters, Elinor Tully Monahan and Caroline Couric Monahan.
Thanks for reading CBS NEWS.
Create your free account or log in
for more features.