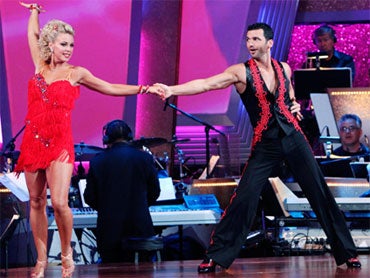 Kate Gosselin: I Will Provide For My Children
Kate Gosselin is firing back after an attorney for her ex-husband, Jon Gosselin, said the former reality TV dad planned to sue for primary custody of their eight kids because Kate's appearances on "Dancing with the Stars" turned her into an "absentee parent."
"I am not willing to comment in public on the custody discussions regarding my children," Kate said in a statement. "What I will say is this: I am and always will be a mother first, but as a single working mom, I will do everything necessary to provide for my kids despite the opinions of others."
Jon Gosselin's new lawyer, Anthony List, said Tuesday that he plans to file papers in Berks County Court in Pennsylvania this week to reopen their divorce settlement.
Photos: Season 10 of "Dancing"
Photos: The Gosselin Family
Past "Dancing" Champions and Competitors
List said that Kate Gosselin's participation on "Dancing with the Stars" has taken her away from the twins and sextuplets, and that she has delegated most child care responsibilities to nannies.
"Without a doubt, she's an absentee parent," List added.
Kate Gosselin's attorney, Mark Momjian, called the allegation reckless and "patently false."
"It's deplorable to make a comment like that," he said. "I know Kate Gosselin is all about her children, and she's always been about her children. Let him file what he says he's going to file and we'll respond accordingly."
Jon, Kate and their eight children were the subject of the popular TLC reality series "Jon & Kate Plus 8." The show ended its run in November and the couple's divorce became final in December.
The no-fault divorce settlement gave Kate Gosselin primary custody of the children and the family home in Wernersville, Pa., about 50 miles northwest of Philadelphia.
List said Kate Gosselin has been pursuing her career at the expense of the children.
"If she's truly committed and dedicated to these children, as I believe she is, then she should open her eyes and see what's happening to these children," List said. "Their life is topsy-turvy. Jon can give them stability."
He said Jon Gosselin also wants a modification of his $21,000-per-month child support obligation, an amount List called "horrific" given Kate's earning capacity.
"Dancing With the Stars" was America's most-watched show last week, outdrawing both editions of Fox's "American Idol" for the first time. Kate Gosselin also has a new book out this month, "I Just Want You to Know."
Jon Gosselin's pending court petition was first reported by TMZ.com.
Thanks for reading CBS NEWS.
Create your free account or log in
for more features.