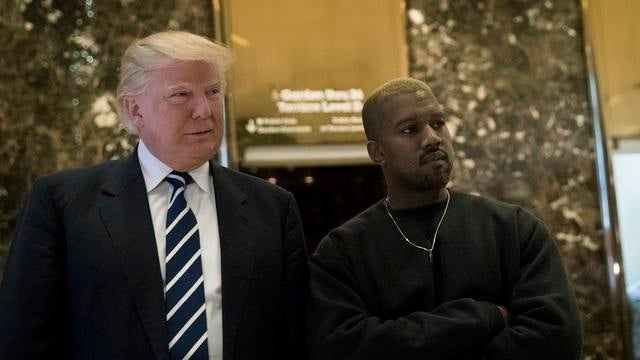 Kanye West to meet with Trump, Jared Kushner at White House
Following in the steps of his reality TV star wife-turned-activist Kim Kardashian West, rapper Kanye West will be meeting with President Trump and the president's son-in-law Jared Kushner at the White House on Thursday.
White House press secretary Sarah Huckabee Sanders confirmed to the White House TV pool that West will be joining the president for lunch, and also meeting with Kushner.
"Topics of discussions will include manufacturing resurgence in America, prison reform, how to prevent gang violence, and what can be done to reduce violence in Chicago," Sanders said in a statement.
The president, who has espoused the importance of due process and the presumption of innocence until proven guilty, voiced his own ideas about how to reduce crime in Chicago during a speech to police in Orlando Monday — trying out "stop-and-frisk," like tactics New York City has employed in the past.
"I've told them to work with local authorities to try to change the terrible deal the city of Chicago entered into with ACLU, which ties law enforcement's hands; and to strongly consider stop-and-frisk," the president told the supportive crowd. "It works, and it was meant for problems like Chicago. It was meant for it. Stop-and-frisk."
As of late, West has drawn ire for his public support of Mr. Trump, most recently after going on a rant following a performance on NBC's "Saturday Night Live." In clips that circulated on social media but were not broadcast, West discussed his plans to run for president and his support for Mr. Trump as he wore a red "Make America Great Again" cap.
"It's so many times that I talk to a white person about this, and they say, 'How could you support Trump? He's racist.' Well, if I was concerned about racism, I would have moved out of America a long time ago," he said. "We don't just make our decisions off of racism. I'ma break it down to you right now ... If someone inspires me and I connect with them, I don't have to believe in all they policies."
Cast members that had joined West on stage appeared uncomfortable standing behind the rapper as he went on, claiming that producers from the show had allegedly told West he couldn't don the MAGA hat. "You see they laughing at me," West said. "You heard 'em. They scream at me. They bully me. They bullied me backstage. They said, 'Don't go out there with that hat on.'"
Mr. Trump applauded West's tirade, tweeting that West was "leading the charge" for Trump supporters.
The two have previously met during the 2016 campaign, holding a private meeting at Trump Tower where Mr. Trump said he and the rapper had been friends for a "long time", calling West a "good man."
"Life. We discussed life," Mr. Trump said at the time when reporters asked what they discussed.
The rapper's meeting will be the latest for the West family after his wife held two meetings at the White House to discuss efforts surrounding prison reform. The White House confirmed that Kardashian West attended a listening session last month where Kushner was also present. This came just months after she met with Mr. Trump to urge him to commute the prison sentence of nonviolent drug offender Alice Marie Johnson. Johnson was later released in June after spending more than two decades in prison.
Thanks for reading CBS NEWS.
Create your free account or log in
for more features.