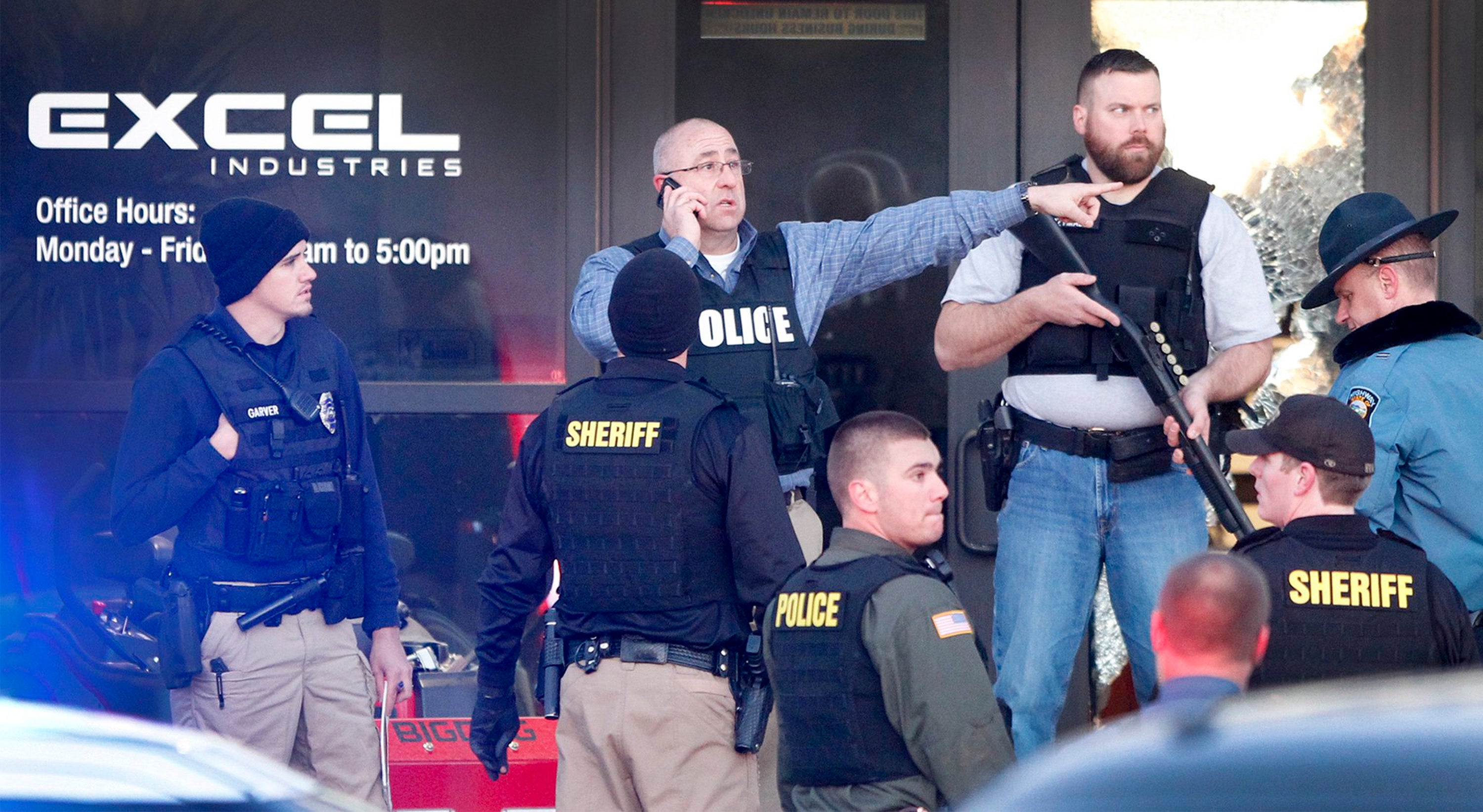 Witnesses recall frantic moments during deadly Kansas rampage
HESSTON, Kan. -- Four people were killed and 14 more were hurt following a deadly shooting rampage in Kansas. The spree stretched across two towns outside Wichita and ended at the Excel Industries plant in Hesston where the gunman, identified by CBS News as Cedric Ford, worked as a painter. Ford was killed by the police at the factory.
A law enforcement source told CBS News that Ford was a "disgruntled" employee, but investigators are still trying to determine what triggered this deadly rampage. CBS News has confirmed that Ford was served with a protection from abuse order, typically given in cases where there is violence in a relationship, shortly before the attack.
Police said all the deaths occurred at the Excel plant, reports CBS News correspondent Manuel Bojorquez. Ford's coworkers said he was acting normal when he showed up for work on Thursday.
"Within seconds after he fired...he was right into the building within five seconds," a witness and Excel employee said.
Loved ones rushed to the Excel Industries plant when they heard of the shooting. Ford, a 38-year-old employee of the factory, had opened fire on his co-workers.
"I heard him yell something -- that's what got our attention -- turned around, hopped out with an AK-47 -- appeared like -- and fired a few shots outside and then ducked down and went into the building," the witness said.
Armed with an assault-style weapon, police said the rampage started on a road around 5 p.m. The shooter opened fire from his car hitting someone in another vehicle.
Ford continued north shooting another person in the leg and stealing their car. He then made his way to the Excel factory, where he shot one person in the parking lot and then another 14 inside the building before an officer gunned him down.
"Even though he took fire, he went inside of that place and saved multiple, multiple lives. A hero as far as I'm concerned," Harvey County Sheriff T. Walton said of the officer.
One man who was shot spoke with the CBS Wichita affiliate, KWCH, from his hospital bed.
"We heard gunshots and people were just running, saying somebody was shooting and next thing you know, I felt I got hit in the leg," he said.
Jennifer Trujillo's husband was inside the plant.
"I heard my husband's voice, but I won't be happy until I see him in person. I feel like I'm in a nightmare right now," Trujillo said.
In an emotional scene, the two were reunited on live TV.
Video posted to Ford's Facebook account shows him firing a gun into a field. His criminal past includes multiple burglary convictions, fleeing from police and disorderly conduct.
The FBI and the Bureau of Alcohol, Tobacco, Firearms and Explosives are joining the investigation, but so far there are no connections to any foreign terror groups. Authorities will try to determine how exactly Ford got a hold of the weapons.
Flags across Kansas will be half-staff Friday. Gov. Sam Brownback issued a statement asking for prayers for the victims and their families.
Thanks for reading CBS NEWS.
Create your free account or log in
for more features.