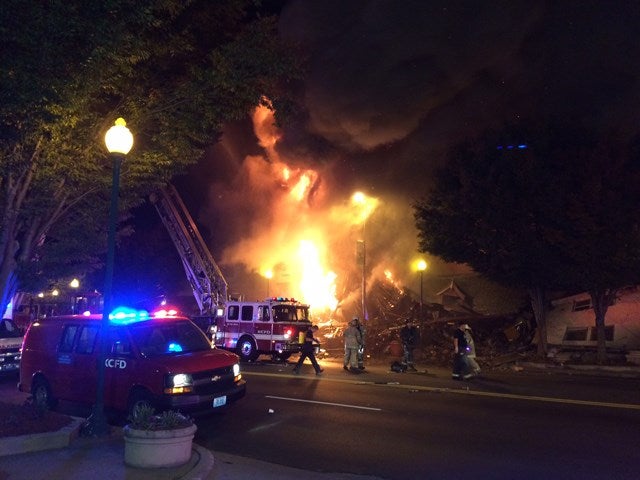 "They did not die in vain": 2 firefighters killed in K.C. blaze
KANSAS CITY, Mo. -- Two Kansas City firefighters have been killed and two others injured in the collapse of a burning building in which fire crews saved two people from the spreading flames, authorities said.
During an emotional news conference early Tuesday, Fire Chief Paul Berardi identified the firefighters as 17-year department veteran Larry J. Leggio and 13-year veteran John V. Mesh.
He didn't provide their ages. Berardi said the two died after rescuing at least two residents from the apartment building blaze.
Two other firefighters were injured. Berardi says one has been released from the hospital, and the other may be released Tuesday.
Berardi told reporters that Kansas City and its fire department mourned the loss of the firefighters and the injuries to the others in the massive fire that engulfed the building Monday night on the city's northeast side. He lauded those who died for saving lives.
"They did not die in vain," Berardi said. "They saved two civilians, carried them out of the second floor on ladders, before the wall collapsed," Berardi told KSHB-TV.
Fire Department Battalion Chief James Garrett told the Kansas City Star that firefighters initially arrived to find the building, which includes apartments, already heavily damaged, and crews evacuated people from inside.
Firefighters were clearing an area with a partially collapsed roof about 7:30 p.m. Monday when the building collapsed further, injuring four of them, Garrett said.
Berardi said at a news conference that firefighters were at a hospital consoling the families of the two who died. He expressed condolences to the families and their firefighting colleagues.
"Our hearts absolutely go out to the families, both to their peers who are grieving but also to their family members who are at the hospital with them now," he said.
He also promised to extend all help possible to the families as they grieve.
"The fire department family will help the families through. It will be a difficult month. This is the worst day," he said.
Firefighters gathered at the hospital to give support to each other and the families of those firefighters, CBS affiliate KCTV reports.
Hours after the firefighters were injured, flames could still be seen shooting out of the rubble, the Kansas City Star reported. It wasn't immediately clear what started the fire. An investigation is ongoing.
News photos taken at the height of the fire showed massive flames, and several fire trucks and ambulances crowding the street out front. A firefighter could be seen on an extended ladder poured jets of water on the flames, and later shots showed crews probing the charred rubble.
The city's mayor said via a statement later on social media that his prayers go out to those hurt and injured.
Thanks for reading CBS NEWS.
Create your free account or log in
for more features.