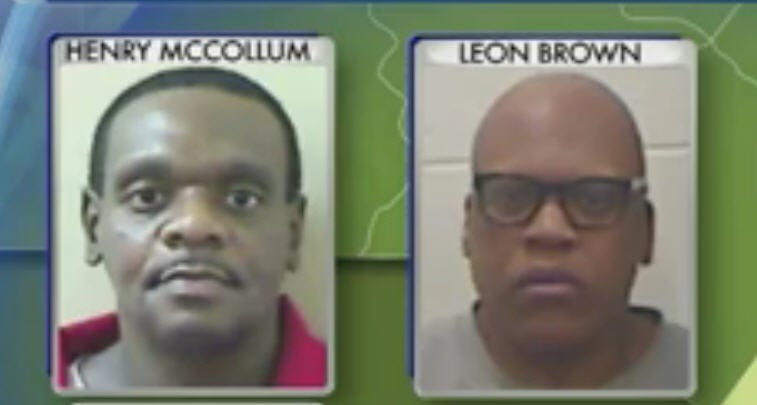 Judge overturns murder-rape convictions for 2 who served 30 years
LUMBERTON, N.C. - A North Carolina judge overturned the convictions Tuesday of two men who have served 30 years in prison for the rape and murder of an 11-year-old girl after another man's DNA was recently discovered on evidence in the case.
Superior Court Judge Douglass Sasser ordered the immediate release of Henry McCollum, 50, and Leon Brown, 46. The half brothers were convicted in the 1983 slaying of Sabrina Buie in Robeson County.
Lawyers for the men petitioned for their release after DNA evidence from a cigarette butt recovered at the crime scene pointed to another man. That man, who lived close to the soybean field where the dead girl's body was found, is already serving a life sentence for a similar rape and murder that happened less than a month later.
Family members of McCollum and Brown were in the packed courtroom as the judge announced his decision.
"We waited years and years," said James McCollum, Henry's father. "We kept the faith."
Sasser ruled after a day-long evidence hearing during which Sharon Stellato, the associate director North Carolina Innocence Inquiry Commission, testified about three interviews she had over the summer with the 74-year-old inmate now suspected of killing Buie. The Associated Press does not generally disclose the names of criminal suspects unless they are charged.
According to Stellato, the inmate said at first he didn't know Buie. But in later interviews, the man said the girl would come to his house and buy cigarettes for him, Stellato said.
The man also told them he saw the girl the night she went missing and gave her a coat and hat because it was raining, Stellato said. He told the commission that's why his DNA may have been at the scene.
Stellato also said the man repeatedly told her McCollum and Brown are innocent.
Still, he denied involvement in the killing, Stellato said. He told the commission that the girl was alive when she left his house and that he didn't see her again. He told the commission that he didn't leave the house because it was raining and he had to work the next day.
Stellato said weather records show it didn't rain the night Buie went missing or the next day.
Robeson County District Attorney Johnson Britt acknowledged the DNA discovery in court papers. He said evidence from the original trial is being tested again and he hasn't decided whether he retry McCollum and Brown.
Buie was found in a rural soybean field, naked except for a bra pushed up against her neck. A short distance away, police found two bloody sticks and a cigarette butt.
Authorities said McCollum, who was 19 at the time, and Brown, who was 15, confessed to killing Buie.
Attorneys said both men have low IQs and their confessions were coerced after hours of questioning. There is no physical evidence connecting them to the crime.
Both were initially given death sentences, which were overturned. At a second trial, McCollum was again sent to death row, where he remains, while Brown was convicted of rape and sentenced to life.
The DNA from the cigarette butts doesn't match either of them, and fingerprints taken from a beer can at the scene aren't theirs either. The other man now suspected in Buie's killing was convicted of assaulting three other women over 30 years before his last conviction.
Thanks for reading CBS NEWS.
Create your free account or log in
for more features.