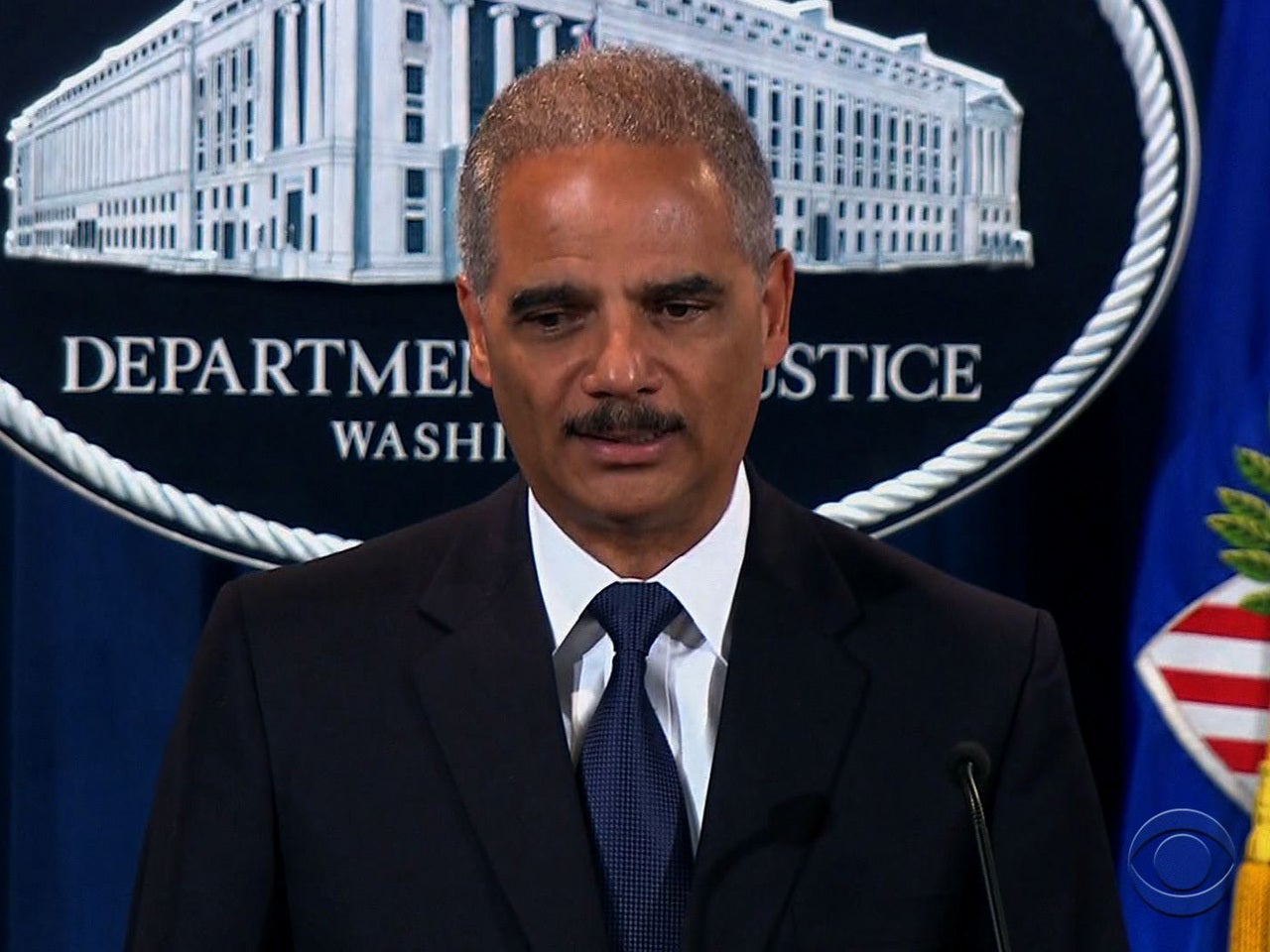 Johnson & Johnson to pay $2.2B in U.S. health care fraud settlement
WASHINGTONHealth care giant Johnson & Johnson and its subsidiaries have agreed to pay over $2.2 billion to resolve criminal and civil allegations of promoting three prescription drugs for off-label uses not approved by the Food and Drug Administration, the Department of Justice announced on Monday.
"The conduct at issue in this case jeopardized the health and safety of patients and damaged the public trust," Attorney General Eric Holder said in a statement. "This multibillion-dollar resolution demonstrates the Justice Department's firm commitment to preventing and combating all forms of health care fraud. And it proves our determination to hold accountable any corporation that breaks the law and enriches its bottom line at the expense of the American people."

The allegations include paying kickbacks to physicians and pharmacies to recommend and prescribe Risperdal and Invega, both antipsychotic drugs, and Natrecor, which is used to treat heart failure.
"J&J's promotion of Risperdal for unapproved uses threatened the most vulnerable populations of our society - children, the elderly and those with developmental disabilities," said Zane Memeger, U.S. Attorney for the Eastern District of Pennsylvania.
The figure -- one of the largest health care fraud settlements in U.S. history -- includes $1.72 billion in civil settlements with federal and state governments as well as $485 million in criminal fines and forfeited profits.
Monday's action is the latest example of regulators cracking down on aggressive pharmaceutical marketing tactics, namely trying to increase sales by pushing medicines for unapproved, or "off-label," uses. While doctors are allowed to prescribe medicines for any use, drugmakers cannot promote them in any way that is not approved by FDA.
"Every time pharmaceutical companies engage in this type of conduct, they corrupt medical decisions by health care providers, jeopardize the public health, and take money out of taxpayers' pockets," said Holder
J&J said in a statement, "This resolution allows us to move forward."
The government's criminal complaint over Risperdal charged that from 2002 to 2003, sales representatives of J&J subsidiary Janssen Pharmaceuticals promoted the antipsychotic to physicians and other prescribers who treated elderly dementia patients by urging them to use the drug to treat symptoms such as anxiety, agitation, depression, hostility and confusion despite the drug only being approved to treat schizophrenia at that time. Sales reps were allegedly offered incentives for off-label promotion of the drug.
Risperdal then grew to become J&J's top product by 2005, with sales over $3.5 billion.
In its plea agreement, J&J subsidiary Janssen Pharmaceuticals admitted to promoting Risperdal as a way to control erratic behavior in seniors with dementia. Today that use is explicitly barred in the drug's warning label because it can increase the risk of stroke and death in elderly patients.
Janssen agreed to plead guilty to violating drug marketing laws and will pay $400 million in fines and forfeited sales.
In a separate civil complaint, the government alleged that J&J and Janssen promoted Risperdal and a similar drug, Invega, to control numerous behavioral problems in seniors, children and the mentally disabled between 1999 and 2005.
Documents filed in the case show the government raised objections about the company's marketing approach for years. In a 1999 letter, the FDA warned Janssen that "disseminating materials that state or imply that Risperdal has been determined to be safe and effective for the elderly population" would be "misleading."
Despite such warnings, the company's marketing plan targeted nursing homes and doctors who treated the elderly. Marketing materials distributed by an "ElderCare sales force" emphasized Risperdal as a treatment for seniors suffering from everything from agitation to depression to hostility. The complaint also alleged that Janssen knew patients taking Risperdal had an increased risk of developing diabetes, but still promoted the drug as "uncompromised by safety concerns."
The settlement with Janssen also resolved allegations that the companies paid kickbacks to Omnicare Inc., the nation's largest pharmacy specializing in dispensing drugs to nursing home patients, to further efforts to target elderly people with dementia.
Prosecutors said Monday the off-label prescribing contributed to millions of dollars of wasteful federal and state spending by health programs like Medicare, Medicaid and the Department of Veterans' Affairs.
"Through these alleged actions, these companies lined their pockets at the expense of American taxpayers, patients and the private insurance industry," Holder said.
The Natrecor settlement with J&J subsidiary Scios Inc. resolves allegations that the company in 2009 aggressively marketed the heart failure drug for unapproved uses with "no sound scientific evidence supporting the medical necessity."
J&J and Scios agreed to pay $184 million to settle civil allegations surrounding the drug.
The agreement is the third-largest U.S. settlement involving a drugmaker, and the latest in a string of legal actions against drug companies allegedly putting profits ahead of patients. In recent years, the government has cracked down on the industry's aggressive marketing tactics, which include pushing medicines for unapproved uses. While doctors are allowed to prescribe medicines for any use, drugmakers cannot promote them in any way that is not approved by FDA.
Last year British drugmaker GlaxoSmithKline paid a record-setting $3 billion in fines to settle criminal and civil violations involving 10 of its drugs including for misbranding popular antidepressant drugs Paxil and Wellbutrin.

Thanks for reading CBS NEWS.
Create your free account or log in
for more features.