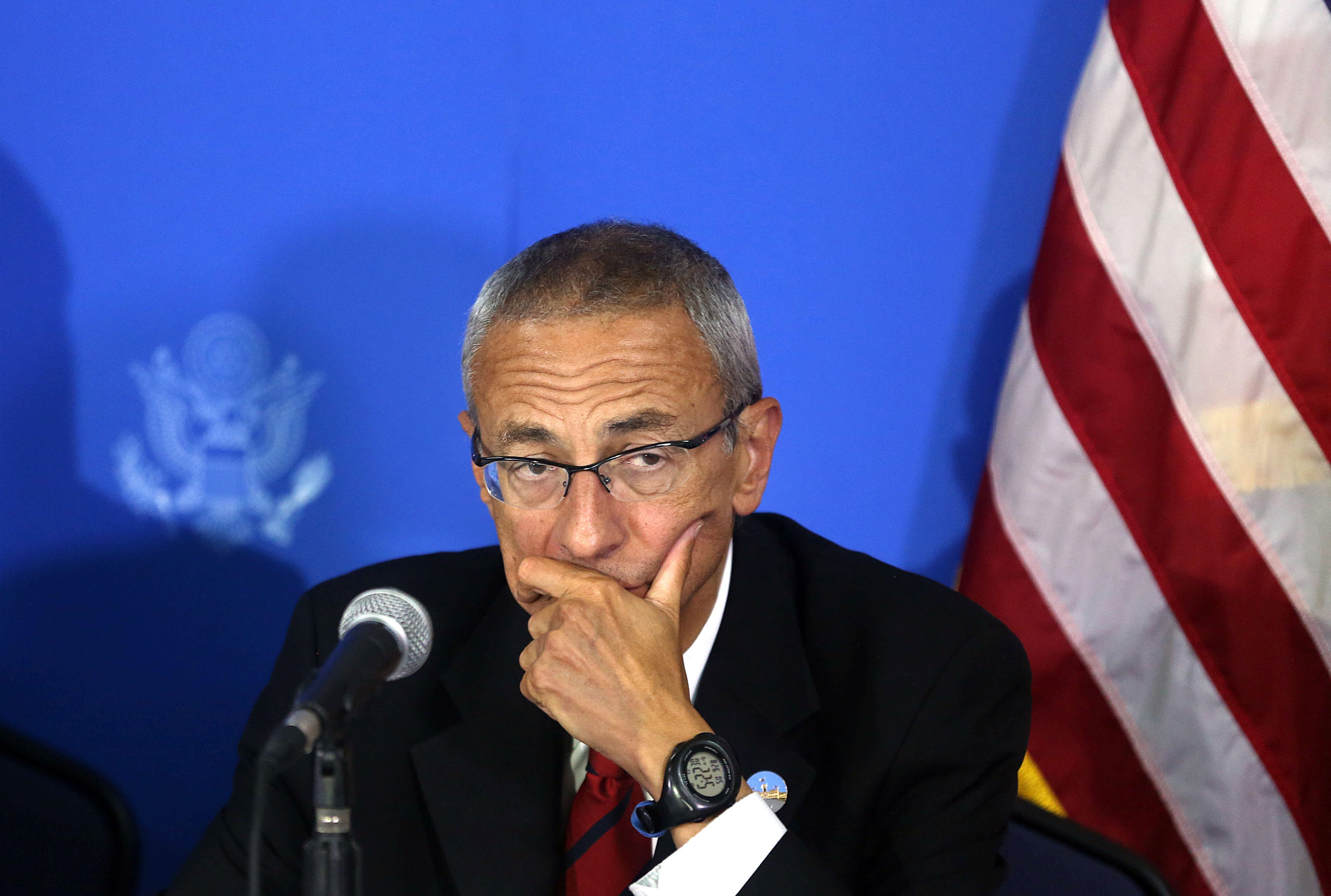 Podesta emails show Clinton campaign's attempt to change date of Illinois primary
Emails leaked from Clinton campaign chairman John Podesta's private email account Thursday by WikiLeaks show Hillary Clinton's campaign tried to move the Illinois presidential primary to a later date, betrayed a little annoyance with Bill de Blasio, and gave a small window into just how much goes into ensuring Clinton is thoroughly prepared and briefed when she faces the press or public.
June 2015: Mook's response to a de Blasio tweet praising Sanders
After New York City Mayor Bill de Blasio tweeted, "I've always liked what i heard from Bernie Sanders," Clinton campaign manager Robby Mook had a response: "Wow. What a terrorist."
De Blasio withheld his endorsement of Clinton for months, though he'd known both Clintons for years. De Blasio was Clinton's campaign manager for her 2000 senate campaign, served in Bill Clinton's administration, and in fact it was Bill Clinton who swore de Blasio into office as mayor.
De Blasio ended up waiting until October 2015 to announce his endorsement of Clinton. He suggested that his delay was a result of the fact that Clinton didn't immediately roll out her entire platform when she launched her campaign in April 2015.
December 2015: Clinton's "generally sloppy part" of interview with Charlie Rose
Clinton's communications team discussed the "generally sloppy part of the interview" with Charlie Rose, in which Clinton fudged her position on taxes.
Podesta gave a crisp critique of the interview in the email thread:
In a generally sloppy part of the interview when he turned to taxes, I think she raised three questions: 1) a kind of weird denial that she's cutting middle class taxes, 2) strumming around in the payroll tax and saying it's not that big a deal, and 3) opening the door to a repatriation holiday, although generally being against it. I think we need to be ready for all, but the payroll tax answer seems the most problematic if the spin is that the payroll tax isn't big deal to most people as opposed to a small cut in the payroll tax wouldn't be smart.
The staff agreed Clinton needed better preparation, especially for the middle class tax cuts question, noting "Charlie even tried to help her on that answer."
Clinton adviser Jake Sullivan admitted that she wasn't ready for those questions -- because the interview went on for much longer than her communications team expected. He said, "...in this case we didn't do any prep for economic policy q's, in part because we didn't expect the interview to go 55 mins!"
January 2016: Sid Blumenthal - "lost in his own web of conspiracies"
Podesta said of Clinton friend Sid Blumenthal, "Sid is lost in his own web of conspiracies. I pay zero attention to what he says."
November 2014: Future Clinton campaign manager Robby Mook wants Illinois primary date moved
A November 2014 email hacked from the accounts of Clinton campaign chairman John Podesta was among nearly 2,000 new emails published by the anti-secrecy group WikiLeaks. The email, from Clinton's future campaign manager Robby Mook to Podesta, said Obama administration officials should use their connections in the president's home state to try to push back the March 15 Illinois primary by at least a month.
"The overall goal is to move the IL primary out of mid-March, where they are currently a lifeline to a moderate Republican candidate after the mostly southern Super Tuesday," Mook wrote. "IL was a key early win for (GOP presidential candidate Mitt) Romney" in 2012.
While the request would come from Obama, the president and former Illinois senator, "the key point is that this is not an Obama ask, but a Hillary ask," Mook said.
"The Clintons won't forget what their friends have done for them," he added. Clinton and her husband, former President Bill Clinton, famously gave special attention to allies considered "friends of Bill."
Mook suggested that Bill Daley, a former White House chief of staff and longtime Illinois power broker, should reach out to Illinois House Speaker Michael Madigan to make the request. He made it clear it would be a tough sell because Madigan and other Illinois Democrats "feel forgotten and neglected by POTUS," a reference to Obama.
Daley, whose father and brother were both Chicago mayors, told The Associated Press that he called Madigan as requested, but warned Clinton's team that moving the primary was unlikely because of a short time-frame.
"I made the call and talked to Mike and he listened and understood the reasoning," Daley said. "But my own judgment was the likelihood that either side would want a primary later in the legislative session was going to be slim to none."
The Illinois legislature moved up the 2008 primary to benefit its favorite son, then-Sen. Barack Obama, in his bid for the White House. The primary was held in early February that year to give Illinois more influence, but then moved back to its traditional date in mid-March.
This year the primary was held as scheduled on March 15. Clinton won the Democratic primary, while Donald Trump won the Republican contest.
CBS News' Steve Chaggaris and Donald Judd contributed to this report
Thanks for reading CBS NEWS.
Create your free account or log in
for more features.