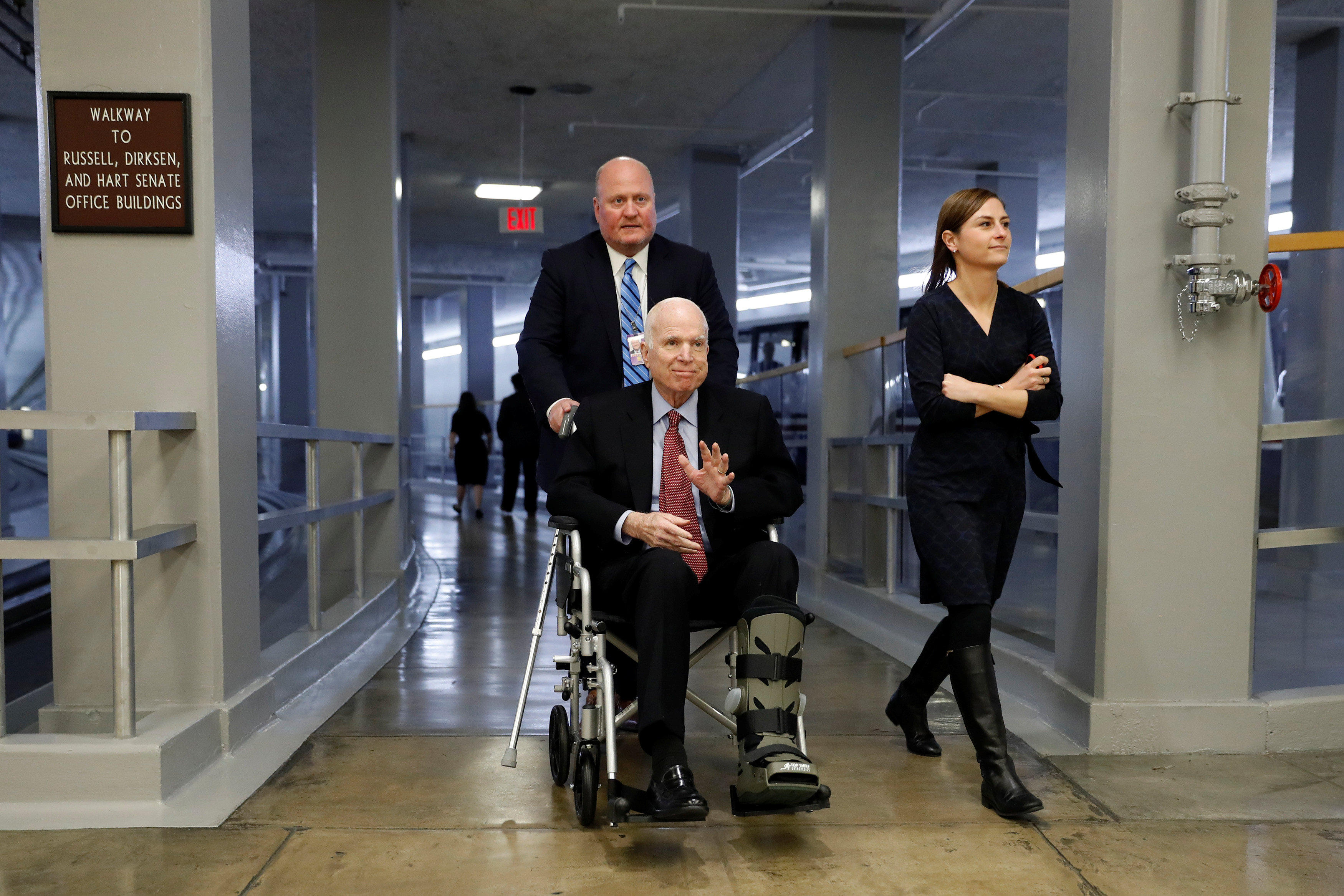 John McCain hospitalized for "normal side effects" of cancer treatment, office says
Sen. John McCain was admitted Wednesday to Walter Reed Hospital for "normal side effects" of his cancer treatments, his office said in a statement. "As ever, he remains grateful to his physicians for their excellent care, and his friends and supporters for their encouragement and good wishes," the statement said.
McCain is currently receiving treatment for glioblastoma, an aggressive form of brain cancer. The 81-year-old was diagnosed in July.
"Sen. McCain looks forward to returning to work as soon as possible," the statement continued.
In an interview with Lesley Stahl for "60 Minutes" in September, McCain spoke about facing the tough diagnosis. "They said that the prognosis is very, very serious. Some say 3 percent, some say 14 percent. You know, it's -- it's a very poor prognosis," he said. "So I just said, 'I understand. Now we're going to do what we can, get the best doctors we can find and do the best we can.' And at the same time celebrate with gratitude a life well lived."
Earlier Wednesday, McCain's daughter, Meghan, a co-host of "The View," grew tearful as she interviewed former Vice President Joe Biden, whose son Beau died from glioblastoma in 2015.
"There's a lot of things happening," Biden told Meghan McCain. "There's breakthroughs occurring now ... It could happen."
Biden recently wrote a memoir, "Promise Me, Dad: A Year of Hope, Hardship, and Purpose," about his son's Beau's battle with cancer and its impact on their family. Biden appeared on "CBS This Morning" Wednesday to discuss his memoir and his son's life.
"One, I wanted people to know what an incredible young man my son was, and I also wanted people to – a lot of people have gone through what I've gone through without any of the help I've had," Biden said on the broadcast. "You know, Immanuel Kant's phrase, there's three things to happiness: something to do, someone to love, and something to look forward to. It's all about trying to take what Beau – what I think, what my family thinks – would be doing were he still here and doing it. It gives you a purpose."
Thanks for reading CBS NEWS.
Create your free account or log in
for more features.