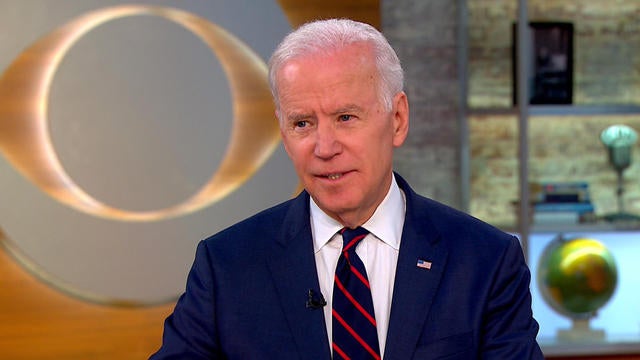 "Promise Me, Dad": Joe Biden on finding "hope and purpose" after loss
Joe Biden's son, Beau, died more than two years ago at the age of 46 after a battle with brain cancer. The tragedy came as the former vice president faced the decision of whether to run for president in 2016.
In Part II of his interview on "CBS This Morning," Biden discussed his new book, "Promise Me, Dad: A Year of Hope, Hardship, and Purpose," which chronicles that challenging time. He also discussed what he's learned along the way, and the one piece of advice he'd give to every young person.
Although Biden has been through more than his fair share of grief, he never wanted his book to be about that alone.
"One, I wanted people to know what an incredible young man my son was, and I also wanted people to – a lot of people have gone through what I've gone through without any of the help I've had," Biden said. "You know, Immanuel Kant's phrase, there's three things to happiness: something to do, someone to love, and something to look forward to. It's all about trying to take what Beau – what I think, what my family thinks – would be doing were he still here and doing it. It gives you a purpose."
But finding hope didn't come easy after another tragedy struck his family in 1972.
"When I lost my wife and daughter, when they were killed right after I got elected – a tractor-trailer hit them. People would come up and say, I know how you feel. After a while you feel like saying – it's awful, you know they mean well – you feel like saying you don't have any idea."
But as Biden demonstrates through personal anecdotes, some people do understand, and one even offered a strategy he's gone on to share with others. He started ranking his days from 1 to 10 – bad to great. Over time, the bad days started becoming less frequent.
"The down days will be just as down as the moment you heard the news and you'll think I'm never gonna get better," he recounted. "Don't look at it for six months and then put it in a graph. You'll see the down days are further and further and further apart."
"It helps because it makes you realize I am making progress, I am able to do something," Biden said.

Asked what the one thing every young boy needs to know, Biden said, "be just straightforward and honest."
"You have to – it's the building block for everything that happens in your life. I mean it really truly is, it's the building block for everything. And my dad had an expression, He'd say everyone – and he meant it – every single person is entitled to be treated with dignity, no matter what."
Thanks for reading CBS NEWS.
Create your free account or log in
for more features.