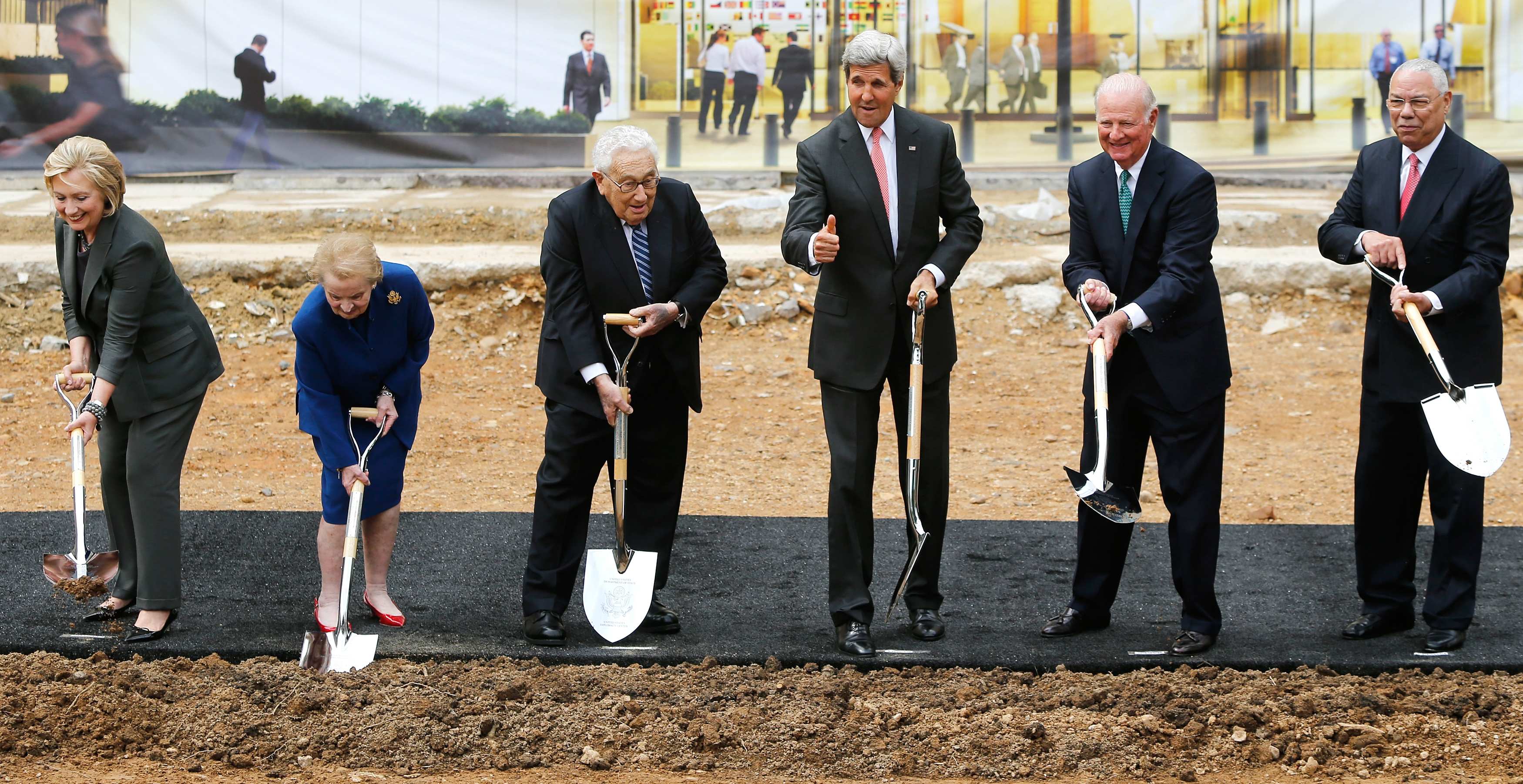 Digging diplomacy: Kerry, 5 predecessors at museum groundbreaking
WASHINGTON -- Secretary of State John Kerry warned Wednesday against creeping American isolationism, making the case that U.S. global leadership is essential in uncertain times as he hosted a rare public reunion of five of his predecessors.
Speaking at the groundbreaking of a new museum celebrating the achievements of American diplomacy, Kerry said the United States looks inward at its peril and that U.S. engagement is needed more than ever. Kerry was joined at the State Department ceremony by his predecessors - Henry Kissinger, James A. Baker III, Madeleine Albright, Colin Powell and Hillary Rodham Clinton. Of the seven living ex-secretaries of state, all of whom are honorary directors of the U.S. Diplomacy Center, only Condoleezza Rice and George Shultz were not present.
CBS News White House correspondent Mark Knoller noted that the diplomats all used shovels engraved with the State Department seal at the groundbreaking event.

"American leadership and engagement should not be up for debate in the first place," Kerry said, listing Iraq, Syria, Ukraine, Gaza, South Sudan, Libya and North Korea as among the trouble spots that Washington must address. "I'm not saying that we can or should do any of it alone; that's not the proposition, but the world - and I think most people here understand - will not do it without us."
"I can tell you for certain, most of the world does not lie awake at night worrying about America's presence," he said. "They tell me that they worry about what would happen in our absence... We have to remember, engagement and leadership, not retrenchment and isolationism, are the American DNA."
Kerry hailed each of the previous secretaries who attended the event. He praised Clinton for breathing new life into old partnerships and giving meaning to "personal diplomacy" and Powell for uniting the world against al Qaeda after the Sept. 11, 2001 terrorist attacks.
Albright "epitomizes moral leadership and continues to inspire American diplomats wherever they serve" for her work in ending the conflicts in Kosovo and Bosnia, Kerry said.
Baker, he said, created "the gold standard by which modern coalition-building is judged" in the run-up to the 1991 Gulf War. Kerry said he would use it as a guide as he embarks on a mission to forge a united front against Islamic militants operating in Iraq and Syria. Kerry did not mention that the coalition that Baker built included Syria, a country the Obama administration has vowed not to work with in the fight against the extremists.
And, Kissinger "literally wrote the book on diplomacy," Kerry said.
The U.S. Diplomacy Center, being constructed with $25 million in privately raised money, will be located at the State Department and comprise 40,000 square feet of interactive exhibits and artifacts and will offer educational programs. It is expected to be completed in about 18 months.
Thanks for reading CBS NEWS.
Create your free account or log in
for more features.