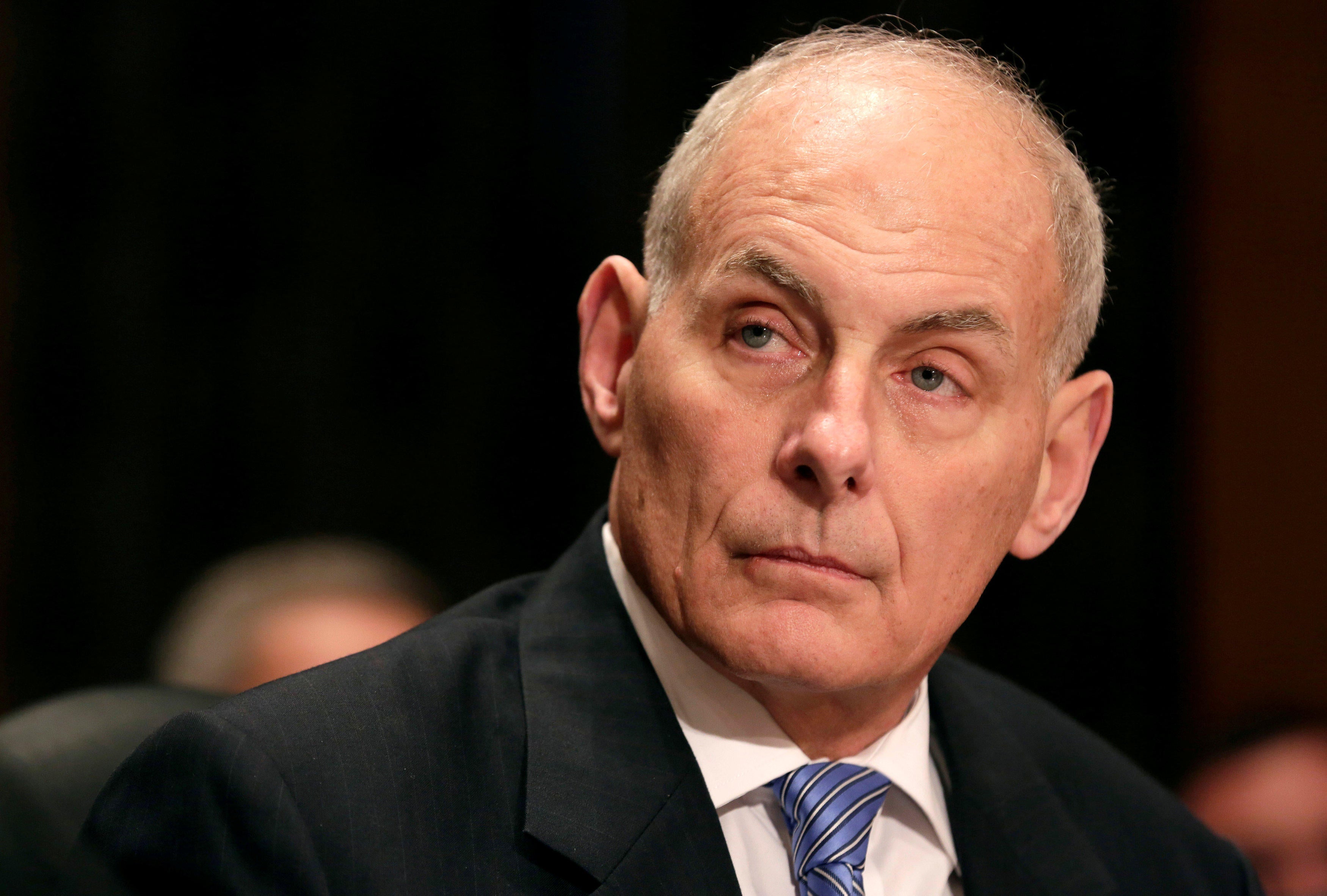 John Kelly, homeland security chief, defends Trump travel ban implementation
Homeland Security Secretary John Kelly and top-level DHS officials worked to push back Tuesday against the perception that federal agencies were caught flat-footed by President Donald Trump's executive order halting immigration from seven Muslim-majority countries.
At a noon press conference, Kelly said DHS knew the order was coming, and that he had seen at least two drafts of it before Mr. Trump signed the final version of the order Friday evening. Some news reports had indicated Kelly found out about the order while mid-flight on Friday.
"We did know the executive order was coming … we knew it was coming, it wasn't a surprise, it was coming and then we implemented it," Kelly said, noting that he "certainly didn't learn about it on an airplane."
Mr. Trump's order and the immediate implementation of it caused confusion at airports, particularly when it came to travelers affected by the order who were already in the air when it was signed. Some travelers from the seven affected countries -- Iran, Iraq, Libya, Somalia, Sudan, Syria and Yemen -- were detained for hours upon arrival at U.S. airports until a judge granted a stay on their deportations Saturday night.
But Kelly said there was no such chaos at U.S. Customs, suggesting that the "chaos" at airports was from protests outside of immigration checkpoints.
"Our officers who are at the counter so to speak, the only chaos they saw was what was taking place in other parts of the airport," Kelly said. "They knew what they were doing as immigrants or not immigrants but foreign nationals presented themselves."
Kelly also defended the order as necessary for national security, saying it is a "temporary pause" and shouldn't be characterized as a "travel ban" or a "Muslim ban."
"This is not, I repeat, not a ban on Muslims," Kelly said. "The Homeland Security mission is to safeguard the American people, our homeland, our values -- and religious liberty is one of our most fundamental and treasured values. It is important to understand that there are terrorists and other bad actors that are seeking to infiltrate our homeland every single day."
He said the various executive orders Mr. Trump have signed are a "matter of national security," and said he has directed DHS to implement the immigration-related order "professionally, humanely and in accordance with the law."
Top-level DHS officials, including the acting heads of Customs and Border Protection (CBP) and Immigration Customs Enforcement (ICE), explained the process that has unfolded as officials sorted out who the order applied to and how to most efficiently implement it.
Kevin McAleena, the acting head of CBP, said more than one million travelers traveled into the U.S. by air in the first three days the order was in place, 500,000 of which were foreign nationals.
Of those, McAleena said the U.S. denied boarding to 721 travelers, processed waivers for 1,060 lawful permanent residents and 75 visa-holders. He also said 872 refugees will be arriving this week after waivers are processed for them.
Still, he said it's "fair to acknowledge" that communications about the order "haven't been the best in the initial rollout of this process."
Thanks for reading CBS NEWS.
Create your free account or log in
for more features.