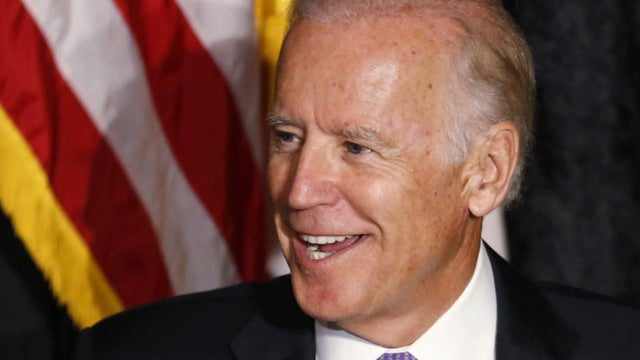 Joe Biden "will not be bullied" by Clinton campaign into deciding on run
A close confidant and longtime adviser of Joe Biden's who spoke to him recently says Biden, as vice president, feels he has earned the right to make a decision about his political future on his own timetable.
"He (Biden) really does not care about John or anyone else," the source said, referring to John Podesta, Hillary Clinton's campaign chairman. "He does not like bullies and will not be bullied. He has never really been part of the Democratic establishment and could care less about it." Podesta told multiple media outlets last week that it was time Biden made a decision about whether he's running for the presidency.
Former top adviser to President Obama, David Axelrod, seemed to agree with Podesta. After pointing out the filing deadlines that come up in November, he said he thought "particularly within the Democratic community there's a growing impatience with this period of reflection," he said in an interview with John Dickerson on "Face the Nation" Sunday."
Democratic frontrunner Hillary Clinton was also asked whether it was decision time for Biden. "Whether you are encouraging or not, there comes a time where a decision has to be made. And certainly I'm not in any way suggesting or recommending that the vice president accept any time table other than the one that is clicking inside of him," she said on CNN's "State of the Union." "He has to make this decision."
According to the confidante I spoke with, there is a part of Biden that has always regretted closing the door on a bid in 2004, when John Kerry ultimately became the nominee. That was the year, in Biden's mind, that he had the best shot at winning not just the nomination, but also the White House.
This time, in the 2016 cycle, he is much more worried about closing the door on a bid too early than he is about jumping in too late. At this point in his life, though, he only wants to put his family through another run if he thinks he has a real shot at winning the nomination.
Several people with knowledge of the Vice President's thinking say he believes he would be a stronger president than Hillary Clinton. But given recent polling and Clinton's strong debate performance - not to mention her huge head start in fundraising and organization - Biden is aware he would face an uphill battle.
In an ideal world, he would keep the option to run open for as long as possible without jumping in, while continuing to watch for any further legal or political fallout for Clinton over her private email server. The vice president realizes he can't wait forever, one source says, but Biden is comfortable waiting another few weeks if that's what it takes for him to be sure.
Biden spent the weekend in Wilmington, Delaware, with his family. On Sunday, he attended mass alone at the Church of St. Patrick in Wilmington.
CBS News' Hannah Fraser-Chanpong contributed to this report
Thanks for reading CBS NEWS.
Create your free account or log in
for more features.