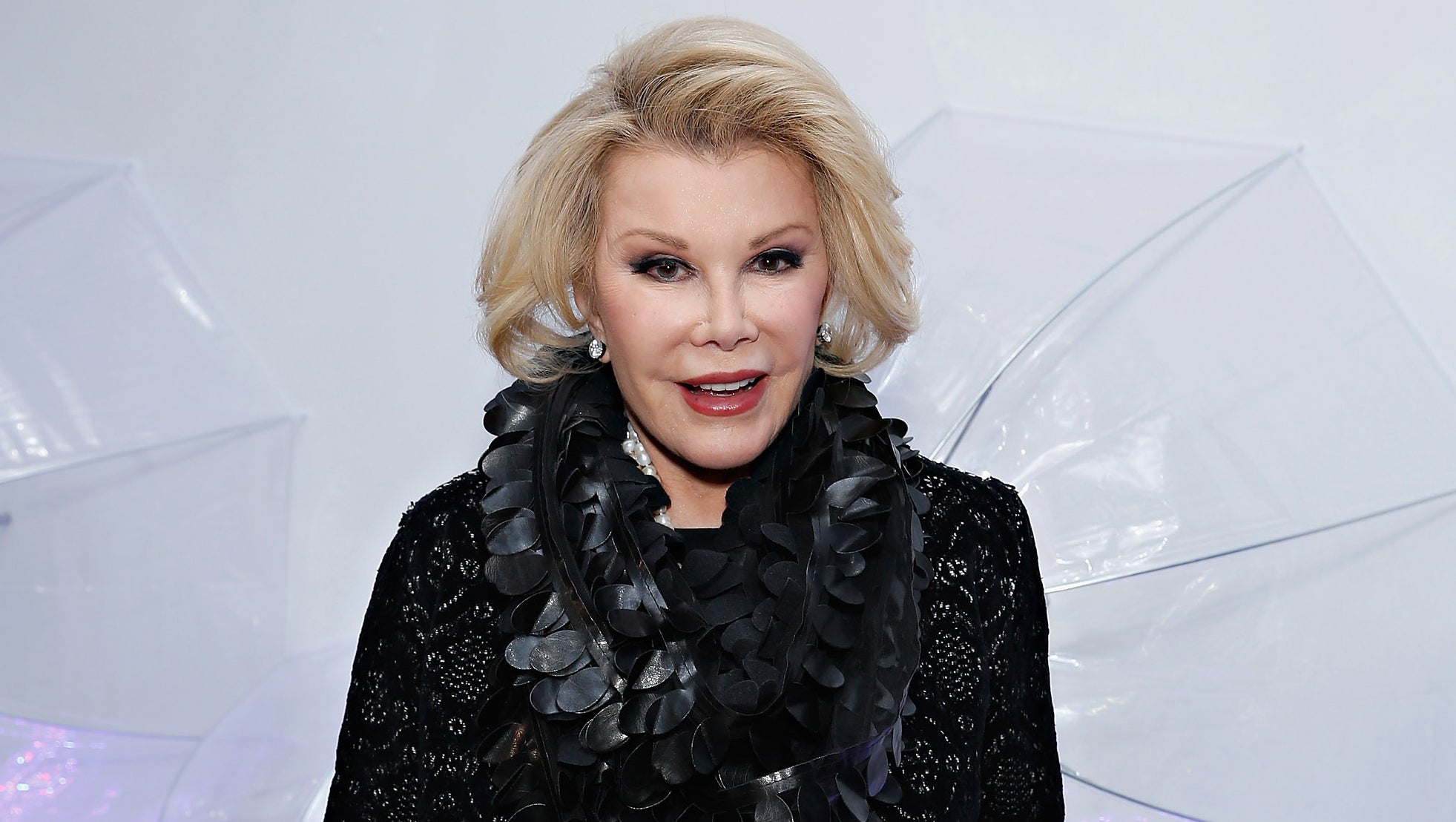 Joan Rivers, a pioneer for women in stand-up comedy and television, has died, her daughter confirmed. She was 81.
Rivers died at 1:17 p.m. ET Thursday in New York surrounded by family and friends.
"My mother's greatest joy in life was to make people laugh," Melissa Rivers said. "Although that is difficult to do right now, I know her final wish would be that we return to laughing soon."
The author/reality star/fashion critic was hospitalized on Aug. 28 when she suffered cardiac arrest after her breathing stopped during surgery on her throat at a Manhattan clinic. For days, Rivers' condition was touch and go, as her daughter provided periodic updates on her mother's "serious condition," noting how family and friends were keeping their "fingers crossed."
On Wednesday, Rivers was moved out of intensive care and was being "kept comfortable."
From Carson's couch to the ice bucket challenge, Rivers spent a half century in front of the cameras using the signature catch phrase: "Can we talk?" Celebrities did. As did Rivers, who had a tart tongue that she often turned on herself to stay in the spotlight.
"Dress by Oscar de la Renta, body by Oscar Mayer," she once joked.
Known for her raspy voice and New York accent, Rivers often stirred up controversy with her candid remarks. She also wasn't shy about the number of cosmetic surgery procedures she had undergone over the years.
Born Joan Molinksy on June 8, 1933 in Brooklyn, N.Y., Rivers graduated Phi Beta Kappa from Barnard College with a degree in English literature. She played the comedy club scene in New York in the 1960s before appearing on "Candid Camera." She made her debut on "The Tonight Show Starring Johnny Carson" in 1965 and went on to host her own program, "That Show with Joan Rivers."
In the '70s, she continued her visits to "The Tonight Show" and graced the small screen with appearances on "The Carol Burnett Show" and "Hollywood Squares." Rivers also took a turn behind the camera, co-writing a 1973 television movie called "The Girl Most Likely To" and directing her first film, "Rabbit Test" (1978), starring Billy Crystal.
By the early '80s Carson tapped Rivers to be a regular guest host and writer. She also had a lot of success outside of television, too, publishing the 1984 Grammy-nominated comedy album "What Becomes a Semi-Legend Most?" and unveiling her best-selling humor book, "The Life and Hard Times of Heidi Abramowitz," a mock memoir of her comedy character. It would be the first of many books.
In 1986, Rivers launched her own show on Fox, which served as direct competition to Carson's popular late-night program. The move cost Rivers her working relationship with Carson. They never spoke again, Rivers said. In the end, "The Late Show Starring Joan Rivers" flopped and was canceled the following year.
Not long after, Rivers' husband of 22 years, producer Edgar Rosenberg, committed suicide in 1987. As she told CBS News' Richard Schlesinger in 2010, at that point she hit rock bottom: "Everything was taken away...But I truly started from ground zero again."
Rivers said she was shunned "because I had the reputation of 'she's hard to work with, her Fox show failed, my husband committed suicide so she must be a terrible person.' Just everything went to hell in a handbag. Gone."
Rivers picked herself up again and by 1989 became syndicated daytime talk show host. "The Joan Rivers Show," which aired for five years, won Rivers a Daytime Emmy in 1990 for outstanding talk show host. In 1994, she co-wrote and starred in "Sally Marr...and Her Escorts," which garnered her a Tony Award nomination for best actress.
In the mid-90s Rivers began establishing herself as an entertainment/fashion commentator alongside her only child, Melissa. They took on E! Entertainment's pre-awards shows, doing live hits from awards shows' red carpets, making quips about celebrities' fashion choices. Rivers hosted E!'s "Live from the Red Carpet" from 1996 to 2004 and later became known for E!'s "Fashion Police" show, which launched in 2002.
The hard-working star spent the last several years of her life extremely busy taking on a variety of high-profile projects. In addition to her television work, Rivers designed and sold her own line of jewelry and other products on QVC. She won NBC's "The Celebrity Apprentice" in 2009. The following year, "Joan Rivers: A Piece of Work," a documentary film about her life and career, premiered at the San Francisco International Film Festival. She also starred alongside her daughter in WE tv's "Joan & Melissa: Joan Knows Best?" - a reality series that followed Rivers as she moved to California to be closer to family.
She continued to make television and movie guest appearances later in life, appearing as herself in season 2 of "Louie," showing up on the big screen in 2011's "The Smurfs" and making a cameo in "Iron Man 3."
"The trouble with me is, I make jokes too often," she told The Associated Press in 2013. "That's how I get through life. Life is SO difficult -- everybody's been through something! But you laugh at it, it becomes smaller."
Rivers had been in New York getting ready to tape her E! television series, "Fashion Police," to coincide with New York Fashion Week.
The New York state health department is investigating the circumstances surrounding Rivers' cardiac arrest during the outpatient procedure. Spokesman James O'Hare said Thursday that the department is looking into "the whole matter."
The New York City medical examiner said Friday that the cause of death is unknown and that further tests need to be conducted.
Rivers' funeral is set for Sunday in New York at Temple Emmanual-El.
In April 2014, Mo Rocca of "CBS Sunday Morning" asked Rivers how she felt about dying -- and not in the stand-up sense.
"How do you think actual death will compare to dying on stage?" Rocca asked.
"I think actual death will be a lot easier than dying on stage," Rivers said. "If you do it right, you can go looking good and maybe with a little quip -- 'I loved everybody.'"
Rivers always wanted the last word -- sometimes profane, often offensive, but always meant to make you laugh.
Thanks for reading CBS NEWS.
Create your free account or log in
for more features.