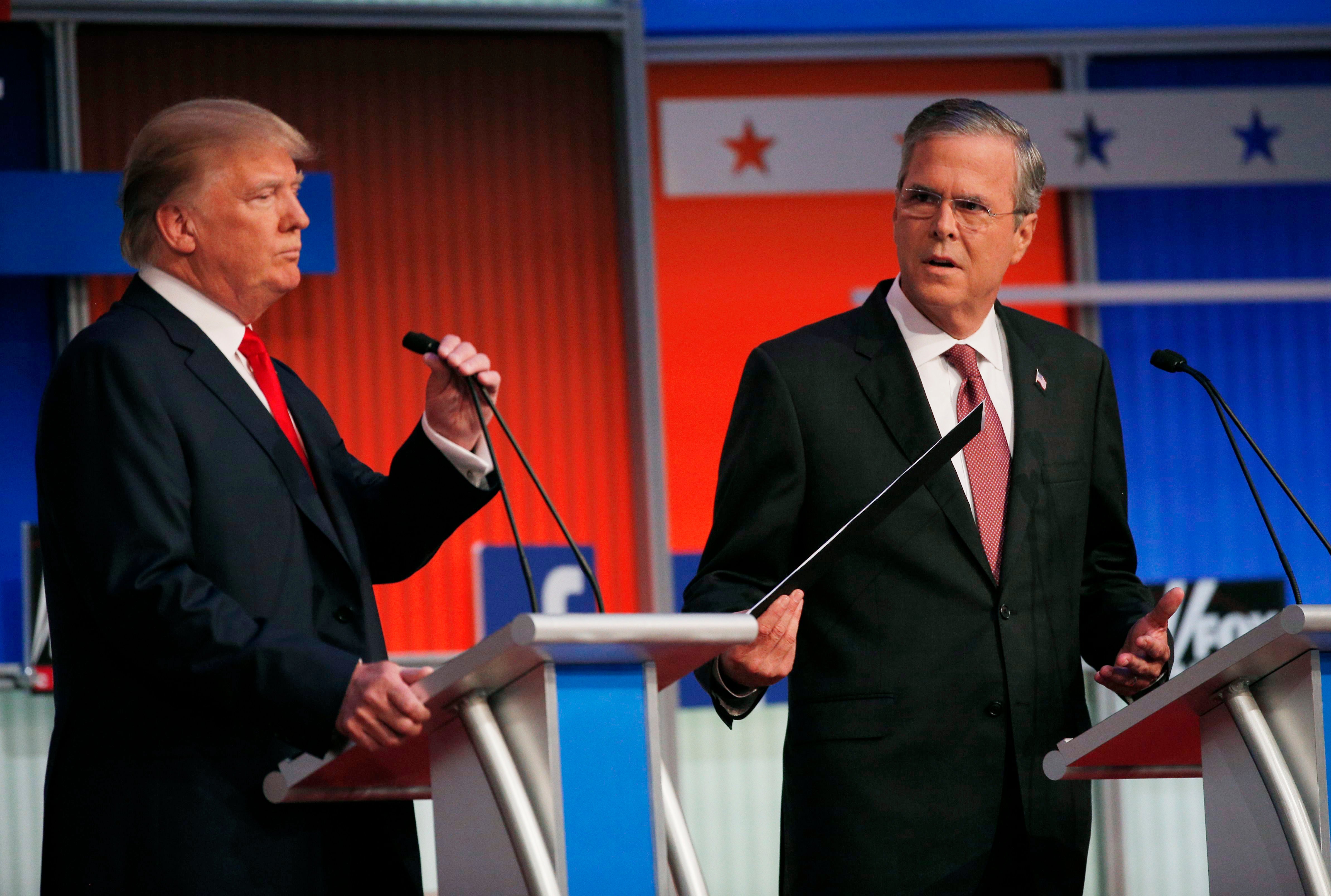 Jeb Bush strikes back at Donald Trump in Spanish
A defiant Jeb Bush struck back at Donald Trump on Thursday, declaring in English and Spanish that he would campaign with "los brazos abiertos" -- arms wide open. It was an admonishment of Trump's suggestion to Breitbart News on Tuesday that Bush should refrain from speaking in Spanish and "set the example by speaking English while in the United States."
During a town hall in Hampton, New Hampshire, Bush didn't back down in the face of Trump's criticism, alleging that Trump would lead the Republican Party to defeat in next year's election.
In another sign that the Bush's campaign no longer believes it can ignore Trump, the Florida Republican repeatedly called out Trump by name during his opening remarks -- a marked shift from previous town halls during which he only alluded to Trump. Bush hit the billionaire for his immigration plan which promises to make Mexico pay for a border wall, a notion that Bush ridiculed as "ludicrous."
Bush highlighted Trump's past progressive positions on single payer healthcare and taxes, and he slammed Trump's vision more generally as "pessimistic," telling the audience, "Donald Trump's view is the end is near." Bush argued that Trump was taking the Republican party down a path of "anger, grievance, and angst" that would "lead to defeat." Contrasting his vision with Trump, Bush insisted, "Our days can be brighter."
Earlier in the day during an interview with ABC News, Bush said that he "laughed" when he first heard Trump's comments, saying, "I mean, this is a joke." He also said that Trump "doesn't believe in tolerance" or the "things that created the greatness of this country."
The loudest applause during the employee town hall at Foss Manufacturing came when Bush expressed the need for an optimistic world view. But he refused to throw red meat at a conservative crowd that might have appreciated it. In a contentious moment, an angry voter demanded that the United States take the "offensive" against Mexico to stop illegal immigration, calling out Bush's plan, which would provide legal status for some migrants, as "appeasement."
While agreeing that criminals ought to be kicked out, Bush pushed back, reiterating his belief that most migrants are "coming to provide for their families." The Florida Republican stated that he would not "ascribe bad motives for people that are trying to provide for their families" and he would not "change his views," which he didn't "view as appeasement." Factory employees in the crowd audibly bristled at Bush's answers to questions about immigration plan and Obamacare. Employees sat in the crowd with blank stares as he answered questions with lengthy, specific, technical answers.
American Bridge PAC, a democratic organization that tracks Republican candidates, called attention to a woman who fell asleep during the town hall, tweeting: "The Donald says Jeb Bush has no energy and Jeb really doesn't like it. He's not helping himself at all."
Quick to respond, Bush tweeted out a photo with the sleeping woman after the event was over: "In awe of working moms like Tara who woke up at 4 a.m. for 12 hr shift! Made me tired to hear about."
Later Wednesday evening, Bush will hold another town hall in Laconia, New Hampshire. During the question and answer session, Bush revealed that he would unveil his tax reform plan at a speech in Raleigh, North Carolina on September 9.
Thanks for reading CBS NEWS.
Create your free account or log in
for more features.