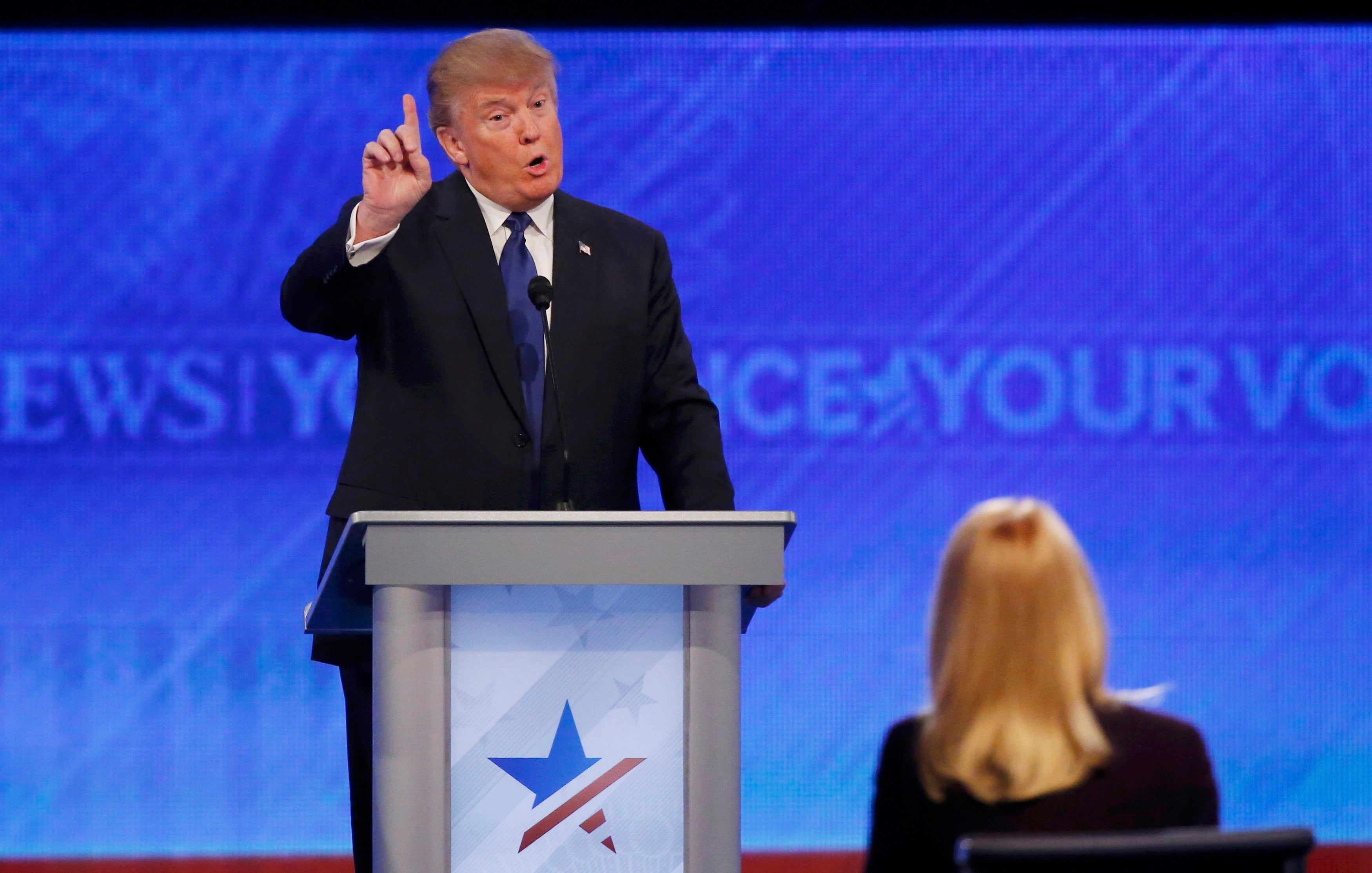 Jeb Bush slams Donald Trump for trying to "take property from an elderly woman"
Republican front runner Donald Trump on Saturday night once again found himself defending his position on eminent domain, when in the GOP debate Jeb Bush slammed him for trying to "take property from an elderly woman."
Bush leveled the charge after Trump said that eminent domain is "absolutely necessary for a country" because it enables the construction of major public infrastructure, such as roads and hospitals.
"That's for public purpose," Bush countered in the ABC debate in Manchester, New Hampshire. Trump, he said, once tried to use eminent domain to turn an elderly woman's property "into a limousine parking lot for his casinos."
The former Florida governor was referencing Trump's epic battle with Vera Coking. Trump tried to buy Coking's boarding house in Atlantic City in the 1990's to tear it down and use the land for his Trump Plaza Hotel and Casino. When she refused to sell, the state tried to condemn her property using eminent domain, but Coking successfully fought those attempts in court and won.
Tea party conservatives have been speaking out against eminent domain laws for years, and Trump's opponents in this election season have zeroed in on Trump's support for it.
At the Wednesday night debate, after Bush's attack, Trump mocked the Florida governor for "trying to be a tough guy." Bush retorted, "How tough is it to take away property from an elderly woman?"
When Trump told Bush to be "quiet," the crowded starting booing the front-runner. Trump then riled up the crowd even further by saying dimissively, "We have all donors in the audience. The reason they're not loving me is I don't want their money."
Trump also challenged Bush's logic that eminent domain shouldn't be used for privately-owned infrastructure.
"Do you consider the Keystone pipeline public or private?" he asked, adding, "You wouldn't have massive factories without eminent domain."
Thanks for reading CBS NEWS.
Create your free account or log in
for more features.