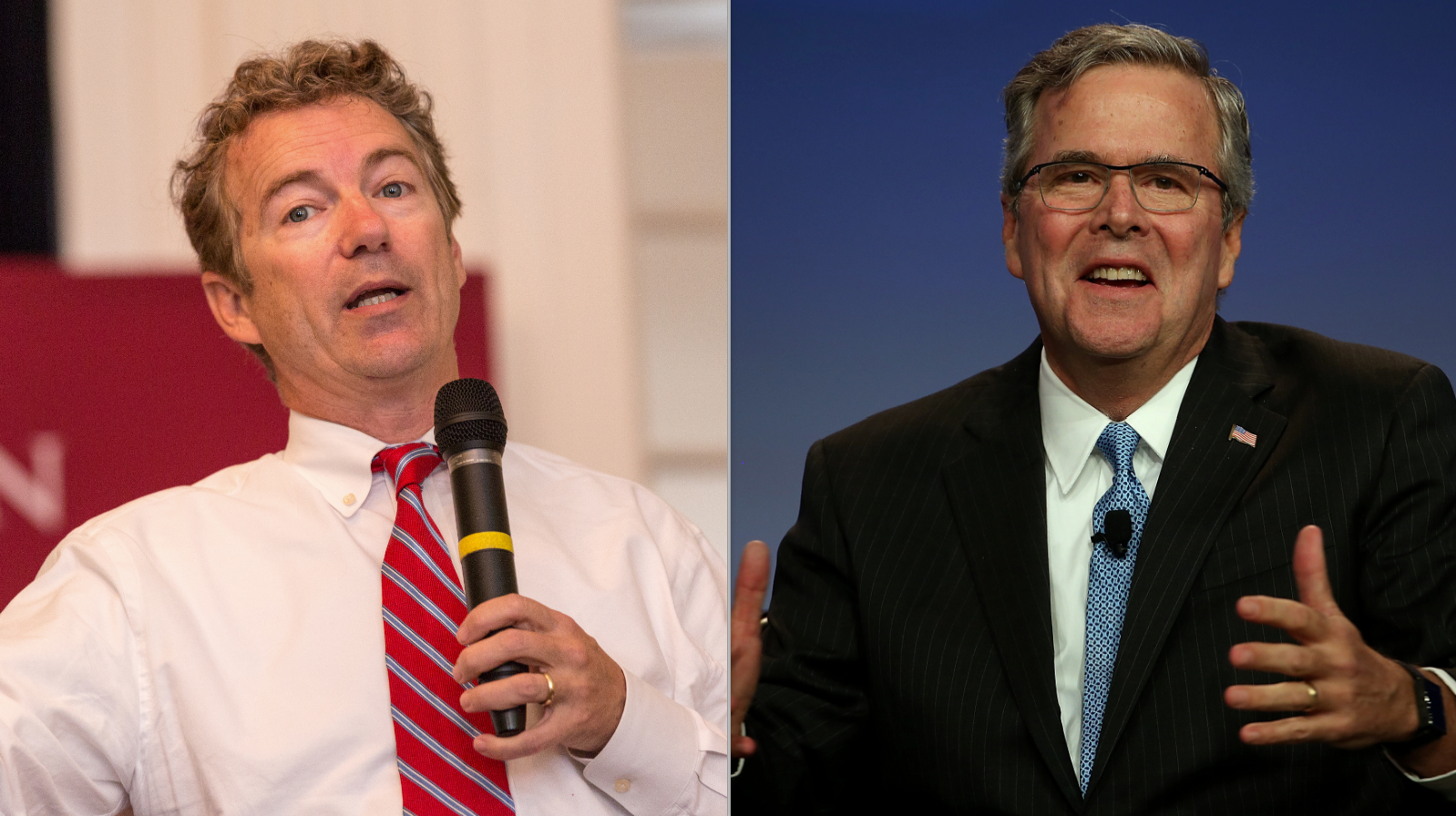 Jeb Bush is a hypocrite about marijuana, Rand Paul says
Sen. Rand Paul, R-Kentucky, accused Jeb Bush of "hypocrisy" Friday after a report in the Boston Globe chronicled Bush's marijuana use during high school. Bush, a former Florida governor and potential 2016 presidential candidate, opposes the use of marijuana for medical or recreational purposes.
"This is a guy who now admits he smoked marijuana but he wants to put people in jail who do," Paul, who's also mulling a presidential bid, said during an interview with The Hill newspaper. "You would think he'd have a little more understanding, then."
In the Globe's report, Bush acknowledged some experimentation with the drug during his time at Phillips Academy in Andover, an elite private boarding school in Massachusetts.
"I drank alcohol and I smoked marijuana when I was at Andover," Bush told the paper. "It was pretty common."
One former classmate recalled the first time he "really got stoned" in Bush's room at the academy: "He had a portable stereo with removable speakers. He put on Steppenwolf for me." Another described Bush as a "toker."
The Globe reported that several classmates said Bush, "with his taste for marijuana and his skill at tennis, straddled the line between jock and freak."
As he aged and entered public life, though, Bush's views evolved. He's called his youthful experimentation with the drug "stupid" and "wrong," and he's opposed efforts to weaken marijuana laws. During the 2014 midterms, he issued a statement opposing an amendment in Florida that would have approved medical marijuana in the state.
That about-face, Paul said, makes Bush a hypocrite.
"I think that's the real hypocrisy, is that people on our side, which include a lot of people, who made mistakes growing up, admit their mistakes but now still want to put people in jail for that," Paul told the Hill. "Had [Bush] been caught at Andover, he'd have never been governor, he'd probably never have a chance to run for the presidency."
Paul continued, "I think in politics the biggest thing, the thing that voters from any part of the spectrum hate worse than anything is hypocrisy. And hypocrisy is, 'Hey I did it and it's okay for me because I was rich and at an elite school but if you're poor and black or brown and live in a poor section of one of our big cities, we're going to put you in jail and throw away the key.'"
Paul has championed efforts to reform drug sentencing laws, saying it's "ridiculous" to incarcerate someone for years for possession of marijuana. He remains opposed to legalizing marijuana for recreational use, though he's spoken in favor of the rights of individual states to legalize medical marijuana. Last year, Paul and Sen. Cory Booker, D-New Jersey, introduced an amendment to prevent federal authorities from taking action against states that have legalized the drug for medical use.
Thanks for reading CBS NEWS.
Create your free account or log in
for more features.