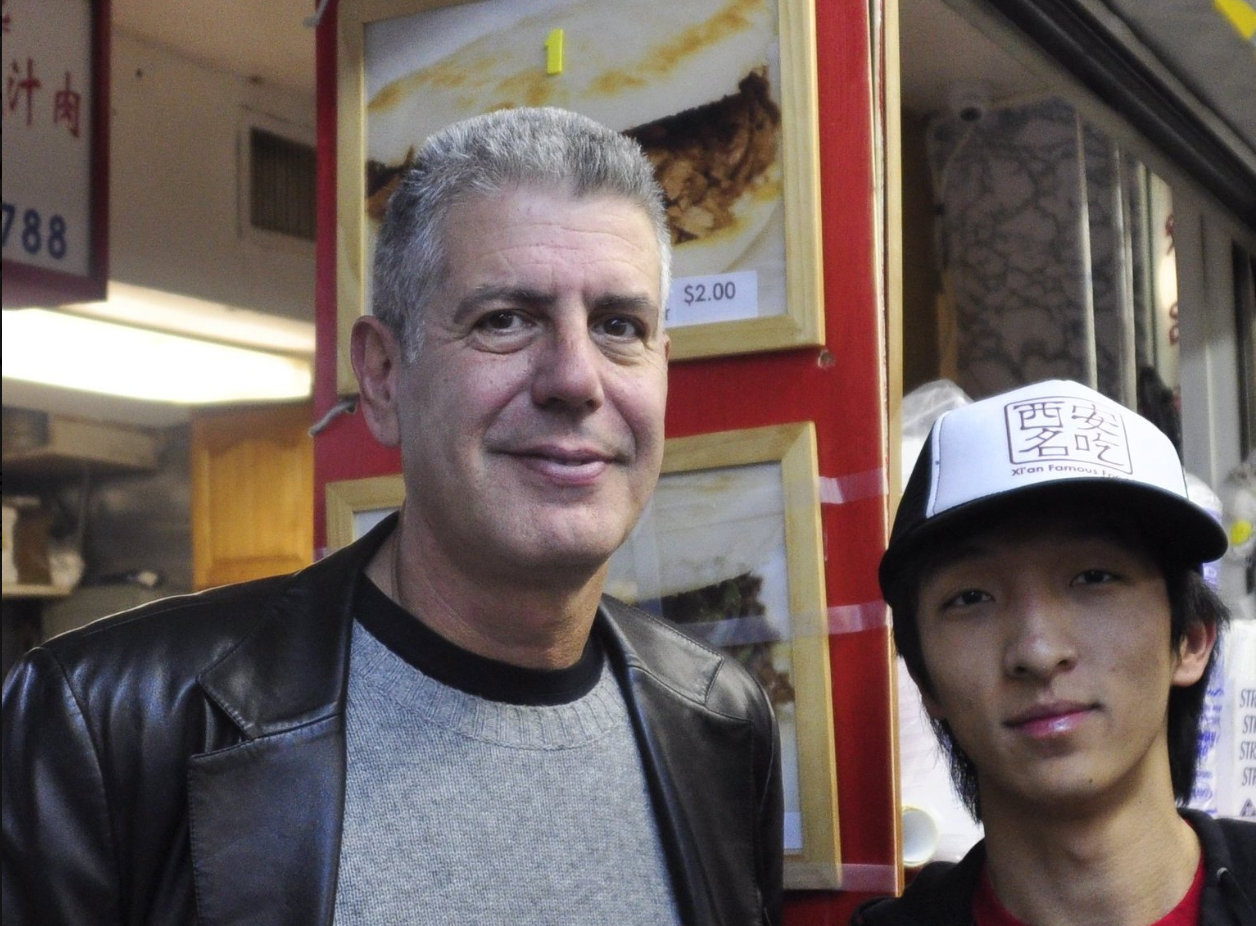 Restaurant CEO who says Anthony Bourdain changed his life donates profits to suicide hotline
Xi'an Famous Foods, a popular Chinese restaurant chain in New York City, had humble beginnings, but the CEO says the family business has flourished thanks to the late Anthony Bourdain.
Jason Wang, the son of the founder of Xi'an Famous Foods, wrote a lengthy and moving Facebook post about Bourdain after his death on June 8. "Today's a day of extreme sadness for us here at Xi'an Famous Foods. I've lost a dear friend today, and we mourn with the rest of the world," Wang wrote about the celebrity chef and television host.
Wang's family-owned restaurant was founded 2005 and its original location was in the basement of the Golden Shopping Mall in Flushing, Queens. Wang says Bourdain visited the small restaurant in 2007, which helped the family expand their business.
Wang says Bourdain, who he affectionately calls "Tony," visited the basement restaurant for an episode of the Travel Channel's "No Reservations." Wang writes that he was still in college and didn't even know who Bourdain was at the time. His father prepared off-the-menu dishes for Bourdain, hoping to impress him -- and it worked.
Wang says it wasn't until eight years later that he was able to tell Bourdain how much he helped Xi'an Famous Foods with his visit there. "[In 2015,] I approached Tony and told him, while he may have no idea what he has done for our family and business by simply saying he enjoyed the food, I wanted him to know it helped bring our family out from living in one room in Flushing to living the American dream," Wang wrote.
Wang says after Bourdain's visit, they were able to give more opportunities to their employees and make their menu even better. "I looked at him in the eyes and said, this is something we will always be thankful for, Tony. And he simply replied, 'I'm just calling out good food like it is, that's all,'" Wang wrote.
The death of Bourdain by apparent suicide moved Wang to donate one day's profits to the suicide prevention hotline. "In honor of his memory and all of those dear people who left us all too early, and in taking whatever action we can to prevent suicide in the US, Xi'an Famous Foods will be donating 100% of our net sales on today, Friday, June 8, 2018, from all of our stores, to the National Suicide Prevention Lifeline '1-800-273-TALK (8255)'," Wang wrote.
"Please cherish all of our lives and help those who may be struggling. Rest in peace, Tony, and the most sincere condolences to Tony's beloved family," Wang ended the Facebook post.
Wang told BuzzFeed News that he estimated the donation amount could reach $60,000.
Bourdain, who hosted CNN's "Parts Unknown," was found dead in his hotel room Friday. He was in France while working on his series on culinary traditions around the world. CNN confirmed the death, saying that Bourdain was found unresponsive Friday morning by friend and chef Eric Ripert near the French city of Strasbourg. It called his death a suicide. Bourdain was 61.
Bourdain's culinary passions went far beyond the cuisine he put on a plate. He also was committed to the immigrant workers in his and other kitchens throughout the restaurant industry. He was an outspoken critic of President Trump's immigration policies and a fierce defender of Hispanic workers.
Bourdain's efforts to help immigrants touched more than just Hispanic workers. Xi'an Famous Foods was founded by Chinese immigrants who had a dream to succeed in America. After Bourdain's initial visit 11 years ago, Xi'an Famous Foods expanded to 12 locations throughout New York City. Wang himself became a fixture in the culinary world, making Forbes' list of "30 under 30: Food and Wine" in 2014. As Wang wrote on Facebook, Bourdain helped his family start "living the American dream."
---
For immediate help if you are in a crisis, call the toll-free National Suicide Prevention Lifeline at 1-800-273-TALK (8255), which is available 24 hours a day, 7 days a week. All calls are confidential.
Thanks for reading CBS NEWS.
Create your free account or log in
for more features.