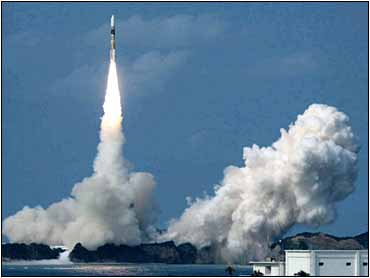 Japan Space Hopes Get Off The Ground
Japan's H2-A rocket roared off a launchpad from a small southern island on Wednesday, carrying a monitoring device and the country's hopes for the future of its space program.
The rocket's payload was expected to reach its destination more than 1,000 miles above the earth's surface within 40 minutes.
The National Space Development Agency launched the $71 million H2-A three hours later than scheduled because of a malfunction in a device designed to indicate whether a pipe to the rocket's fuel tank was connected properly.
The centerpiece of Japan's aerospace program, the rocket is designed to carry a 4-ton satellite. This time, it was only carrying equipment to monitor and record the rocket's flight systems.
The H2-A's maiden launch has been fraught with delays that have raised questions about the future of Japan's once-promising space program.
NASDA had planned to send the H2-A into space on Saturday, but a faulty valve forced officials to announce last week that the lift-off would be postponed. It was the second time officials moved back their launch plans — the first coming in February due to cracked pipes and plating in the rocket.
Japan's rocket program has suffered from a series of setbacks recently.
The first five launches of the prototype H-2 rocket — the H2-A's forerunner — went off without a hitch. Japan has put a satellite in orbit around the moon and was the first nation to dock two satellites in space by remote control.
But since 1998, the program has been dogged by mechanical failures, budget excesses and two failed launches of the H-2 — including one two years ago in which officials deliberately exploded the rocket in mid-air to keep it from careering out of control.
Those mishaps have cost billions of dollars and thrown the entire aerospace program into doubt. When NASDA blew up its rocket in 1999, it destroyed a $83 million satellite along with it.
The 174-foot high, 285-ton H2-A rocket is built with 20 percent fewer parts than its H-2 predecessor, making it trimmer, cheaper and less prone to malfunction, NASDA officials say.
Designed especially for commercial use, the H2-A cost half as much as the H-2.
Japanese space officials say it rivals rockets built in Europe and the United States. NASDA is working on a special rocket booster that would allow the H2-A to carry a 7.5-ton payload into orbit within two years. The higher-powered rocket would give the space program what it needs to compete for business with Europe's Ariane and America's Atlas.
In addition to the economic benefits of developing a world-class rocket, Japan is eager to develop rocket technology to send up spy satellites that can collect information on military threats, such as North Korea.
©MMI The Associated Press. All Rights Reserved. This material may not be published, broadcast, rewritten, or redistributed
Thanks for reading CBS NEWS.
Create your free account or log in
for more features.