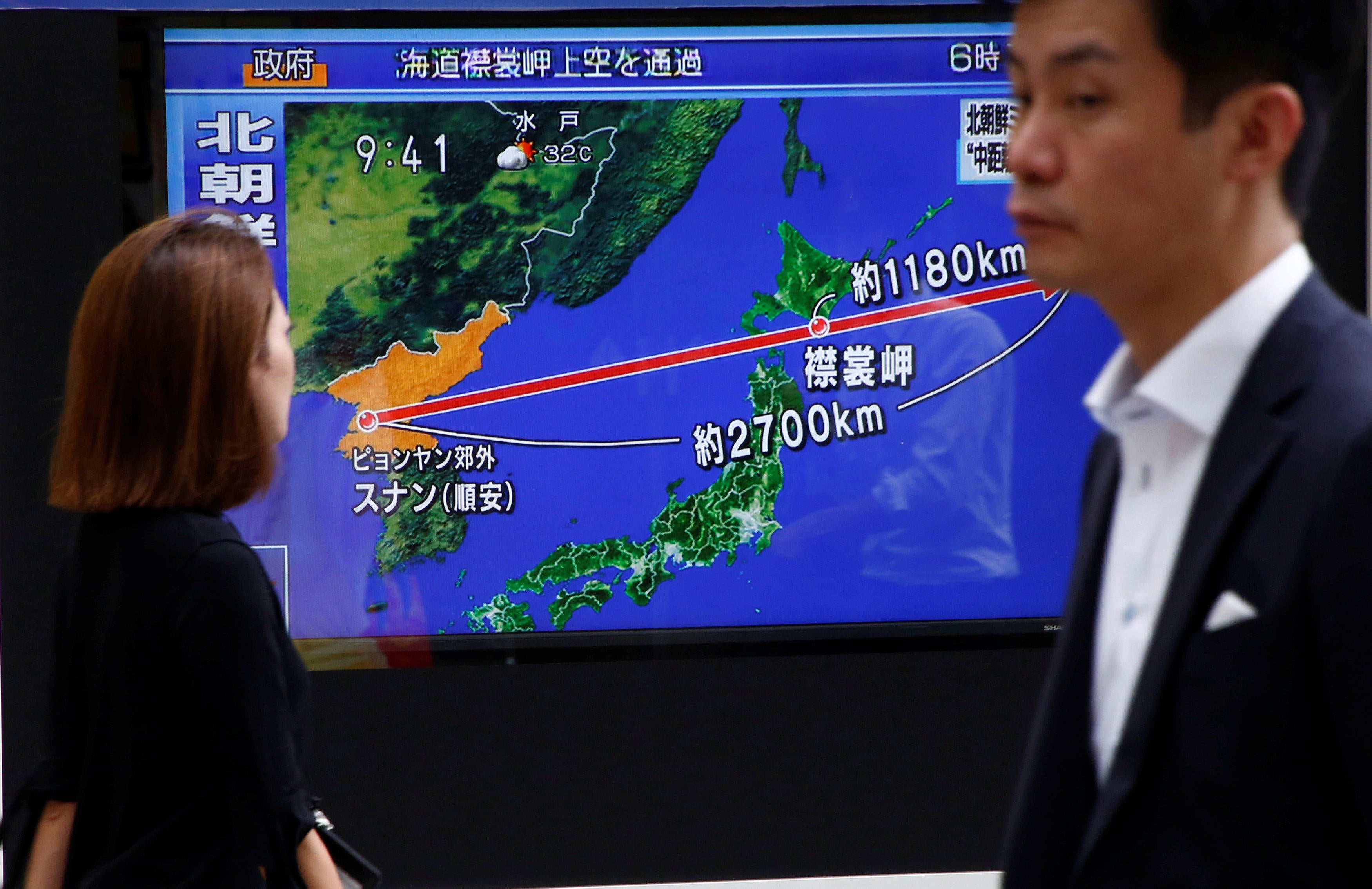 Trump: "All options" on table after N. Korea missile launch
TOKYO -- Millions of people in Japan woke up to a text message that said: "missile passing… please take cover." Some of the country's famed high-speed trains came to a screeching halt early Tuesday morning after North Korea fired a missile over the island nation.
Hours later, President Trump said "the world has received North Korea's latest message loud and clear: this regime has signaled its contempt for its neighbors, for all members of the United Nations, and for minimum standards of acceptable international behavior."
The statement released by the White House on Tuesday went on to say that Kim Jong Un's "threatening and destabilizing actions only increase the North Korean regime's isolation," and warned "all options are on the table" for Mr. Trump to address the nuclear standoff.
CBS News correspondent Ben Tracy reports that in the past, Pyongyang normally made a point of warning Japan before it launched a missile through its airspace, but not this time. Sirens blared through the streets in northern Japan early Tuesday, waking people up with a warning to get inside and take cover.
The missile, determined by U.S. intelligence to have been an intermediate range KN-17, was launched from near the capital city of North Korea, possibly from a mobile launch pad at Pyongyang airport. It flew more than 1,600 miles, crossing over the Japanese island of Hokkaido before splashing down in the Pacific Ocean.
CBS News national security correspondent David Martin reports that, according to U.S. officials, the missile splashed down 650 nautical miles east of Hokkaido.
U.S. officials could not immediately say whether the missile test was a success, and it wasn't clear if the re-entry vehicle -- the part of the missile designed to deliver a warhead back down to the ground -- survived re-entering the Earth's atmosphere. It was the North's fifth test of KN-17, but they first time the rogue nation has flown any missile over Japan since 2009.
Japanese Prime Minister Shinzo Abe called the launch "a reckless act," and an "unprecedented" threat.
South Korea, another U.S. ally, responded by releasing video of its own missile tests conducted last week. The U.S. and South Korea are currently holding joint military exercises which the North views as a rehearsal for war.
North Korea's missile launch is the latest show of force from leader Kim Jong Un, who has now fired 16 missiles so far this year.
The country also successfully tested two intercontinental ballistic missiles (ICBMs) last month capable of reaching the United States. That led to a war of words with President Trump, who last week suggested his tough talk on North Korea was working.
"Kim Jong Un, I respect the fact that I believe he is starting to respect us," said Mr. Trump. "I respect that fact."
Mr. Trump made the remark, however, after Kim appeared to back away from an earlier threat to launch a barrage of four missiles over Japan and into the sea just 20 miles from the U.S. island territory of Guam.
In early August, North Korea's military said it was drawing up the plans to surround Guam with "enveloping fire" using "medium-to-long-range strategic ballistic" missiles. But a week later, the North released images of Kim reviewing the plans as state media announced he would hold off on firing missiles toward Guam.
Since taking over the leadership of North Korea from his father, Kim has launched more than 80 missiles -- but Tuesday's was the first to fly over Japan.
It was literally a warning shot, although the exact message is not clear.
The U.S. and Japan have called for an emergency meeting of the United Nations Security Council later Tuesday to discuss the latest launch.
China, which has come under intense pressure from the Trump administration to pressure trading partner North Korea to halt missile tests, warned Tuesday that the standoff with the Kim regime had reached a "tipping point."
Reiterating Beijing's typical call for restraint from both sides, Chinese Foreign Ministry spokeswoman Hua Chunying urged a restart of peace talks and said "pressure and sanctions" against the North "cannot fundamentally solve the issue."
Thanks for reading CBS NEWS.
Create your free account or log in
for more features.