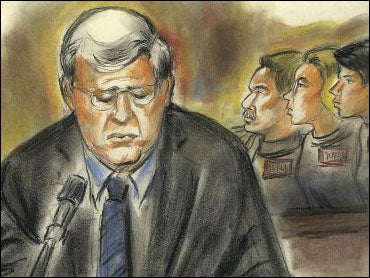 Janklow Guilty In Fatal Crash
Rep. Bill Janklow was convicted of manslaughter Monday for speeding through a stop sign and colliding with a motorcyclist. Janklow later announced that he will resign from Congress.
"I wish to inform you that because of present circumstances, I will be unable to perform the duties incumbent on me in representing the people of South Dakota as their U.S. representative," Janklow wrote in a letter that he said was to be sent to House Speaker Dennis Hastert on Tuesday.
"Therefore I wish to inform you that I will resign from the House of Representatives, effective January 20, 2004."
That is the same date Janklow is scheduled to be sentenced on his manslaughter conviction.
The jury in Janklow's boyhood hometown deliberated for about five hours before returning its verdict, rejecting the congressman's claim that he was disoriented by a diabetic reaction
Janklow, 64, was convicted of second-degree manslaughter, reckless driving, running a stop sign and speeding for the Aug. 16 crash that killed Randy Scott, 55, a farmer from Hardwick, Minn. Prosecutors said Janklow was traveling more than 70 mph in his white Cadillac when he crashed with Scott's Harley-Davidson.
Janklow could get up to 10 years in prison on the manslaughter charge. He also faced a House ethics committee investigation that could lead to his expulsion.
The jury began deliberating Monday after a prosecutor ridiculed as "goofy" the congressman's claim that he was suffering a diabetic reaction when he sped through a stop sign and collided with a motorcyclist.
Deputy prosecutor Roger Ellyson compared Janklow's driving to "a deadly game of Russian roulette," reports CBS News Correspondent Jennifer Donelan.
Ellyson called Janklow an "unbelievably awful and menacing" driver. "On August 16, Randy Scott took the bullet."
The defense argued that Janklow, a diabetic, was suffering the effects of low blood sugar at the time of the crash but did not know it because the symptoms were masked by heart medication he was taking. Janklow testified Saturday that he "just plain forgot" to eat on the day of the crash, which he says led to the diabetic reaction.
In his closing argument, defense lawyer Ed Evans said investigators quickly concluded Janklow must have sped through the stop sign and were not interested in finding out if a diabetic condition was to blame.
"Does it make sense that you drive through a blind intersection, risking your own life, the life of your passenger and the life of others?" Evans asked jurors. "My definition of Russian roulette is putting the gun to your head and not somebody else's."
Janklow took notes during closing arguments, occasionally looking up. Some of his family members sitting behind him cried during the prosecution's arguments. Scott's mother and other family supporters sat in the front rows behind prosecutors, across from Janklow's friends and family.
Ellyson called Janklow's claim that he suffered a diabetic reaction "goofy," and he said the congressman lied about what happened to three officers at the scene. Janklow had told two troopers and a deputy that he was trying to avoid a white car when the accident occurred. Investigators said there was no other car.
Ellyson also said Janklow told one paramedic that he had eaten earlier in the day and told another that he had checked his blood sugar.
A person lies "to cover up the truth," Ellyson said. "He couldn't say, 'I was driving so fast I couldn't stop.' Or he couldn't say, 'I always ignore these rural stop signs.' That would be admitting to manslaughter. He knows the trouble he's in."
Evans held up Janklow's mangled glasses to suggest he suffered a head injury, possibly explaining why Janklow thought he saw a white car and made other unreliable statements.
But the prosecutor said Janklow remembered slowing down for the stop sign, and his head injury had nothing to do with what he said after the crash.
"A hard bang on the head won't make a liar out of an honest man," he said.
Ellyson told jurors that they should convict Janklow even if they believe the diabetic defense.
"If you believe the incredible story that the defendant, a 240-pound man, didn't eat for 18 hours, he's still guilty," he said.
That's because that as a diabetic, Janklow should have made sure he didn't let himself get low on blood sugar, Ellyson said. The state Supreme Court has ruled that in the case of a fatal auto accident, reckless behavior includes a driver's "a conscious and unjustifiable disregard of a substantial risk."
"This is a clean sweep for prosecutors and a crushing blow to Janklow, who was hurt, I think, by several statements he made to the police after the incident that he later backtracked upon. Clearly, jurors didn't buy the diabetes defense -- which would have been a longshot under any conditions," says CBSNews.com Legal Analyst Andrew Cohen.
Janklow has long been known as an unapologetic speeder, picking up 12 speeding tickets from 1990 to October 1994, just before he began his second stint as governor.
The jury was not allowed to hear about the tickets, but the prosecution was permitted to present evidence of a close call at the same intersection where Scott died.
A woman testified that Janklow had run the stop sign nearly a year ago, but she did not pursue charges against Janklow because he was governor at the time. On the stand, Janklow denied running the stop sign.
The blunt, tough-talking Republican, one of South Dakota's most powerful political figures, served as attorney general for four years in the 1970s and 16 years as governor before being elected to South Dakota's lone House seat last year.
A special election will be held during South Dakota's June 1 primary to fill the remainder of Janklow's term.
Democrat Stephanie Herseth, who lost to Janklow in 2002, has said she intends to run for the House again. Republican John Thune, who formerly held the seat, has not indicated whether he will run for anything in 2004. He has been mentioned as a possible challenger to Senate Minority Leader Tom Daschle, but some Republicans want Thune to run for Janklow's seat instead because they believe he stands a better chance against Herseth.
Thanks for reading CBS NEWS.
Create your free account or log in
for more features.