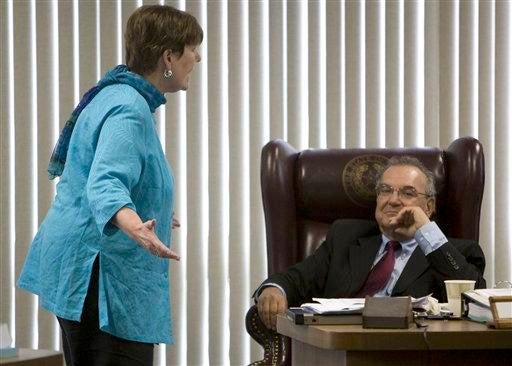 Jami Gertz: Making It All Work
In the hit CBS sitcom "Still Standing," actress Jami Gertz plays Judy Miller, a working-class mother of three who married her high school sweetheart — and is still in love with him after 17 years of marriage.
In real-life, Gertz has three sons, 5, 9 and 12. She told The Early Show co-anchor Hannah Storm, "I love reading about the actresses that say you can have it all. I'm like, you can have it all and screw it all up! Basically, that's how I work through it. I believe if i just mess up everyone equally then they'll all grow up screwed up together!"
Gertz adds that having parents nearby is a huge help: "I'm lucky I have parents because, when you are a full-time working mom, you really have to rely on other people to be in place to kind of get the kids ready to go places if you're not there. My parents really help out."
She says no story lines from the show are taken from her own life. "My character and I are pretty different people. I do have my say in what motherly things I do on the show. But Judy and Bill are very childlike, almost, themselves, and I'm probably a much stricter mom than them - I'm a tough mom."
She says some of the experiences she has with her real-life sons, embarrassing ones, do relate a little bit to what happens on the show.
"We're in flag football and soccer season and Oliver, my oldest one, just recently told me I could come to his flag football game, but I'm no longer allowed to cheer," Gertz told Storm. "As opposed to Theo, who is 5 and blows me kisses while waving at a soccer game!"
Of her relationship with co-star Mark Addy, Gertz says, "There is such mutual admiration and respect there that is so lovely."
Gertz recently wrapped production on Scott Marshall's "Lucky 13," opposite Jeremy Piven, Gary Marshall, Darryl Hannah and Doris Roberts. "Lucky 13" is described as a comedic yet poignant experience for a family celebrating a bar mitzvah in Hollywood.
Gertz plays Joanne Feilder, a thoughtful and even-tempered mother who balances out her husband's personality. She gets caught up in the bar mitzvah excitement, but really only wants what is best for her son.

Thanks for reading CBS NEWS.
Create your free account or log in
for more features.