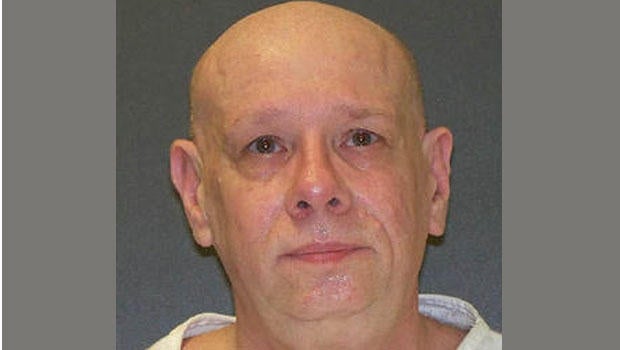 James Bigby, Texas inmate, to be executed in 1987 slayings of man, infant
HUNTSVILLE, Texas -- When a SWAT team showed up at a Fort Worth motel room, a police negotiator was able to convince a man inside who was wanted for a killing rampage to crack open the door and talk to him.
"I know I am guilty, and so do you," the suspect, James Bigby, told the officer. After more negotiations, Bigby surrendered and was arrested.
Now, well over two decades later, Bigby is set to be executed Tuesday evening at age 61 for two of the Christmas Eve 1987 killings: the fatal shooting of Michael Trekell and suffocation of Trekell's 4-month-old son Jayson.
Evidence showed Bigby also killed two other men, believing they along with Trekell were conspiring against him in a workers' compensation case he filed against a former employer. But Bigby was never tried for those men's killings.
Bigby would be the fourth inmate executed this year in Texas and the sixth nationally.
His lawyer, John Stickels, said Monday there were no plans to file any late appeals. The U.S. Supreme Court in 2015 refused to review Bigby's case. A lower federal appeals court had rejected arguments his trial lawyers were deficient, that instructions to his jury were improper and that evidence didn't support arguments from prosecutors that Bigby deserved to be executed because he was a danger to society.
Bigby's 1991 capital murder trial in Fort Worth was marked by an outburst in which Bigby grabbed a loaded gun from behind District Judge Don Leonard's bench during a court recess and barged into Leonard's chambers in an attempt to abduct the judge, telling him, "Let's go, judge."
Leonard and a prosecutor wrestled Bigby to the floor and pulled the gun away and the judge continued presiding over the case. Jurors were told about the attack, rejected Bigby's insanity defense and decided he should die. Then in 2005, a federal appeals court threw out his death sentence, saying the trial jury wasn't properly instructed to consider Bigby's paranoid schizophrenia as a mitigating factor when they were deliberating his punishment.
Three years later, another Tarrant County jury returned him to death row.
Bigby confessed to shooting Trekell, 26, and suffocating Trekell's infant son Jayson at their Arlington home. He was accused but never tried for the killings of Calvin Crane Jr., 38, in nearby Fort Worth, and Frank Johnson, 33, in Arlington.
"I was just out of a mental hospital 11 days for electric shock therapy when I killed these people," Bigby told The Associated Press in 2001. He declined an interview request as his execution date neared.
Court documents show Bigby, who had worked as an auto mechanic and had two previous prison stints for burglary, believed Trekell was conspiring against him in his workers' compensation lawsuit against a former employer, Frito Lay Inc., where he worked in a body shop.
"I had been thinking about getting back at him for a while ... and it was on my mind when I came to his house that night," Bigby said in his statement to police.
He described how he shot Trekell with a shotgun while the man was at a kitchen table preparing steaks, then went to the infant's room and wrapped the child's head with cellophane he took from a refrigerator, suffocating him. Bigby then filled a bathroom sink with water and put the baby face-down into the water.
"I regret killing the baby but not the other," Bigby told police.
He said he went to the homes of Crane and Johnson, fatally shot each of them for what he believed was their roles in the conspiracy against him in his workers' compensation case, and drove off in Crane's truck.
Police found a sawed-off shotgun, two pistols, a flare gun, ammunition and blasting caps in Bigby's motel room after he was arrested.
Thanks for reading CBS NEWS.
Create your free account or log in
for more features.