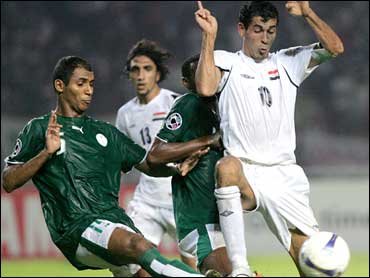 It's 'More Than Any Of Us Can Bear'
The World Trade Center catastrophe absorbed all of New York's fabled energy on Tuesday. In an instant, it became the only thing that mattered.
Downtown, the Wall Street area was devoid of its usual hustle of pinstripes and briefcases. In their place were ambulances, police cars and school buses filled with firemen.
Hours after the attacks, great plumes of smoke still floated high above the skyline of New York City, no longer anchored by the World Trade Center towers.
New York Mayor Rudolph Giuliani told CBS News that early estimates showed at least 2,100 were dead or wounded, but the final total could go much higher. "The number of casualties will be more than any of us can bear, ultimately," Giuliani said.
After the initial horror, the city braced itself for more pain: digging through the rubble for the dead and the injured.
Hundreds of volunteers and medical workers converged on triage centers, offering services and blood. Paramedics waiting to be sent into the rubble were told that "once the smoke clears, it's going to be massive bodies," according to Brian Stark, an ex-Navy paramedic who volunteered to help.
Stark said paramedics were told that "hundreds of police and firefighters are missing" from the ranks of those sent in to respond to the initial crash.
Barbara Kalvig hurried with a car full of colleagues from the New York Veterinarians Hospital to lend a hand at a triage center opened by the city's Board of Health.
"We closed the hospital and brought a bunch of doctors and nurses," Kalvig said. "We just drove as far as we could."
Nila Perez, 37, who was waiting to donate blood at the triage center after being evacuated earlier in the day from Wall Street, said: "I was going to walk home, but I felt like I had to do something."
As soon as he heard the news, Frank Leonetti, a volunteer for the American Red Cross, made his way from his job at a Brooklyn clothes store to a local health department office where he joined police officer Cecilio Gonzalez. They grabbed a van and drove medical supplies to a triage center, then got on phones to ask businesses to donate food, water, and orange juice for relief workers.
Outside the zone of the disaster, an odd civility spread through the streets of New York City, as strangers went out of their way to be courteous to others, and lined up patiently at public phones.
Most of those calls couldn't be completed. The overloaded lines ground to a halt as millions of people tried to contact family and friends inside or outside the city.
That was one of a myriad of practical problems. In a security precaution that affected millions, the city subway system was shut down, all bridges and tunnels into and out of the city were closed, and all train lines, suburban and long-distance, were halted. Some limited services resumed later in the day.
Slowly, the world's fastest city ground to an eerie halt as the millions who call it home struggled to come to erms with the catastrophic terrorist attack.
Uptown, the city's perpetual traffic flow slowed to a comparative trickle. Sirens were heard frequently throughout the city.
Even miles away from the scene, many businesses stayed closed. In some cases, workers were unable to get there to open the stores, due to the shutdown of most mass transit. At others, they apparently just couldn't act as if it were a normal day in New York.
Far north of Wall Street, at an Upper West Side eatery called Ernie's, waiters and waitresses just turned on the television, invited passers-by to take a seat, and started passing around free platters of portobello mushroom sandwiches. The drinks were on the house.
Other world-famous buildings, including the Empire State Building and most Rockefeller Center buildings, were evacuated as a precaution.
Saks Fifth Avenue closed its flagship Manhattan store. Others, including Bloomingdales, stayed open, not only to serve shoppers but to provide a haven for employees stranded without public transportation.
As always, the city streets were filled with people on foot. But Tuesday, most were oddly aimless. Most had left their homes or workplaces, and did not seem to know where to go. There was no other topic of conversation.
©MMI, CBS Worldwide Inc. All Rights Reserved. This material may not be published, broadcast, rewritten, or redistributed. The Associated Press and Reuters Limited contributed to this report
Thanks for reading CBS NEWS.
Create your free account or log in
for more features.