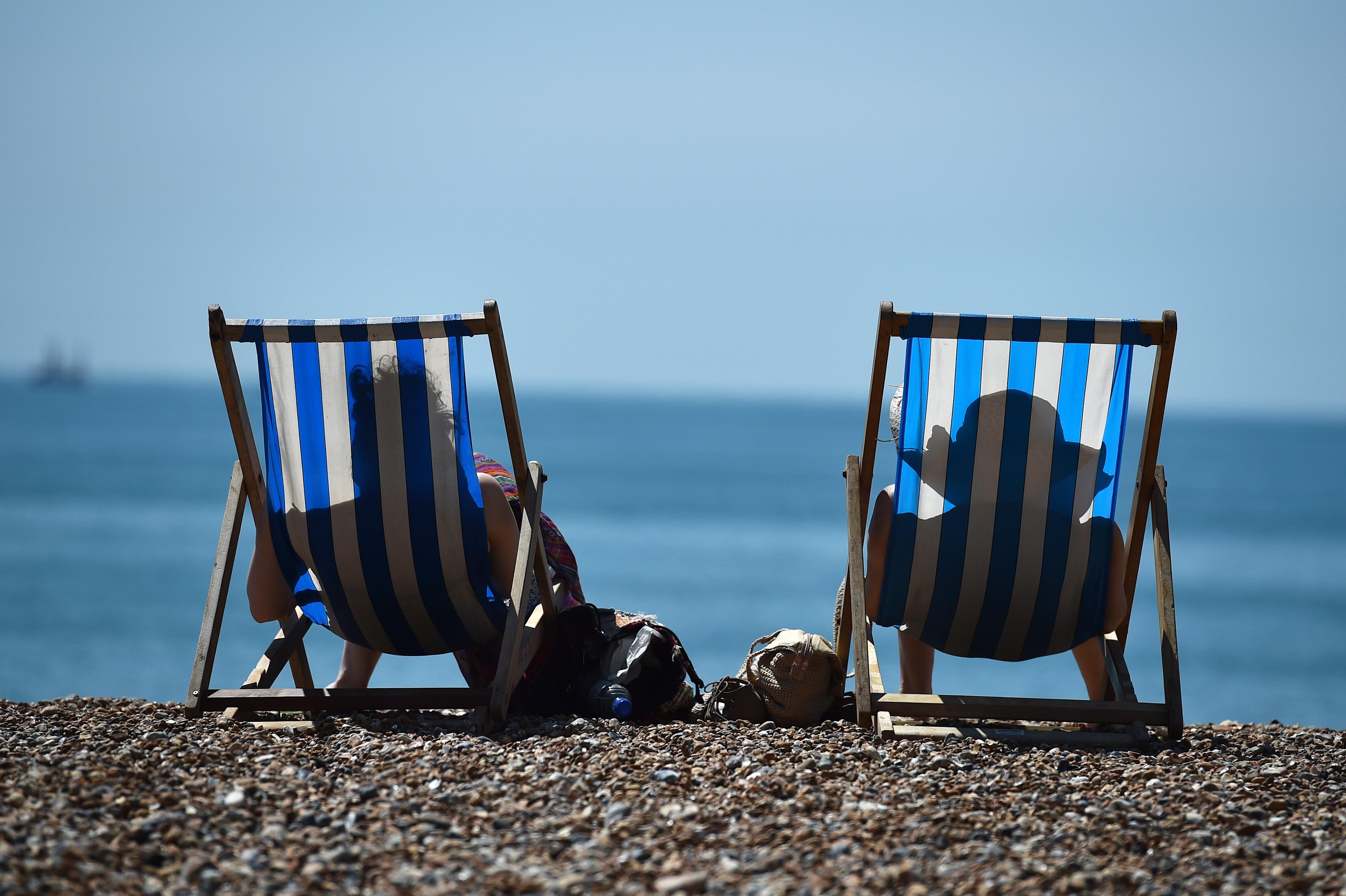 Why you might want to push your holiday vacation to January
How does 15 percent to 20 percent off the price of your plane ticket sound? How about 50 percent off your Mexico cruise? Well, these savings and more could be yours — if you push your holiday vacation to a few weeks past the holidays.
Yep, January is a time when skipping crowds, avoiding lines and getting better service can be less expensive. Of course, not everyone can plan a holiday trip after the holidays for various reasons: the kids have to be in school, you can't get the time off from work, etc. But, if you have the freedom to stay put during the holidays and make a New Year's resolution to take off early in the new year, you could score some serious travel deals. Here are seven reasons you should push your holiday vacation into next year.
1. Flights are cheaper
The cost of flying during the holidays can blow a hole in your budget faster than Christmas shopping. But traveling in January could be the solution, said Wojciech Borkowski, a professional travel hacker for Flightfox, a website that connects you with travel experts who can help you save money on your upcoming trip.
Borkowski crunched the numbers in Flightfox's database of more than 60,000 flights between Nov. 1 and Jan. 31 for travel between the U.S. and holiday destinations, such as Hawaii, Mexico and the Caribbean. He found that the most expensive time of the year to fly is Dec.15 to Jan. 1 and the week before Thanksgiving.
"The most expensive day to fly is Dec. 26," he said. "A seven-day trip will, on average, cost more than double than in January, followed by Dec. 27 and Nov. 20."
He added that, while January is on average 15 percent cheaper than November and 23 percent less expensive than December, the cheapest time to fly is between Jan. 17 and Jan. 19. And if you really want to get frugal, travel on a Tuesday, Wednesday or Thursday, he suggested.
January is also the time to take advantage of promotions on flights, said Kendal Perez, a savings expert with CouponSherpa.com.
"Last January, JetBlue promoted fares ranging from $34 to $159 one-way during its 'Big Winter Sale,'" she said. "A traveler could fly between Boston and Washington, D.C., for $44, or from New Orleans to New York for $119." And, Frontier Airlines offered flights for as little as $19 one-way.
2. Hotels can be cheaper
The other biggest expense on holiday vacations? Hotels. But again, January could bail you out. Just like with flights, some hotel stays go on sale after the new year. Be on the lookout for holiday vacation deals, including hotel deals, said Perez.
For example, last year's "Hotel Week in New York City — between Jan. 3 and Jan. 15 — offered hotel rates of $100 to $300 per night at hotels that typically go for up to $500 per night," she said. That promotion coincided with Broadway Week, Restaurant Week and many sales, reported NYC Insider Guide, adding up to big travel deals in the Big Apple.
Also, "Expedia advertised 100 percent off flights when travelers booked a package last January, so travelers essentially got the hotel and airfare for just the price of the hotel," added Perez.
3. Traveling in January can be less aggravating
Raise your hand if you like getting stuck behind the guy who wore lace-up high-tops, three bracelets, a watch and a belt to the TSA screening area. Yeah, didn't think so.
Traveling in January instead of the holidays could be a cure to the aggravatingly long security check lines, said Lee Huffman, a travel expert who writes about travel at BaldThoughts.com.
"Seasoned travelers know to take off their shoes, take laptops out of their bags, and use the 3-1-1 bags for their liquids," he said. "The people who only travel once or twice a year completely forget these rules and clog up the TSA lines because they, and their bags, need to go through screening multiple times."
4. It could be healthier
For many, the fall and winter months can be real downers. It's a real thing called seasonal affective disorder (SAD).
According to the Mayo Clinic, SAD is a subtype of major depression that comes and goes with certain seasons. Most people who experience SAD do so in the late fall and early winter months.
"The combination of cold weather, darker days, bills from Christmas expenses, broken resolutions and spring seeming far off can leave us feeling down or unmotivated," said Daisy Cropper, a travel expert with Insight Guides, a site that offers travel ideas and guide books.
Feeling depressed, experiencing low energy and having trouble sleeping are just a few of SAD's symptoms. Treatments include light therapy and medications, but also getting outdoors and making your environment sunnier and brighter — which sounds like a great excuse to book a trip to the tropics during January.
"Having a trip planned for January, or even early February, can stave off these feelings and keep us motivated throughout the season," said Cropper. "Nothing beats having a great, exciting trip to look forward to."
5. Cruises are cheaper
If you like to take to the seas for your holiday travel, January might be the time to do it. Moving a cruise from December to January can save you hundreds of dollars, said Tanner Callais, a cruise expert with Cruzely.com, a site dedicated to cruise information.
"The basic rule of thumb with cruises is that fares are highest when kids are out of school," he said. "That means you'll see the highest fares of the year in December around the Christmas holidays."
Just a few weeks later, however, when kids go back to school, Callais said cruise fares plummet. For example, one cruise to Mexico he saw sailing on Dec. 28 cost more than $700 per person. But "the exact same trip sailing just two weeks later on Jan. 14 costs only $309," he said. "That's more than $400 cheaper."
And if you're more of a calypso kind of cruiser, no problem, said David Yeskel, a travel writer known as The Cruise Guru.
"For example, Holland America Line's Eurodam, a premium ship recently refreshed with the line's new Music Walk nightclub venues and top-notch restaurants, offers seven-day Caribbean cruises starting at $799 in January, a value that can't be beat," he said.
Yeskel added that, in addition to saving money, you'll enjoy less-crowded ships and beaches in January.
6. You'll often get better service
Dream of getting the VIP treatment the next time you travel? Wait until January.
Whether it's a burger and beer by the pool or steak and wine at a fine eatery, there's nothing like great service to make you feel like you're on vacation — and nothing like slow or grumbling servers to kill your vacation buzz. This is yet another reason January beats the holidays, said Maria Lalonde, content editor at savings website Offers.com.
"As hotels, resorts and popular tourist spots are less crowded, travelers enjoy quieter accommodations and more attention from hotel staffers," she said.
One reason could be because the staff is as relaxed as you are, said Andre Arriaza, a foodie, travel writer and co-founder of BarcelonaEatLocal.com, which customizes authentic, culturally rich Barcelona vacations.
"Staff at restaurants are way less stressed in January, as everyone books tables in November and December to celebrate the end of the year, especially companies that go with large groups," said Arriaza. "So, it's pretty likely that chefs will be cooking at ease, and that you will be served an extra dish as a gift from the house."
7. Cheaper parking -- and penty of it
Many travelers, especially those taking short trips, park at the airport. But, during the holidays, this could result in a stressful, pricey surprise, said Jennifer Church, who owns and operates AirportParkingHelper.com, which finds and reserves inexpensive parking for travelers at more than 100 airports in the U.S. and Canada. She said parking spots in airport economy lots become scarce during the crunch of holiday travel.
"If the lots are full and flight times are looming, travelers usually have no choice but to park in daily lots at much higher rates," said Church.
Private off-site lots that allow travelers to book online in advance and offer free shuttles directly to the airport terminals can save time and reduces stress, she said.
"Waiting [to travel] until January means these off-site businesses will have greater inventory, likely resulting in even lower rates," Church added.
This article was originally published on GOBankingRates.com.
More from GOBankingRates:
Thanks for reading CBS NEWS.
Create your free account or log in
for more features.