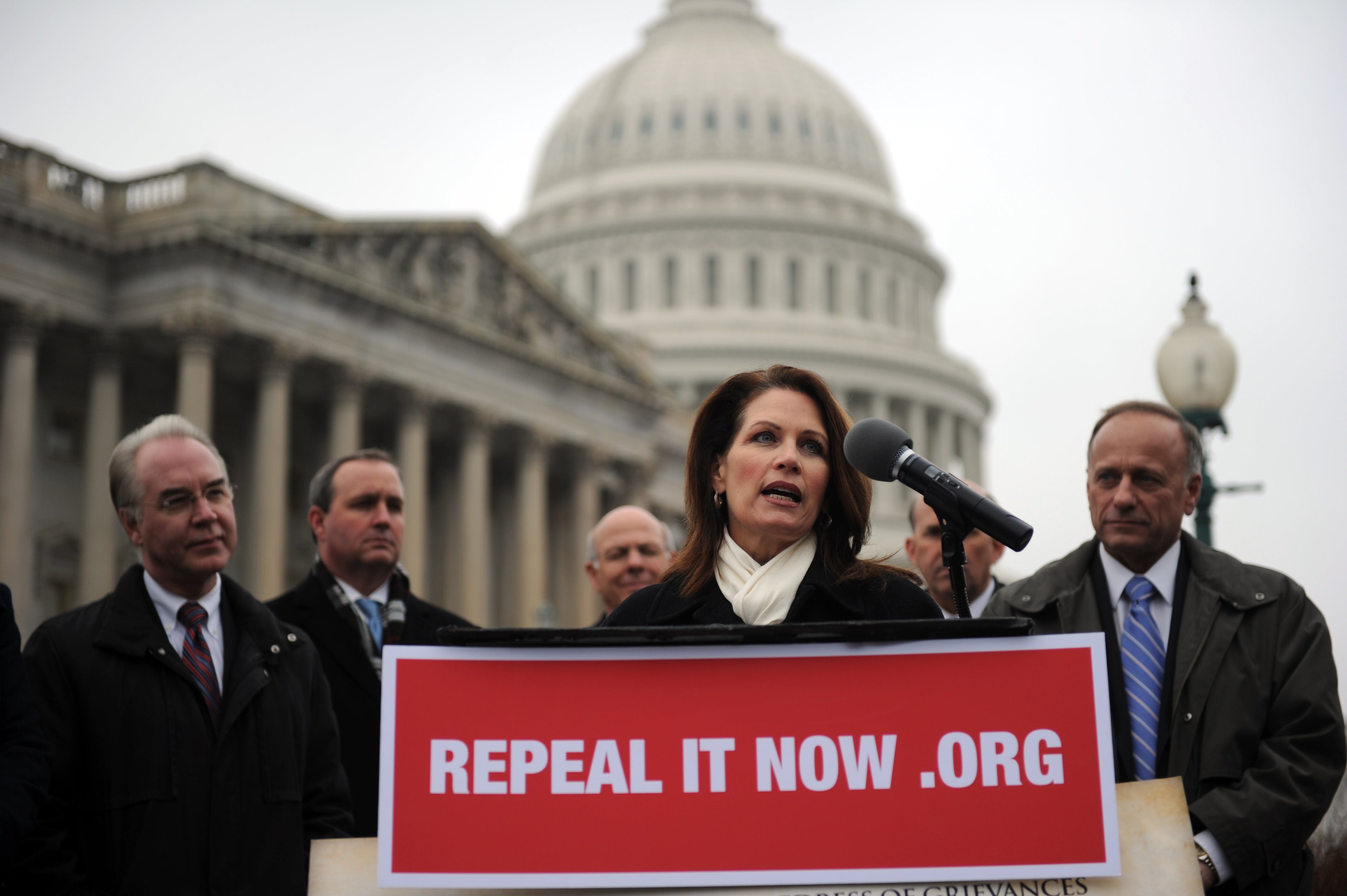 Is Michele Bachmann moving closer to a presidential bid?
In remarks at a home-schooling convention in Des Moines on Wednesday, Minnesota Rep. Michele Bachmann rallied conservative home-schooling Iowans and lambasted state judges as "black-robed masters," continuing what appears to be the buildup to a bid for the 2012 GOP presidential nomination.
Bachmann, a prominent Tea Party Republican, has been openly toying with a presidential bid since January - but frequent appearances in early-primary states and a new report saying she plans to form an exploratory committee by June seem to indicate the increasing likeliness that she will enter the fray.
"I'm an Iowan, for those who don't know it," Bachmann reportedly told the crowd on Wednesday. "These are my roots. I'm not just an Iowan, I'm an Iowegian. For those of you who don't know it, that means I'm an Iowan and 100 percent Norwegian."
"Iowans are fighters. I love that about Iowa," she said. "I understand what it is to fight as an Iowan by birth."
Bachmann, touting her conservative credentials, also blasted three judges who were voted out last year from Iowa's state Supreme Court after voting to legalize gay marriage.
"You said enough is enough and sent them packing, and I'm very proud of what you've done," she said, repeatedly slamming judges as "black-robed masters," according to Politico. "It's very rare that a judge does not go back to office."
CNN reports that the two-term Minnesota representative plans to form a presidential exploratory committee in June, or possibly earlier, and that she will likely announce her candidacy around the same time.
A spokesperson for Bachmann said in a statement that "The Congresswoman is grateful for all the encouragement she's received. She will make a decision about 2012 this summer. There is a natural timeline to these events and they will run their course."
In a recent interview with ABC, Bachmann said she had not yet reached a decision.
"I'm in for 2012 in that I want to be a part of the conversation in making sure that President Obama only serves one term, not two, because I want to make sure that we get someone who's going to be making the country work again. That's what I'm in for," Bachmann said.
"But I haven't made a decision yet to announce, obviously, if I'm a candidate or not, but I'm in for the conversation."
She has said, however, that she would be "assembling a team" in Iowa and that it's likely she will enter the state's presidential straw poll in August.
"I think there's a very high likelihood that I would, yes, participate in the straw poll," Bachmann told the Des Moines register. "Because Iowa is extremely important in this early selection process of the presidency."
"We'll be gauging the level of support, assembling the team of talent that we need to be successful," she continued.
Bachmann, a vociferous critic of President Obama, has in recent months raised her national profile exponentially, becoming a near-omnipresent figure in the media and attracting attention for some controversial statements. But with this increased prominence has come a new level of scrutiny: the Minnesota representative has also been criticized for making a series of inaccurate statements. A number of national publications - including the Washington Post and PolitiFact - have published articles "fact-checking" Bachmann's statements.
Bachmann, however, has been quick to make light of such gaffes: When asked about a statement in which she claimed that America's founding fathers "worked tirelessly until slavery was no more," Bachmann shrugged it off.
"People make mistakes," she said.
Thanks for reading CBS NEWS.
Create your free account or log in
for more features.