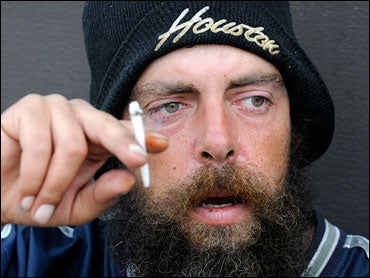 Is It Right To "Pimp This Bum?"
Until a few weeks ago, Tim Edwards was just another one of the men begging for change at a busy Houston underpass, ignored by most drivers who sped on past without a glance.
Now, thanks to an Internet marketing campaign and unlikely allies, Edwards has become the human face of homelessness to thousands of online viewers drawn to his Web site by its deliberately controversial name - Pimp This Bum.
During regular Webcasts, dozens of visitors to www.pimpthisbum.com ask questions about Edwards' life and his slow fall from office manager with a home, a car, and a future to an outcast short of hope and with little prospect of help.
The Web site also is a venue where visitors can donate money, services and goods to help Edwards yank himself out of homelessness.
Some homeless advocates say it makes Edwards a victim of exploitation, but the organizers say that edgy tone is what makes the project succeed.
"We wanted to insult people's sensitivities so that they would go to the site and see Tim, and people seem to have fallen in love with him. He's funny and doesn't blame the world for his situation," said Kevin Dolan, 55, a marketing specialist from the Houston suburb of Katy who started the Web site with his 24-year-old son, Sean.
If the site had been called "Help the Homeless," many Web surfers might just have clicked on past, says Sean.
The Dolans had initially set out to test an advertising campaign and generate publicity for their new Internet marketing business. They planned to promote a mom-and-pop business, until Sean suggested using the Web site to do some good.
Now visitors to the Web site are getting to know Edwards beyond the stereotype of an anonymous group labeled "The Homeless."
"I'm the world's first online bum," jokes Edwards, a lanky, bearded 37-year-old who talks about life on the streets with a mix of dark humor and unvarnished honesty. "The whole idea of this project is to get people off the street. I'm the pioneer, but I've got friends behind me. If I don't get this right, it ain't gonna work for them."
The Web site features videos of Edwards and a photograph showing him with a hand-drawn, cardboard sign.
There's a "Donate" button where viewers can charge donations to their credit card. And some people have dropped by Edwards' regular panhandling spot to drop off food and fast-food gift cards - or just to shout hello.
This coming week, Edwards is scheduled to enter an alcohol detox program at the Seattle-based Sunray Treatment and Recovery, which is providing the $13,800, 35-day program free of charge. There are plans to air Webcasts as Edwards goes through the program
Some homeless advocates say the Web site does little to address the underlying issues of homelessness. Even the name makes Anthony Love bristle.
"He is a person. His name is Tim. And to pimp anyone is not something I would endorse," said Love, president of the Coalition for the Homeless of Houston/Harris County.
The Web site also stirred up an Internet debate over the merits of the Dolans' approach. One blogger named KatDish commented: "Your impassioned pleas for helping Tim get off the street don't hold much weight when you ask him to hold up a sign that says "Pimp this Bum" and let people know he needs a Sharpie and a cheeseburger."
But Edwards says he roared with laughter when Sean Dolan nervously approached him with the idea of the Web site and the proposed name. It was a night in early February when he and several other homeless men were gathered beneath an underpass, "getting drunk like we always do."
(AP Photo/Pat Sullivan)

At first, he wasn't sure if the Dolans (seen at left with Edwards) were a threat or just do-gooders bringing food. Now he considers them an answer to a prayer.

"I asked God to make it rain and here come these guys. And I thought this is just crazy enough to work," he said.

Edwards had been mired in homelessness since Aug. 19, 2004 (he remembers the exact date), unable to shake severe alcoholism.

He has become skilled in the art of survival on the street: Keep to your own territory. Beg enough for the bare necessities - food, cigarettes, drink - then get off the corner. Learn who to trust and who to stay away from.

He has seen close friends die from years of addiction, from infections and from simple, intractable hopelessness. And he had come to the edge many times himself, once yearning to lay down and die.

Edwards says he has tried programs aimed at getting the homeless off the streets, but none have worked for him.

"Those programs work for some people, but for some, they don't. We're not 'The Homeless.' Not some monolithic group of people," said Edwards, as he nursed a cigarette and a beer swathed in a brown paper bag. "But this has brought me and my friends a lot of hope. I can't express in words how much hope it's brought us."

Edwards, who says his descent into homelessness began when he "turned his back on God" after the deaths of his mother and grandmother, says he is finally ready to begin detox and find the road back to normalcy. Not just for himself, but for others living on the street.

On Monday, in preparation for his trip to Seattle and his entry into rehab at Sunray, Edwards plans to shave his beard and trim his hair - a symbolic nod to the start of a new life.

It will be broadcast live on the Web site.

Thanks for reading CBS NEWS.
Create your free account or log in
for more features.