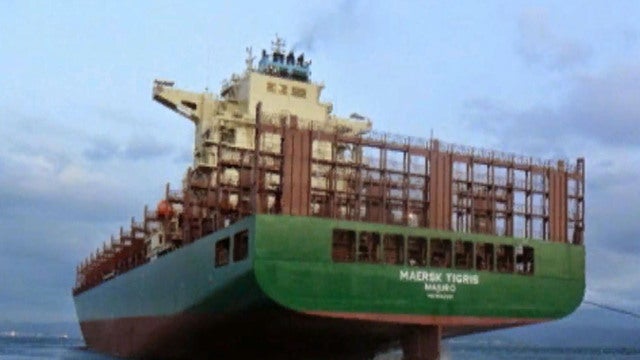 Iran frees Marshall Islands-flagged cargo ship
TEHRAN, Iran -- The Iranian government has released a Marshall Islands-flagged cargo ship Thursday.
Iran's state-controlled media first reported the ship's release, which was later confirmed by the Maersk Line shipping company.
Iranian forces seized the MV Maersk Tigris after firing warning shots across its bridge on April 28. The seizure stems from a legal complaint by a private Iranian company.
The assumption, however, is that Iranian authorities actually boarded the Maersk in retaliation for having lost face when an Iranian convoy to Yemen turned around and headed home in late April as U.S. warships stood in the way.
Danish shipping company Maersk Line chartered the container ship from Singapore-based Rickmers Ship Management and insists it carried no "special cargo" such as military equipment.
In a statement issued Thursday, Maersk said the release came after "a constructive dialogue with the Iranian authorities, including the Ports & Maritime Organization, and the provision of a letter of undertaking in relation to the underlying cargo case."
Iranian officials said Wednesday that the ship would be freed once its owners paid a fine related to the legal dispute.
Maersk's statement on Thursday did not mention any payments the company might have agreed to, but said it would "continue our dialogue with the aim to fully resolve the cargo case."
In response to the Iranian forces' seizure of the ship, the U.S. military offered voluntary naval escort for all American-flagged vessels traversing the Strait of Hormuz - a vital waterway linking the oil ports of the Persian Gulf to the rest of the world.
As the incident appeared to be deescalating on Wednesday with the Iranians' announcement that the ship would likely be released, the Pentagon said the escort operation was concluding.
The Iranian decision to board the vessel was "a reflection of the fact that tensions are running very high, and these tensions don't really have borders," explained CBS News senior national security analyst Juan Zarate. "These are conflicts that are happening on the ground, they're happening in the shipping lanes, and there are places and points of vulnerability that could... serve as flashpoints for conflict."
It's worth noting, Zarate said, that the Iranians have their own economic interests in preserving the safety of the Strait of Hormuz, a body of water through which roughly 20 percent of the world's oil passes.
"They certainly want the lanes open, but they also want the world to know that they can impact the lines and that this is a point of leverage and vulnerability that Iran can use to its advantage," he said.
Thanks for reading CBS NEWS.
Create your free account or log in
for more features.