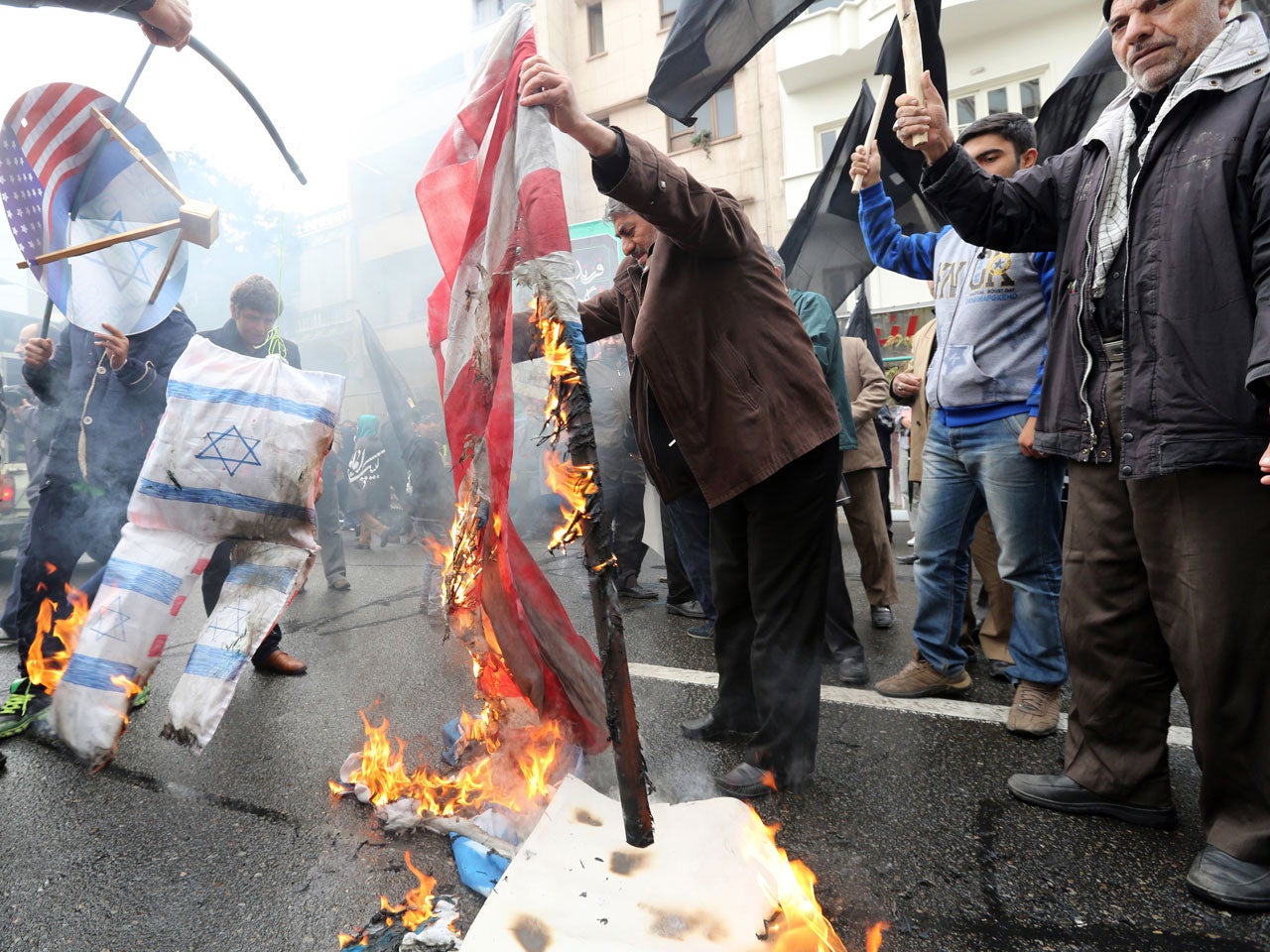 Iran celebrates 35th anniversary of U.S. Embassy hostage crisis
TEHRAN, Iran - Thousands of Iranians chanted "Down with America" at a major anti-U.S. rally on Tuesday marking the anniversary of the 1979 takeover of the U.S. Embassy in Tehran, just days ahead of a key meeting between the two nations' top diplomats over Iran's controversial nuclear program.
The gathering outside the former embassy compound in Tehran, which has become the annual venue for rallies commemorating the embassy attack and other American-bashing protests, was smaller compared to last year's event, which drew tens of thousands - a sign of improved Iran-U.S. relations since moderate Iranian President Hassan Rouhani took office last year.
But the rally, organized annually by hard-liners, still puts pressure on Rouhani, whose policy of outreach to Washington has faced harsh criticism from opponents at home.
Many in the crowd chanted "Death to Israel" and "Death to Britain," neither of which has an embassy here. Several protesters burned the American, Israeli and the British flag.
Following the Islamic Revolution in Iran 35 years ago, militant Iranian students stormed the U.S. Embassy in 1979, claiming it was a center of plots against the Persian nation, and held 52 Americans hostage for 444 days. Ties between the two countries were severed after the siege and formal relations have not been restored since.
The anti-U.S. gathering this year also had a religious character as most Shiites world over on Tuesday observed the Ashoura, a remembrance of the 7th-century death of Imam Hussein, a grandson of the Prophet Muhammad revered by Shiites.
One of the rally speakers, cleric and university professor Ali Reza Panahian compared the U.S. to enemies Hussein faced in his final battle in Karbala in present-day Iraq.
"Today, the evil arrogant powers have learned that they should not attempt to thwart us in the same way that enemies of Hussein encircled him," Panahian said. He also denounced talks with world powers over Iran's nuclear program, claiming the negotiations cannot change the Iranians' anti-U.S. stance.
State TV said similar anti-U.S. rallies took place in other Iranian cities and towns Tuesday.
But despite anti-American sentiments on the streets, Rouhani's government has pushed for a final nuclear deal that would end crippling Western sanctions imposed on Iran in exchange for ensuring that Tehran cannot produce a nuclear weapon.
Iranian journalist Nazenin Ansari tells CBS News correspondent Alphonso Van Marsh that U.S.-led sanctions against Iran over their nuclear program have stung the country.
"What Mr. Rohani has realized and certainly sections of the establishment have realized, that this cannot continue - Iran's isolation cannot continue," Ansari said.
But government conservatives, some in power since the hostage crisis, say the West cannot be trusted because it is demanding an end to Iran's nuclear development program.
The two sides have a Nov. 24 deadline to seal the final deal. The West suspects Iran's nuclear program is aimed at producing atomic weapons, a charge Tehran denies, insisting it's for peaceful purposes only.
Supreme Leader Ayatollah Ali Khamenei, who has final say on all Iranian state matters, has repeatedly backed the talks even though he has expressed doubts about the intentions of the six-member group - the five permanent U.N. Security Council members and Germany - in the negotiations.
In Oman's capital of Muscat next week, U.S. Secretary of State John Kerry and his Iranian counterpart Mohammad Javad Zarif are to hold trilateral talks, which will also include European Union's foreign policy chief Catherine Ashton.
Zarif's adviser Ali Khorram said Iran-U.S. relations have now changed from being openly hostile to friendly but that "it's a friendly relation not based on trust, not yet."
Khorram said the two have "common fields of cooperation in Iraq and Syria" against Islamic State extremists.
Thanks for reading CBS NEWS.
Create your free account or log in
for more features.