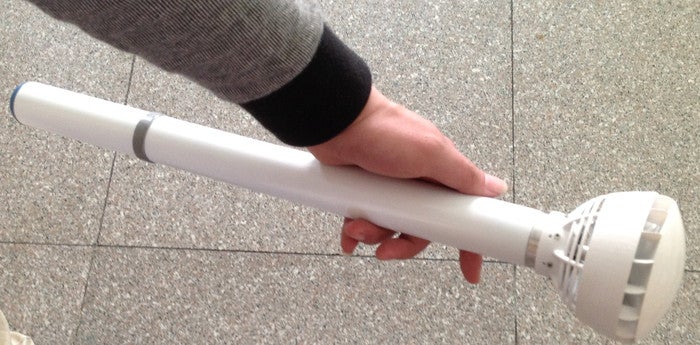 Invisible umbrella would use air to keep you dry
Shelter from the rain just got high-tech and invisible. A research and development team from China has come up with a battery-operated Air Umbrella, which creates a shield against rainfall via a jet airflow.
The gadget may seem like something out of a James Bond movie, and though it's still in the R&D stages, it is gaining popularity on Kickstarter. The Air Umbrella has surpassed its $10,000 Kickstarter fundraising goal with over $33,000 in support from over 275 backers.
Two models run on a 30-minute battery life -- not ideal for long commutes in a downpour, but the creators say they are working on improving that. The very visible (and bulky) base resembles a flashlight. Several versions provide options for a range of consumers.
The "b" or basic umbrella is about 20 inches long and weighs over a pound and a half, while the women's "a" version is smaller, at about a foot long and just over a pound, with only a 15 minute battery life. The scalable "c" product, which can be shortened from 31 inches to about 20 inches, is slightly heavier at 1.87 pounds.
As innovative as the product seems, this is not the first time air umbrellas have surfaced. As CNET points out, a Korean designer came out with the concept in 2010, but it never took off.
The latest inventors, who hold doctorates and advanced degrees from Beijing University of Aeronautics and Astronautics and Nanjing University of Aeronautics and Astronautics, designed each umbrella to operate with high-speed jet air flow. "Jet airflow can isolate some objects," they explain on the Kickstarter site. "So when we make use of the airflow, we can protect ourselves from the rain drops... Then the airflow forms an umbrella with out visible cover."
Just like your traditional nylon taffeta umbrella, air umbrellas don't provide the best coverage in torrential rainstorms. The tech version also makes some noise. The developers admit that the products are most suitable for urban "users who are not demanding."
They're also a lot pricier than traditional umbrellas: the market price of the product is predicted to run around $200.
Funds raised on Kickstarter will go towards improvements in the appearance and battery life of the device.
Researchers say they will start manufacturing next year, and supporters can expect to receive their products by December 2015 -- or they will get a refund if creators can't make their deadline.
Thanks for reading CBS NEWS.
Create your free account or log in
for more features.