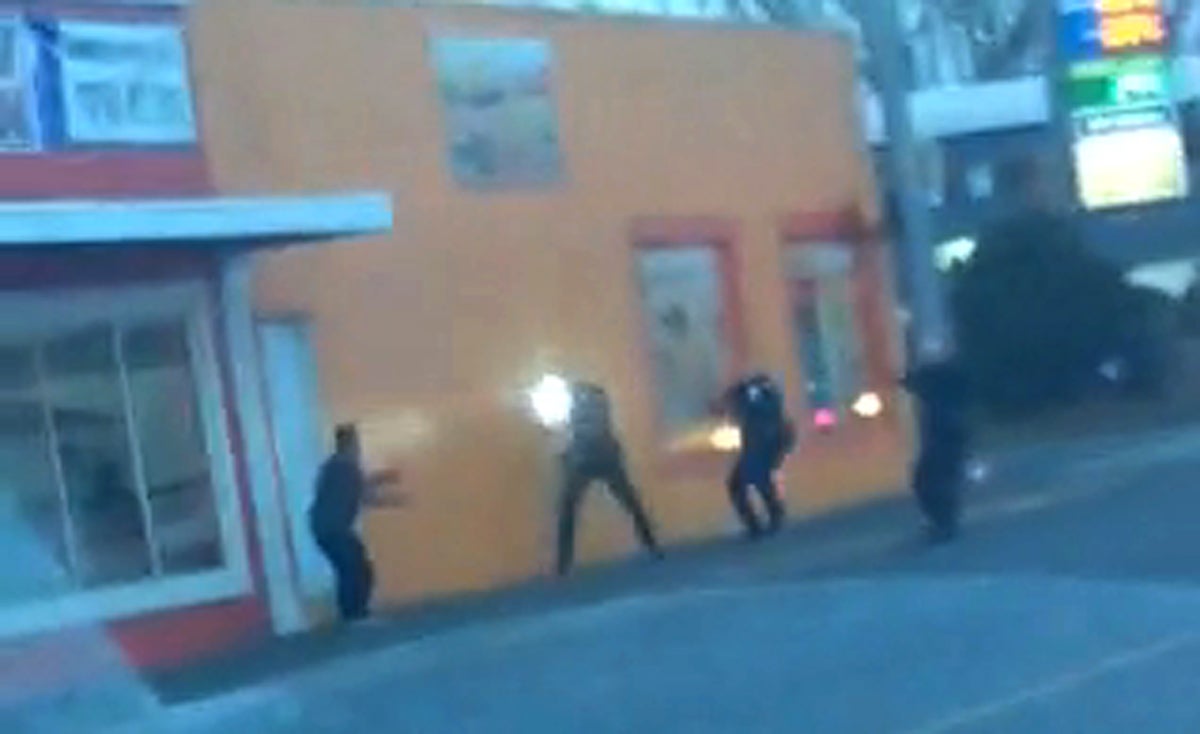 Investigators: ​Washington state police shot at unarmed man 17 times
KENNEWICK, Wash. -- The three officers involved in the death of an unarmed Mexican man in Washington state fired 17 shots, including several that struck the former orchard worker but none that hit him in the back, a task force spokesman said Wednesday.
The regional law enforcement task force is investigating the Feb. 10 killing of Antonio Zambrano-Montes, in the city of Pasco, which has led to weeks of protests and calls for a federal probe.
A funeral mass was held Wednesday for Zambrano-Montes, CBS affiliate KEPR-TV reported.
Kennewick police Sgt. Ken Lattin, a spokesman for the task force, said autopsy results were pending, and he couldn't be more specific about where the 35-year-old was shot.
"We've determined that they fired their weapons 17 times, 17 rounds were fired," Lattin said. "Of those, five or six rounds struck Mr. Zambrano. There were no shots in the back."
Video taken by a witness shows Zambrano-Montes running from officers. As the officers draw closer, he stops, turns and faced them. Multiple "pops" are heard, and then he falls to the ground.
Zambrano-Montes was shot to death around 5 p.m. on a Tuesday evening at a busy intersection in Pasco, a majority-Hispanic agricultural city along the Columbia River in the southeastern part of the state.
Authorities say the Mexican immigrant was throwing rocks at passing vehicles and later at responding officers. Lattin said a rock was found next to Zambrano-Montes' body, but no gun or knife.
Officers used stun guns at least twice but failed to stop Zambrano-Montes before firing their weapons, Lattin said.
Zambrano-Montes was arrested last year for assault after throwing objects at Pasco officers and trying to grab an officer's pistol, court records show.
The Franklin County coroner has ordered an inquest into the death. Federal authorities have also said they are monitoring the local investigation. Lattin said it will be thorough and fair.
"It does not matter what your skin color it, it doesn't matter what your legal status is in the country. Justice for all... and that's what we're here to do," Lattin said, KEPR reported. "We're not here to cover up for anybody."
The family also commissioned its own autopsy. Speaking through a translator on Tuesday, Zambrano-Montes' mother said the officers who shot her son should go to prison.
"I want people to understand my pain," Agapita Montes-Rivera said. "It's really hard. ... When I saw the video, I felt really bad. That's why I asked for justice."
Critics of the shooting continued to call for a federal investigation. The American Civil Liberties Union has also asked the federal government to intervene.
Felix Vargas, a Hispanic leader from Pasco, said he met with a federal official last weekend and had a meeting scheduled for later Wednesday with U.S. Attorney Michael Ormsby of Spokane, Wash., to discuss the case. That meeting was closed to reporters, he said.
Charles Herrmann, an attorney representing Zambrano-Montes' estranged wife and two teenage daughters, said it is difficult for neighboring police officers to investigate their colleagues.
"I do not think these authorities can conduct a truly impartial investigation of their brother officers," Herrmann said. He also doubted that Franklin County Prosecutor Shawn Sant was inclined to bring charges against the officers involved.
"The Zambranos are going to have their day in court," Herrmann predicted.
He said the widow, Teresa De Jesus Meraz-Ruiz, who lives in California, was "devastated" by the shooting. The couple has reportedly been estranged since 2006.
Meanwhile, Lattin said the special investigations unit, made up off officers from four neighboring cities, was awaiting final toxicology and other lab reports before sending its final report to the prosecutor. He predicted that would take several more weeks.
Sant said it would take about 60 days after the report is finished to begin the coroner's inquest. The contents of the report will be released during the inquest, but not before, he said.
Lattin said the three officers would not be interviewed until all the other preliminary work of the investigation is completed.
Officers continue to seek details of Zambrano-Montes' whereabouts in the two weeks before the shooting. His home had recently burned and he had stayed for a time in a homeless shelter, but no one has yet been able to account for his actions in the two weeks prior to his death, Lattin said.
Investigators also want to know if he was suffering from mental health issues, drug use or an injury, Lattin said.
Lattin said this would be the last of his weekly briefings to the news media because officials did not want to contaminate future jury pools.
The killing was the fourth by police in less than a year for fast-growing Pasco, a city of 68,000 where more than half the residents are Hispanic but few are members of the police force or the power structure.
Officers were exonerated after similar investigations in the first three cases. Critics of the latest case say the officers should have used less than lethal force to capture Zambrano-Montes.
Thanks for reading CBS NEWS.
Create your free account or log in
for more features.