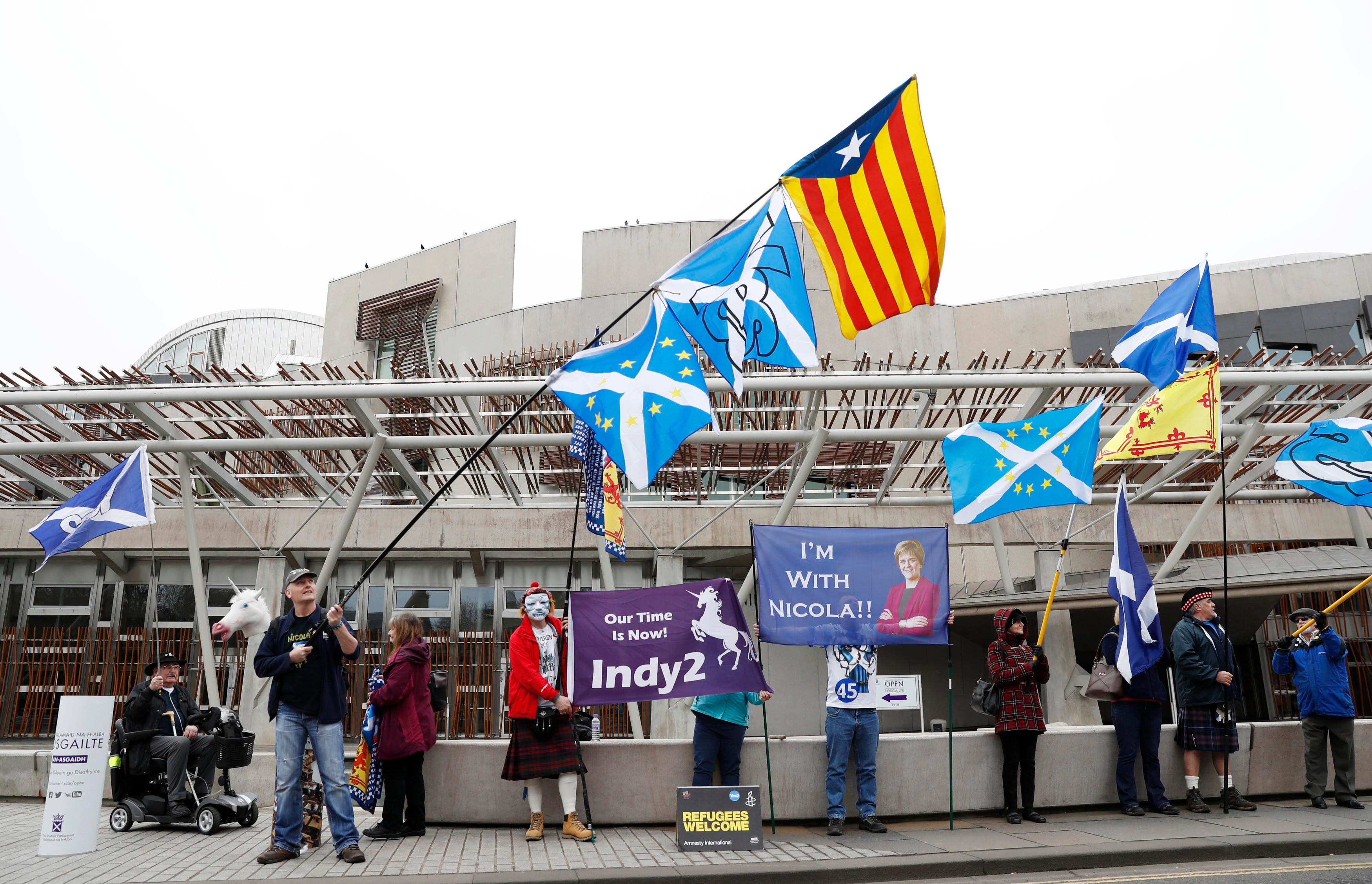 Scottish lawmakers authorize new referendum to secede from U.K.
EDINBURGH, Scotland -- Scottish lawmakers voted to seek a new referendum on independence Tuesday, presenting the British government with an unwelcome distraction as it prepares to leave the European Union.
The Edinburgh-based legislature voted 69-59 to ask the U.K. government to sanction an independence vote that would be held within the next two years. Outside, several dozen independence supporters bearing Scottish and EU flags broke into cheers and tears of joy as they heard the news.
Scottish First Minister Nicola Sturgeon, who asked lawmakers to authorize her to request the referendum, says Scots must be given the chance to vote on their future before Britain leaves the European Union.
British Prime Minister Theresa May plans to launch the U.K's two-year process of exiting the EU on Wednesday by triggering Article 50 of the bloc's key treaty.
Britain as a whole voted to leave the bloc in a referendum last year, but Scots voted by a large margin to stay.
"Scotland's future should be in Scotland's hands," Sturgeon told lawmakers before the vote.
Scottish voters rejected independence in a 2014 referendum that Sturgeon's Scottish National Party called a once-in-a-generation vote. But Sturgeon says Brexit has altered conditions dramatically.
She says there should be a new plebiscite on independence between fall 2018 and spring 2019, when details of Britain's divorce terms with the bloc are clear.
Sturgeon said that whatever the final terms, Brexit would mean "significant and profound" change for Scotland.
"That change should not be imposed upon us," she said. "We should have the right to decide the nature of that change."
May, whose government must approve the referendum for it to be legally binding, says the time is not right. She says all parts of the U.K. -- England, Scotland, Wales and Northern Ireland -- must pull together to get the best-possible deal with the EU.
Scottish Conservative leader Ruth Davidson agreed, saying Tuesday that Scots do not want "the division and rancor of another referendum campaign."
The Scottish parliament had been due to vote on Sturgeon's referendum demand last week, but the session was adjourned after Wednesday's extremist attack in London.
Sturgeon's referendum call was backed by the governing Scottish nationalists and the Greens, and opposed by the Conservative and Labour parties.
It's unclear what could break the stalemate between Edinburgh and London. British officials have indicated they would not agree to another independence referendum until Britain's EU exit is over and done with -- a process that could take longer than two years.
David Mundell, the British government's Scotland minister, said the U.K. government would not be "entering into negotiations on whether there should be another independence referendum during the Brexit process."
"It's not appropriate to have a referendum whilst people do now know what the future relationship between the U.K. and the EU will be," he said.
Sturgeon said after the vote that she would "seek sensible and constructive discussion" with the British government later this week.
"I hope the United Kingdom government will respect the view of parliament," she said. "This is simply about giving people in Scotland a choice."
Should that fail, Sturgeon promised to inform the parliament of next steps after its Easter break next month.
In Edinburgh, supporters of Scottish independence urged Sturgeon to forge ahead.
Scott Murray, a 71-year-old music tutor, said the vote for Brexit had changed everything.
"I think we should have another referendum," Murray said. "I feel that we are divorced from what happens in the south of England and we should be our own country and stand on our own two feet."
But plumber Brian Hamilton, 45, said he'd be happier if members of the Scottish National Party government "got on with their day jobs" rather than focusing on Europe.
"They say they speak for the people of Scotland, but they don't speak for the people of Scotland because they are not representing me whatsoever," he said.
Thanks for reading CBS NEWS.
Create your free account or log in
for more features.