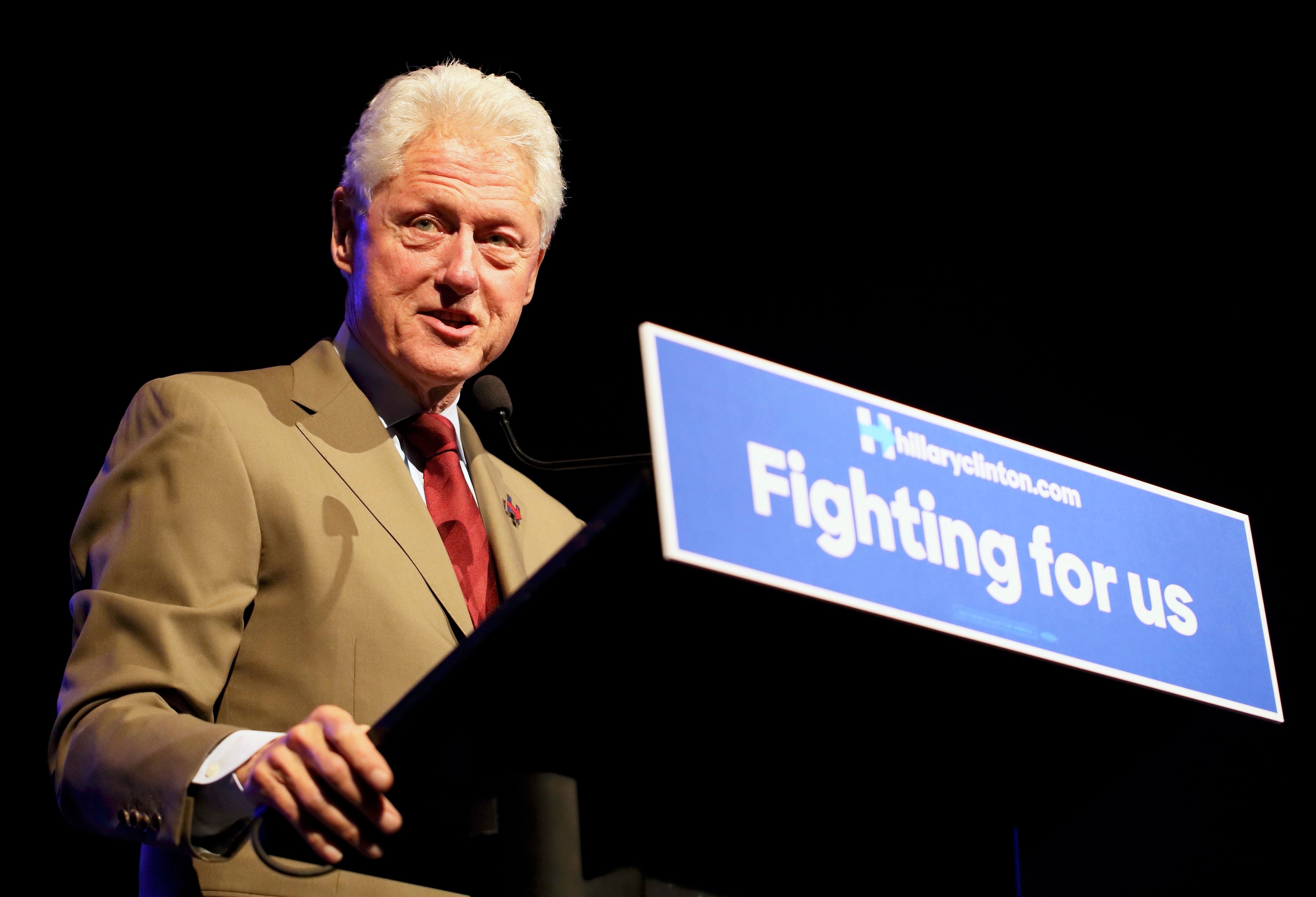 In California, Bill Clinton defends his record to protesters
RICHMOND, California Bill Clinton has been traveling across California to fire up supporters of his wife's campaign in the final hours before voting begins in the state's primary.
Here in Richmond, for the third time in as many days, he found himself getting pelted with questions about his own administration's record and about Hillary Clinton's relationship with Wall Street.
Though the former president is is a talented campaigner who has been a frequent surrogate for his wife in recent months, he's also a quite literal reminder of the policies he spearheaded in the 1990s--especially as they relate to criminal justice issues--that have come under sharp criticism in recent years.
And as he travels to heavily African American parts of the state--Census Bureau statistics put Richmond's population, for example, at more than 26 percent African American--he's been repeatedly confronted about his own record on criminal justice issues.
In Richmond on Monday afternoon, as he has in other recent situations, Clinton seemed to relish the back-and-forth, letting the protester speak and responding to each part of his objections.
Barely a few minutes into Clinton's 40-minute speech here, a protester in the audience began shouting at him about his administration's 1994 crime bill, an issue criminal justice activists have seized on throughout the campaign. Clinton supporters in the crowd worked to drown them out, but Clinton himself acknowledged it: "No, no this is good. Will you let me answer that?"
"When the crime bill in 1994 came over from the House, it had stronger incarceration procedures than I originally asked for. They cover about 8 percent of total people in prison," he said, noting that Sanders voted for the bill while in the House. "When we got to the Senate, the Senate included an assault weapons ban with an ammunition clip limit."
Clinton added he had "just been through a knock-down, drag-out fight to get universal background checks passed," and that he did the best he could to negotiate for what he wanted in the bill. To address these issues before Hillary Clinton launched her campaign, Bill Clinton noted that he'd spoken to the NAACP last year and acknowledged that the incarceration measures in the bill were a mistake, and that he had commuted the sentences of many of those affected by the legislation. But while he concedes those measures were flawed, other parts he staunchly defends.
"I never claimed that it was perfect," he said. "There's a lot of people walking around alive today [because of the law] ... I'm proud of it."
"Most important, look at what you did get," he added. "You got community policing, you got after school programs ... and you got the lowest crime rate in 25 years, the lowest murder rate in 33 years and the lowest death from illegal gun homicides in 47 years."
Clinton supporters in the crowd cheered. "You tell 'em, Bill!" one woman shouted.
As he started to get back on track with his regular stump speech, the same protester then confronted Clinton about his and his wife's relationship with Wall Street.
"When I became president, I raised taxes on the top 1 percent, I raised taxes on the wealthiest corporations, I put a man in to regulate Wall Street who did his job so well that Republicans threatened to defund the Securities and Exchange Commission," he said. "...This whole campaign has been some kind of weird attempt to say, let's not look at what really happened--which is we all grew together."
When one protester continued, Clinton cut him off. "This is not your meeting, sir," he said again, pivoting to talking about how presumptive GOP nominee Donald Trump is the real ally of Wall Street in the race.
Meanwhile, outside the rally, a small group of Sanders supporters continuously chanted "Bernie! Bernie!" As rally-goers walked into the venue, the Sanders supporters asked people if they were ready to "feel the Bern."
Finally, Clinton said his wife "doesn't care" who the protesters vote for, and that she will still help them once she's elected. "No matter who you vote for, she's coming back for you to give you a chance to rise with all of us," he said.
These interactions have seemingly become a frequent occurrence for Clinton. On Saturday, a woman cursed him out over the 1994 crime bill while he was greeting voters in a restaurant in Watts, a neighborhood in Los Angeles.
"Hey Clinton, f***k you," the woman said. "My people are still in jail from your crime bill ... you want to take pictures while my people are here? We're still in jail from what you did."
And in Los Angeles on Sunday, protesters tried consistently to interrupt his speech at Mariachi Plaza. Clinton just continued on with his speech anyway: "There are more of us than there are you, but no point in having a shouting match," he said.
Those interactions came less than two weeks after Clinton engaged with a 24-year-old Sanders supporter in a Santa Fe, N.M., diner who was critical of his tenure in the White House. Despite staffers trying to pull him along, Clinton held court with the Sanders supporter for more than half an hour.
"If you never have to make a decision, then you can go back to the past and cherry-pick everything [for a] narrative that is blatantly false," Clinton said in Santa Fe. "What you're saying is false."
After keeping a low profile throughout 2015, Clinton has become a consistent and under-the-radar presence on the campaign trail for his wife--and nowhere has that been more clear than here in California, where he's kept a busier-than-usual schedule as polls tighten and primary day approaches. In the last four days alone, he will have held a total of 15 get-out-the-vote events, as well as other smaller retail stops across the state in between.
Thanks for reading CBS NEWS.
Create your free account or log in
for more features.