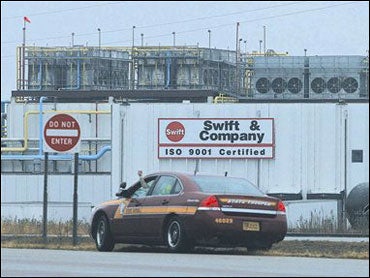 Immigration Agents Raid Plants In 6 States
Federal agents raided meat processing plants in six states Tuesday and arrested an unknown number of suspected illegal immigrants in an identity theft investigation.
Immigration and Customs Enforcement officials said the workers were arrested on administrative immigration violations and, in some cases, existing criminal arrest warrants.
ICE chief Julie L. Myers told reporters in Washington that agents had uncovered a scheme in which illegal immigrants and others had stolen or bought the identities and Social Security numbers of possibly hundreds of lawful U.S. residents to get jobs with Greeley-based meat processor Swift & Co.
CBS News correspondent Wyatt Andrews reports that the investigation began after several legitimate U.S. citizens were arrested because of crimes committed by their illegal alter egos.
Six Swift processing facilities were raided Tuesday, in Greeley; Grand Island, Neb.; Cactus, Texas; Hyrum, Utah; Marshalltown, Iowa; and Worthington, Minn.
"Swift has never condoned the employment of unauthorized workers, nor have we ever knowingly hired such individuals," Swift & Co. President and CEO Sam Rovit said in a written statement.
In Greeley, cars lined the street leading to the plant as family members stood outside. One person held a sign that said, "Presents! No tears at Christmas!"
One sheriff's deputy described the scene outside the plant in Hyrum, Utah, as a circus.
"They've got three buses, a bunch of transport vans, a lot of cars and 150 or so agents," chief Cache County deputy David Bennett said Tuesday.
Bennett said ICE officials didn't notify the sheriff's department about the raid.
"They didn't ask for our help," Bennett said. "We were lucky to find out."
Swift describes itself as an $8 billion business and the world's second-largest meat processing company. In Hyrum, where city administrator Brent Jensen says the plant employs more than 1,000 workers, the company can process up to 2,200 cattle a day, according to a Securities and Exchange Commission filing.
Myers said immigration officials were "looking very aggressively" at who may have sold the identities to the workers in several cases. She said ICE had uncovered several different rings that may have provided illegal documents.
Some immigrants targeted had genuine U.S. birth certificates and others had other kinds of false identification, Myers said.
"The significance is that we're serious about work-site enforcement, and that those who steal identities of U.S. citizens will not escape enforcement," Myers said
ICE officials at the plants in Greeley and Worthington, Minn., said the total number of arrests might not be released until Wednesday, when a news conference was scheduled in Washington.
"We have been investigating a large identity theft scheme that has victimized many U.S. citizens and lawful residents," ICE spokeswoman Barbara Gonzalez said at the plant in Greeley.
Gonzalez said federal agents worked closely with the U.S. Department of Agriculture to try to minimize the disruption at the plants while carrying out the search warrants.

Thanks for reading CBS NEWS.
Create your free account or log in
for more features.