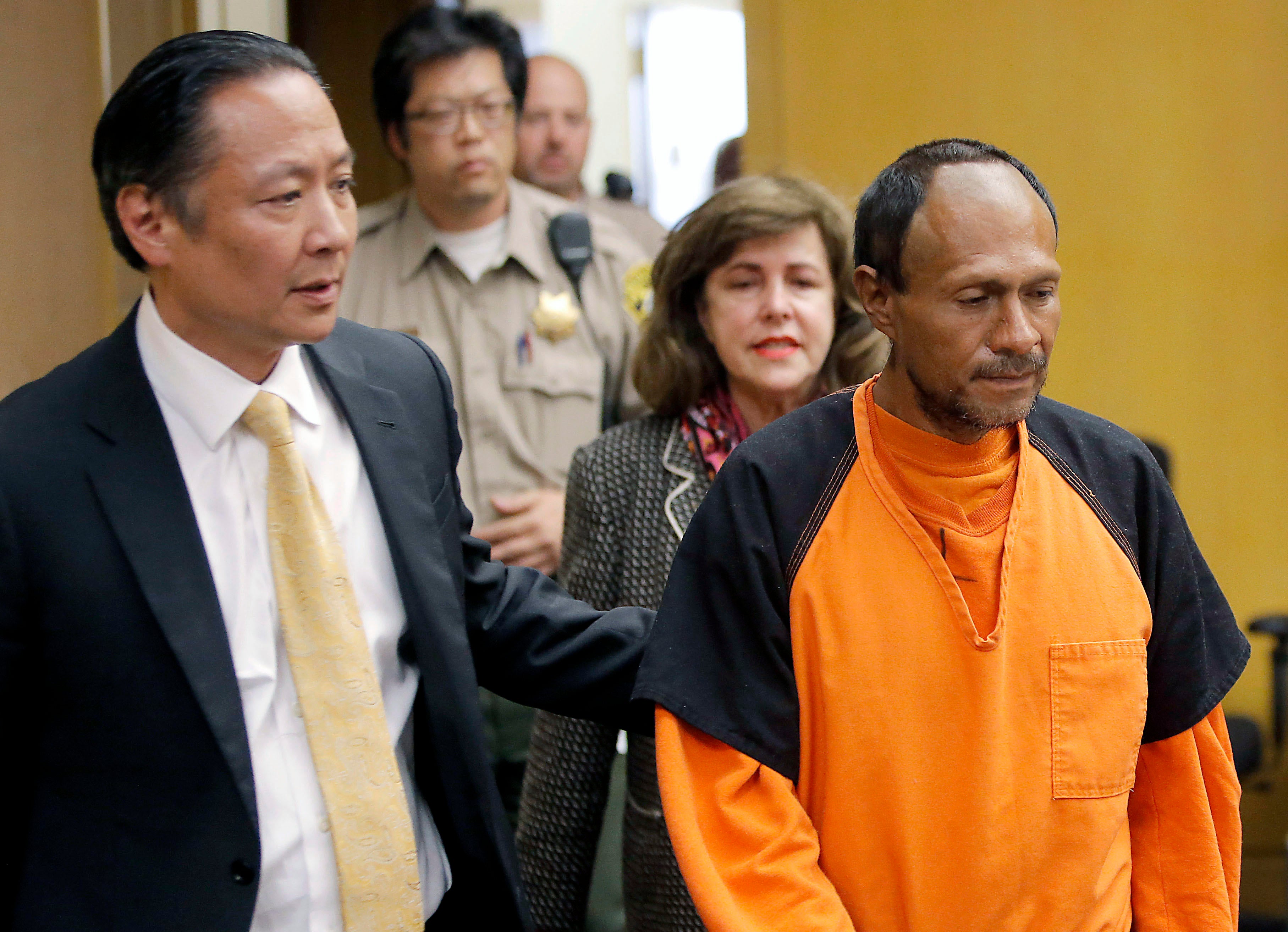 Immigrant acquitted in Kate Steinle shooting sentenced on gun charge
SAN FRANCISCO -- A Mexican man acquitted of murder in the shooting death of a San Francisco woman that sparked a national immigration debate was sentenced to time served for illegal gun possession Friday. San Francisco Superior Court Judge Samuel Feng also denied a defense request to give Jose Ines Garcia Zarate a new trial for his conviction of being a felon in possession of a firearm. Garcia Zarate will now be taken into federal custody, but it's not clear when he will be transferred.
Defense attorneys argued that the judge failed to properly instruct jurors, who found Garcia Zarate not guilty last month of killing Kate Steinle on a popular pier in 2015. Garcia Zarate faced a maximum sentence of three years behind bars but has been held in the San Francisco jail since his July 1, 2015, arrest.
He had previously been convicted of illegally re-entering the United States and been deported five times before Steinle was fatally shot. The San Francisco sheriff's department released him from jail several weeks before the shooting, ignoring a request from federal immigration officials to detain him for a sixth deportation.
The shooting happened during the presidential campaign and touched off a fierce debate over the country's immigration policies. San Francisco's "sanctuary city" policy bars local officials from helping federal immigration authorities in deportation matters unless they have a warrant. Donald Trump pointed to the shooting during his presidential campaign as another reason to build a wall along the Mexican border and tighten immigration policies.
None of that, however, was at issue during the month-long trial. The judge barred mention of the politics of immigration and gun control during the proceedings.
Garcia Zarate said he was sitting on a city pier when he found and picked up a gun wrapped in rags. His lawyer said he didn't know it was a weapon until it accidentally fired, the bullet ricocheting of the pier's concrete walkway and striking Steinle in the back.
A prosecutor, however, painted a picture of a man who hid a firearm in his baggy clothes, went to a pier filled with tourists and whirled about on a stool for more than 20 minutes before shooting it at Steinle's back.
Defense lawyers argued in court papers that the judge improperly barred the jury from considering Garcia Zarate's claim that he didn't know he was holding a gun when it fired. They also argue that he didn't hold the gun long enough to warrant a firearm possession conviction.
Jurors had asked for clarification during deliberations on what "intent" they had to determine to convict Garcia Zarate of illegal possession.
The San Francisco sheriff's department has said it will turn over Garcia Zarate to federal authorities after he has finished his state sentence. A federal grand jury indicted him on two felony charges of illegal gun possession less than a week after the San Francisco jury acquitted him of murder.
Thanks for reading CBS NEWS.
Create your free account or log in
for more features.