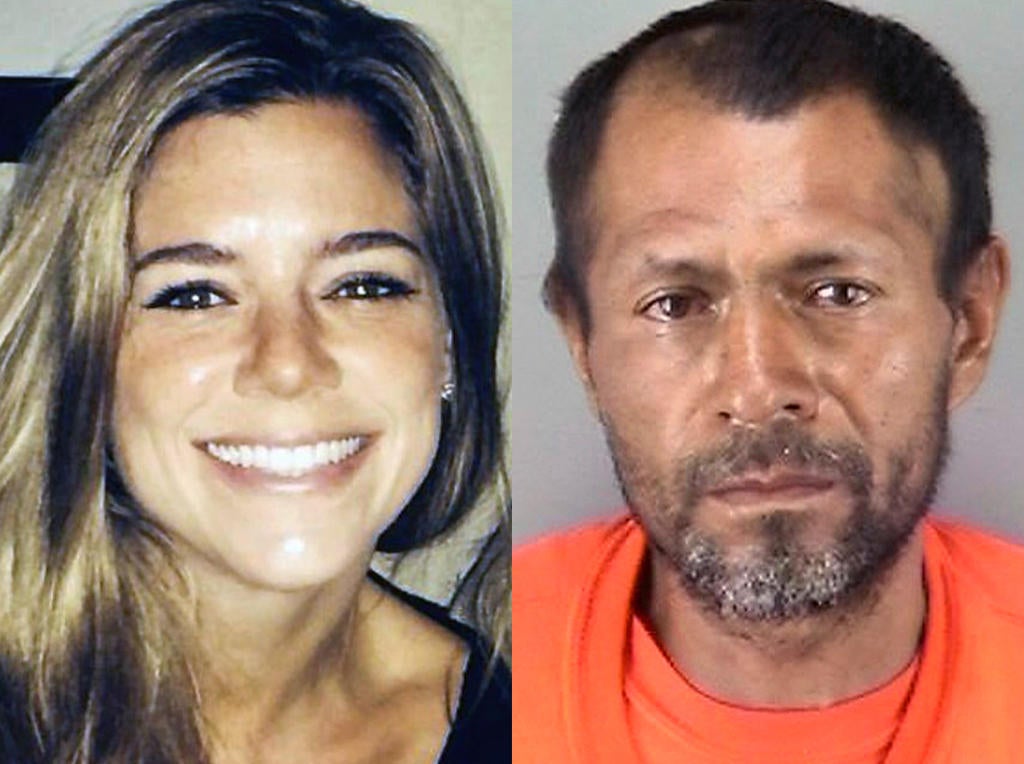 Kate Steinle trial: Jose Ines Garcia Zarate found not guilty of murder in fatal pier shooting
SAN FRANCISCO -- A jury on Thursday found a Mexican man not guilty of murder in the killing of a woman on a San Francisco pier that set off a national immigration debate two years ago.
Jose Ines Garcia Zarate was found guilty of being a felon in possession of a firearm.
Garcia Zarate had been deported five times and was wanted for a sixth deportation when Kate Steinle was fatally shot in the back while walking with her father on the pier. Garcia Zarate did not deny shooting Steinle but said it was an accident.
A prosecutor said in her closing arguments Nov. 20 that Zarate was "playing his own secret version of Russian roulette" when he shot and killed Steinle in July 2015. San Francisco Deputy District Attorney Diana Garcia derided as implausible the defense argument that he accidentally shot a weapon he didn't know was a firearm.
On Thursday, Steinle's parents gave what they called their last interview to local newspaper San Francisco Chronicle.
"We're just shocked -- saddened and shocked ... that's about it," Steinle's father Jim said of the verdict. "There's no other way you can coin it. Justice was rendered, but it was not served."
Steinle's brother Brad said he was "not surprised," considering the "epic failure" that led Garcia Zarate to be released on the streets, and end up with a loaded handgun on the pier that day.
Attorney General Jeff Sessions issued a statement Thursday night that mentioned Garcia Zarate wouldn't have been on San Francisco streets had the city honored an ICE detainer.
"When jurisdictions choose to return criminal aliens to the streets rather than turning them over to federal immigration authorities, they put the public's safety at risk. San Francisco's decision to protect criminal aliens led to the preventable and heartbreaking death of Kate Steinle," the statement read. "While the State of California sought a murder charge for the man who caused Ms. Steinle's death -- a man who would not have been on the streets of San Francisco if the city simply honored an ICE detainer -- the people ultimately convicted him of felon in possession of a firearm."
The statement ended with Sessions saying: "I urge the leaders of the nation's communities to reflect on the outcome of this case and consider carefully the harm they are doing to their citizens by refusing to cooperate with federal law enforcement officers."
The shooting happened during the presidential campaign and touched off a fierce debate over the country's immigration policies. San Francisco's "sanctuary city" law bars local officials from cooperating with federal attempts to deport those in the country illegally, and the city had released Garcia Zarate from custody despite a federal detention request.
None of that, however, has been at issue during the month-long trial. The judge barred mention of the politics of immigration and gun control during the proceedings.
The jury was handed the case Nov. 21 after the defense wrapped up closing arguments. The jury recessed the following day for the Thanksgiving holiday and returned to deliberations Monday.
Garcia Zarate said he found the stolen gun wrapped in a shirt under a chair on a pedestrian pier and that the weapon accidentally fired when he picked it up. The bullet ricocheted on the pier's concrete walkway before it struck Steinle.
His attorneys say the ricochet showed the shooting was an accident. Much of the testimony during the trial has focused on ballistics experts.
Defense attorney Matt Gonzalez said in his closing remarks that he knows it's difficult to believe Garcia Zarate found an object that turned out to be a weapon that fired when he picked it up.
But he told jurors that Garcia Zarate had no motivation to kill Steinle and as awful as her death was, "nothing you do is going to fix that."
He urged jurors to pick apart the facts of the case, instead of swallowing a ludicrous narrative by the prosecution that relied on circumstantial evidence.
The prosecutor referred to Steinle as a "vibrant life" taken too soon but otherwise did not dwell on the victim in a closing argument that lasted about an hour.
Instead, she painted a picture of a man who hid a firearm in his baggy clothes, went to a pier filled with tourists and whirled about on a stool for more than 20 minutes before shooting it at Steinle's back.
"He knew exactly what he was doing," Garcia said.
A judge ruled last week that the jury of six men and six women could consider a more serious charge of first-degree murder in addition to a second-degree murder charge.
Before the shooting, Garcia Zarate had finished a federal prison sentence for illegal re-entry into the United States and was transferred in March 2015 to San Francisco's jail to face a 20-year-old charge for selling marijuana.
The sheriff's department released him a few days later after the district attorney dropped the marijuana charge, despite a U.S. request to detain him for deportation.
President Donald Trump said during the campaign that Steinle's death was another reason the United States needed to build a wall on its southern border and tighten its immigration policies. Since taking office, Trump has threatened to withhold federal funding from places with similar sanctuary city laws.
Defense attorneys have told jurors that Garcia Zarate lived on the streets of San Francisco after being released from jail, scraping together a living by collecting recyclables and scavenging for food.
Thanks for reading CBS NEWS.
Create your free account or log in
for more features.