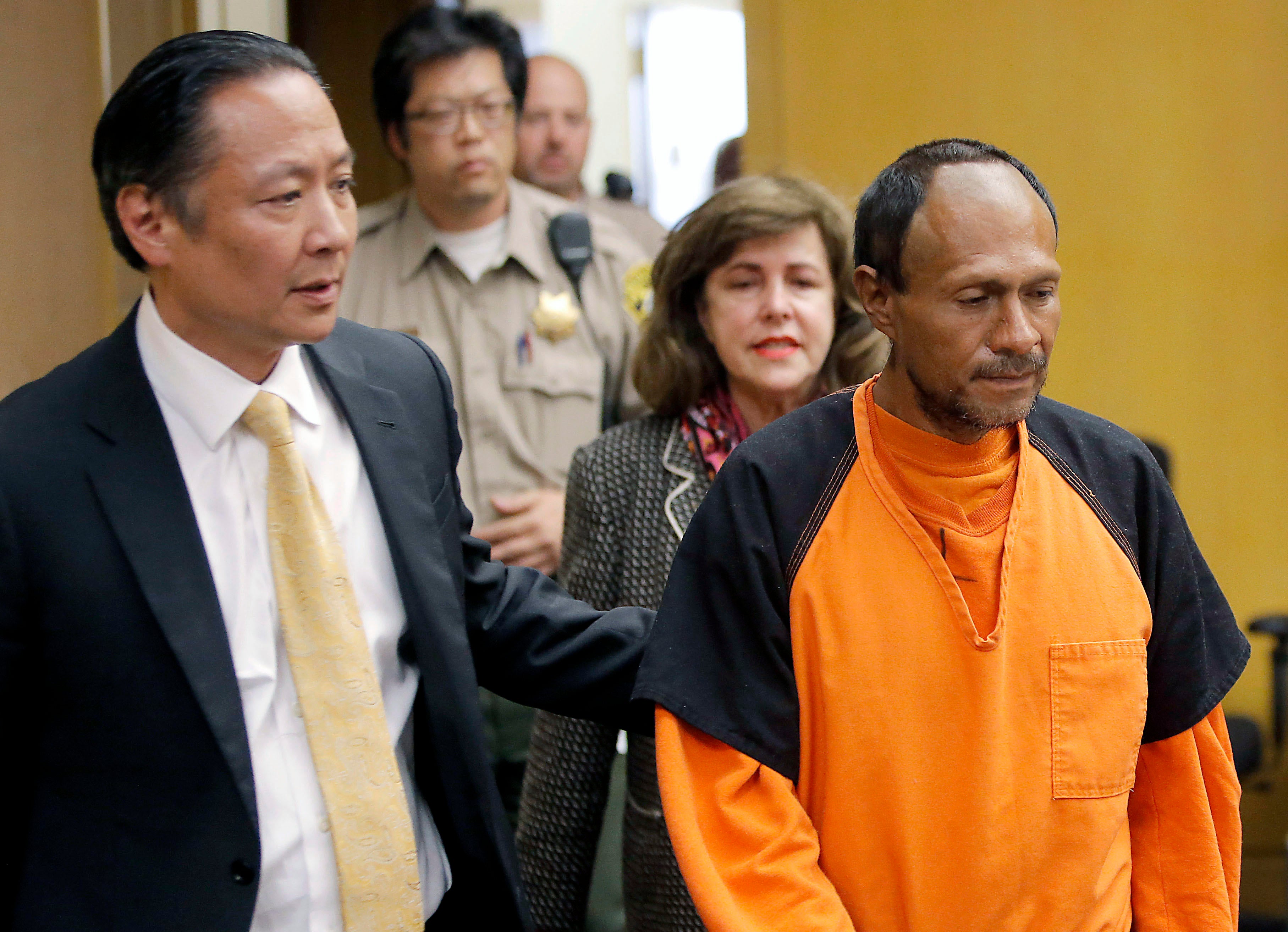 Feds release arrest warrant for Jose Ines Garcia Zarate after pier shooting verdict
DEL RIO, Texas -- An amended federal arrest warrant has been released for Jose Ines Garcia Zarate, a Mexican man acquitted Thursday in the killing of a woman on a San Francisco pier, a case that's sparked national debate over immigration.
The warrant says Zarate violated his supervised release on a federal sentence for illegally re-entering the U.S. by possessing the gun that killed Kate Steinle on July 1, 2015. The warrant was originally issued July 14 of that year but an amended warrant was unsealed Friday following the verdict.
The warrant issued by the U.S. District Court for the western district of Texas says Zarate was sentenced in Texas on May 12, 2011 to 46 months in prison, followed by three years of supervised release, for illegally re-entering the U.S.
The warrant says the terms of the supervised release, which began March 26, 2015, barred Zarate from committing another crime and from possessing a firearm. He was still bound to the terms of that release when Steinle was shot and killed. Though he was acquitted of murder Thursday, he was found guilty of being a felon in possession of a firearm.
President Trump called the acquittal a "complete travesty of justice," and U.S. Attorney General Jeff Sessions demanded cities like San Francisco scrap immigration policies barring cooperation with federal deportation efforts.
Thousands of Twitter users turned to the hashtag #BoycottSanFrancisco. Conservative politicians and celebrities such as former Alaska Gov. Sarah Palin and actor James Woods lambasted the city.
City officials pushed back and vowed to stand behind their so-called sanctuary city policy. It's what led Garcia Zarate to be released from San Francisco's jail despite a federal request to detain him for deportation several weeks before Kate Steinle was fatally shot in the back. He had been deported five times before.
Hundreds of cities have similar policies, which Trump, Sessions, and others blame for Steinle's death. San Francisco has consistently been an early adopter of some of the most immigrant-friendly policies nationwide, expanding protections to residents living in the country without documentation.
"San Francisco is and always will be a sanctuary city," said Ellen Canale, a spokeswoman for Mayor Ed Lee.
The warrant says that Zarate was released from the custody of the Federal Bureau of Prisons to Immigration and Customs Enforcement after completing his prison sentence for illegal re-entry on March 26, 2015. He was then transferred to the custody of the San Francisco County Sheriff's Department to face a then-pending charge for selling marijuana from 1995. That charge was dismissed the following day and he was released by local officials, despite a request from federal officials to detain him for deportation.
Prosecutors had charged Garcia Zarate with murder, assault and being felon in possession of a firearm in Steinle's death. He called the shooting an accident. He said he found a gun under a chair on the pier and it fired when he picked it up.
San Francisco Deputy District Attorney Diana Garcia urged jurors to convict him of first-degree murder. Jurors also considered and rejected second-degree murder and involuntary manslaughter.
They did convict him of the firearm charge, which carries a maximum sentence of three years in jail. U.S. Immigration and Customs Enforcement said it would "ultimately remove" Garcia Zarate from the country.
"San Francisco's decision to protect criminal aliens led to the preventable and heartbreaking death of Kate Steinle," Sessions said in a statement Thursday night. "I urge the leaders of the nation's communities to reflect on the outcome of this case and consider carefully the harm they are doing to their citizens by refusing to cooperate with federal law enforcement officers."
Thanks for reading CBS NEWS.
Create your free account or log in
for more features.